Description
Martin Luther King preached at St Paul's 50 years ago this December, on his way to Oslo to collect the Nobel Peace Prize. This event will challenge us to fulfil the dream he put to us of an equal society, one free from discrimination, prejudice and extremism.
Join us at St Paul's Cathedral for a public discussion led by:
Baroness Doreen Lawrence of Clarendon OBE

Hugh Muir, Diary Editor at The Guardian

Dr Heidi Mirza, Professor of Race, Faith & Culture at Goldsmiths College
We claim to be a society of equals, but why are black and minority ethnic Britons more likely to be in poverty, in the criminal justice system, or in disadvantaged schools than their white counterparts? Why do BME communities experience less social mobility? Why has there been a recent rise in racism, intolerance and extremist groups?
We want to pay homage to the legacy of Dr King by looking forward to the next fifty years, imagining how our society and our communities can become more equal, with promise and opportunity for every man, woman and child. The discussion will address the impediments to true equality, and discuss practical ways these obstacles can be removed. There will be plenty of time for audience questions and answers.
All welcome.

This special evening event is hosted in partnership with the Runnymede Trust, the UK's leading independent race equality think tank. www.runnymedetrust.org
A collection will be taken for the Stephen Lawrence Charitable Trust. www.stephenlawrence.org.uk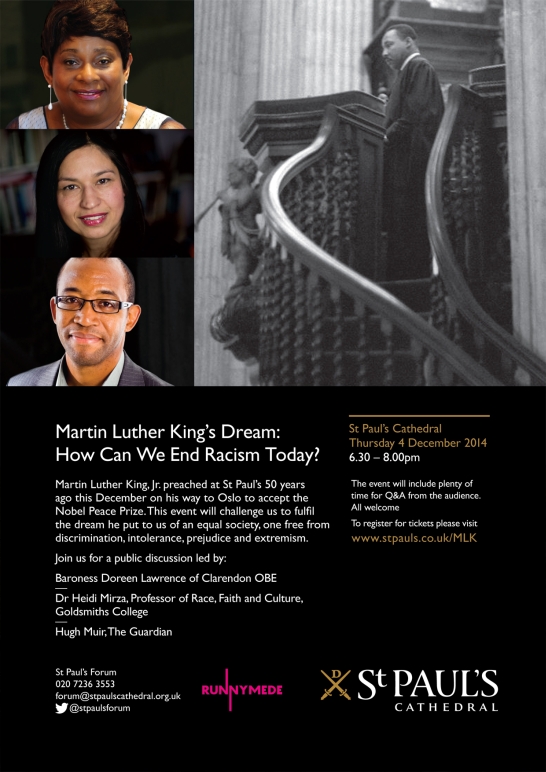 Organiser of Martin Luther King's Dream: How Can We End Racism Today?
The Adult Learning department at St Paul's Cathedral explores Christian life, ethics and spirituality. The programme is open to all and includes public debates, reflective study days, meditative services, retreats, workshops and talks. All are welcome and bursaries are available if the cost of the event is prohibitive for you. (Please email adultlearning@stpaulscathedral.org.uk for more information on our bursaries).
Click on the title of the event that you wish to book below: