Mary Coughlan at String Jam Club

Saturday, November 18, 2017 from 7:30 PM to 11:00 PM (GMT)
Event Details
MARY COUGHLAN at STRING JAM CLUB – Saturday 18th November 2017

The County Hotel, 1-5 High Street, Selkirk, Scottish Borders TD7 4BZ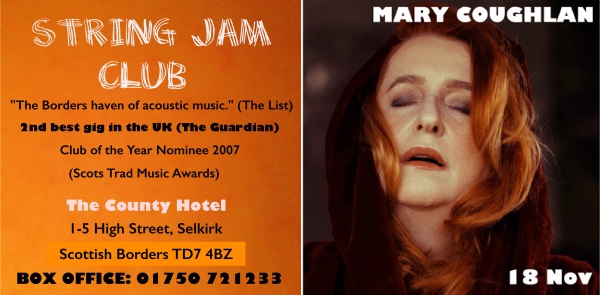 "The Borders haven of acoustic music." (The List)
"A song is not complete unless it has been sung by Mary Coughlan." (MELODY MAKER)

Ireland's Mary Coughlan is arguably the greatest female singer to have emerged from Ireland in recent times, the equivalent of Irish vocal royalty.  The word 'legend' is not one to be used lightly, but in this case is entirely appropriate.   "Dubbed as Ireland's Billie Holiday, Mary is a jazz & blues singer whose life story gives weight to the truth that the best singers are the ones with the most painful lives" (The Guardian).  Whether into folk, blues or jazz, no one can fail to be moved by the emotional depth, expression & power in her voice, forged from an extraordinary life.
Born in Galway 60 years ago, Mary has battled and overcome childhood trauma, near-death from alcoholism and drug addiction. After hitting rock-bottom and extensive periods in psychiatric hospitals and rehab centres, she literally pulled herself out of the dregs of a vodka bottle to confront the foundations of her problems head-on and sort out her life, and has been sober since 1993.
Mary has carved out a timeless and highly regarded career, with a legion of devoted fans worldwide. Her ability to connect so emotionally & empathically with both the song & her audience is testament to her inner strength, and to the power of transformation & redemption. The stage is her home. To hear Mary sing is truly to be at the core of the human heart.
Since her first album 'Tired and Emotional' rocketed her to overnight fame in 1985, she has recorded 15 further solo albums & toured in the US, Australia, New Zealand, Europe, Scandinavia and the U.K.
Mary has drawn heavily from her legendary heroes: the grievous, teary outpourings of Billie Holiday (to whom she devoted a double album of her songs), the husky flirtations of Peggy Lee, Van Morrison's soulful wails, the defiant chanteusery of Edith Piaf. All are present and correct in her delivery. Even so, Mary, with her naked honesty makes every song her own; they belong to her and nobody else.
Mary live is in a league of her own and always has been as we can bear witness to from her last appearance at the club.  Her songs resonate with life experience, pulling every ounce of emotion from the music. This is the real thing, sung from the depths of a woman's heart and soul, a survivor who (to paraphrase Leonard Cohen's famous words) "was born with the gift of a golden voice."  This is why she is so loved.  Prepare to be taken on a journey of devastatingly beautiful, wide-ranging and engaging songs, from a woman who has battled her demons and won, transforming them into art, an enduring testament to Mary Coughlan's seemingly timeless and endless brilliance.
"Mary Coughlan's talent is awesome." (THE TIMES)
"Mary's performances must be seen to be believed." (NEW MUSICAL EXPRESS)
"The Galway-born artist doesn't just take her to church with her music, she practically baptises them with her own passion and pain." (THE IRISH NEWS)
"No one should wish her heartbreak, but everyone should envy her power to transform it." (FINANCIAL TIMES)
"She invokes that deep, dark sound only she can do with an intensity of emotion that can knot stomachs and shred hearts." (LIVE at THE BLACK BOX, BELFAST)
"Tom Waits has met his Irish match." (**** THE GUARDIAN)
Mary Coughlan Official Website
String Jam Club on Facebook
Mary Coughlan Sings I'd Rather Go Blind
Mary Coughlan Sings I Can't Make You Love Me
Mary Coughlan sings Magdalen Laundry
Tickets £18, available from the venue by phone 01750-721233 (card bookings incur 50p card transaction fee). Tickets will be reserved for collection on the night.
Online ticket sales Eventbrite (booking fees apply).
15% discount off hotel restaurant meals for ticket-holders 6-7 pm on gig nights.  Advance booking 01750-721233.  DOORS OPEN 7.30
When & Where

The County Hotel
1-5 High Street
TD7 4BZ Selkirk
United Kingdom


Saturday, November 18, 2017 from 7:30 PM to 11:00 PM (GMT)
Add to my calendar
Organizer
Email:info@countyhotelselkirk.co.uk
Website:http://www.countyhotelselkirk.co.uk/organiser/string-jam-club-county-hotel/
Phone:01750 721 233