Join us for the Cathedral's Merbecke Choir annual Christmas concert
About this Event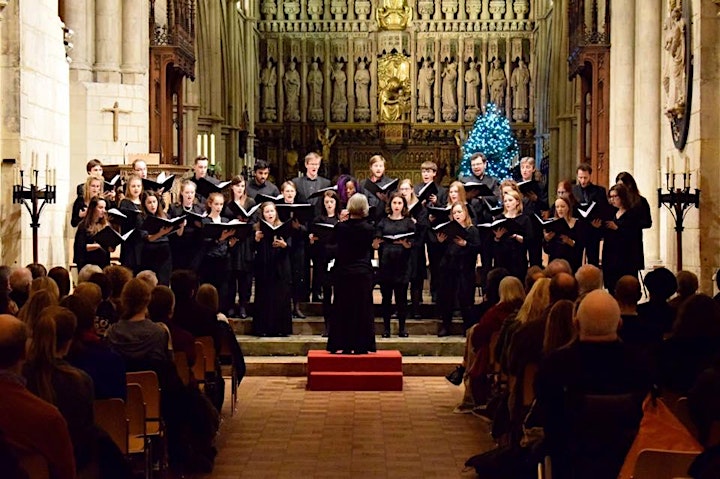 A musical portrayal of Mary's journey from The Annunciation to the birth of Jesus Christ, our Saviour on Christmas Day with works from Victoria and Schutz through to Howells and Tavener.
The Merbecke Choir
The Merbecke Choir is a group of around 25-30 singers who sing a wide range of music to a high standard. The choir is mostly made up of people in their twenties and thirties, who meet to rehearse every Tuesday in term time. It is a regular contributor to the liturgy at Southwark Cathedral, notably at the monthly service of Compline and Eucharistic Devotions. It also performs regular concerts, usually three a year, has toured abroad and in the UK and has released a CD, Under the Shadow of Thy Wings.
In 2003, Southwark Cathedral founded the Merbecke Choir to be a place for boys and girls who had left the Cathedral Choirs to explore a wide range of repertoire under expert tuition. The choir has grown since then and has a broad mix of ages and backgrounds, though former Cathedral choristers remain very welcome.
The choir is a staunch supporter of new music, having commissioned several new works, as well as being adept in the performance of renaissance polyphony. They have performed for the Poet Laureate, the Archbishop of Canterbury, Archbishop Emeritus Desmond Tutu, contributed to Her Majesty the Queen's Christmas Broadcast recorded at Southwark Cathedral in 2006 and performed for Songs of Praise recorded in 2017.
The choir's current director of music is Emily Elias.
The Choir is named after the Tudor composer, John Merbecke (1510-1585), who composed one of the most popular settings of the Book of Common Prayer Communion Service. Merbecke with three other companions was tried for heresy in 1543 in the Retrochoir at Southwark, which was used for this purpose at the time. He was found guilty and condemned to be burned at the stake. His sentence was commuted however by Bishop Stephen Gardiner, the then Bishop of Winchester, who decided that as a mere musician Merbecke 'knew no better' and so was released to continue his music making.
How are we keeping you safe?
We are committed to the continued well being of all those who visit, work and worship at Southwark Cathedral.
In our on-going efforts to assist our community in preventing the spread of COVID-19, we have implemented the following enhanced protocols and procedures you will notice during your time with us.
Numbers are strictly limited to ensure ensure we adhere by social-distancing.
A designated entrance, at the Churchyard gates on Bedale Street and designated exit through the Millennium Courtyard on Montague Close.
A one way route through the Cathedral that reinforces physical distancing guidelines.
The provision of hand sanitizer stations throughout the site.
Freely available toilet facilities to promote frequent handwashing.
Card and contactless only payment facilities.
Frequent cleaning and disinfecting of touchpoints including handles, rails, seating and toilet facilities.
Face coverings are mandatory inside the Cathedral unless exempted.
What can I do to help?
Please visit us at another time if you or a member of your household or group are feeling unwell.
Wash your hands often using soap or water for 20 seconds or use hand sanitiser.
Wear a face covering.
Stay at least 1m+ away from others and follow the one way route around the Cathedral.
If you need to cough or sneeze, please do so into your elbow, not in your hand or the air.
Please note should this event need to be cancelled full refunds will be issued within 3-5 days of the event date.