Description
For 2019's Masculinity in the Workplace Conference, we're on a mission to redefine the notion of 'male hero'. In an afternoon of live discussion, debate and exploration we will collectively re-define a new, modern masculinity and celebrate the benefits of this for a happier, more fulfilling and inclusive workplace.
The word 'hero' conjures a mythical figure unattainable for men in today's world. However, there are many men who have faced difficulty and heartache and triumphed, not through brute force, but by expanding their capacity for vulnerability. These men show us the opportunity of relinquishing privilege and letting go of outdated stereotypes.
By challenging the limiting and narrow constructs of masculinity that currently exist in the workplace, we will curate a fresh conversation to provide inspiration for change. We will look at the opportunities for male leaders to embrace change, expand their capacity for vulnerability, proudly work flexibly and stimulate an open conversation around mental health issues.
Join us in creating a culture of inclusion for the workplace; a culture where being a male leader is a celebration of positive vulnerability, dual caregiving and balanced mental health.
We will explore:
What does modern masculinity in the workplace look like?

What are the advantages of letting go of outdated stereotypes about masculinity?

How could men use their privilege to benefit everyone in the workplace?

How can masculine leadership move from 'power over' to 'power with' and 'power to'?

How do we get more men to take on primary / dual caregiver roles?
We will be covering this and more with a fantastic line-up of speakers which include: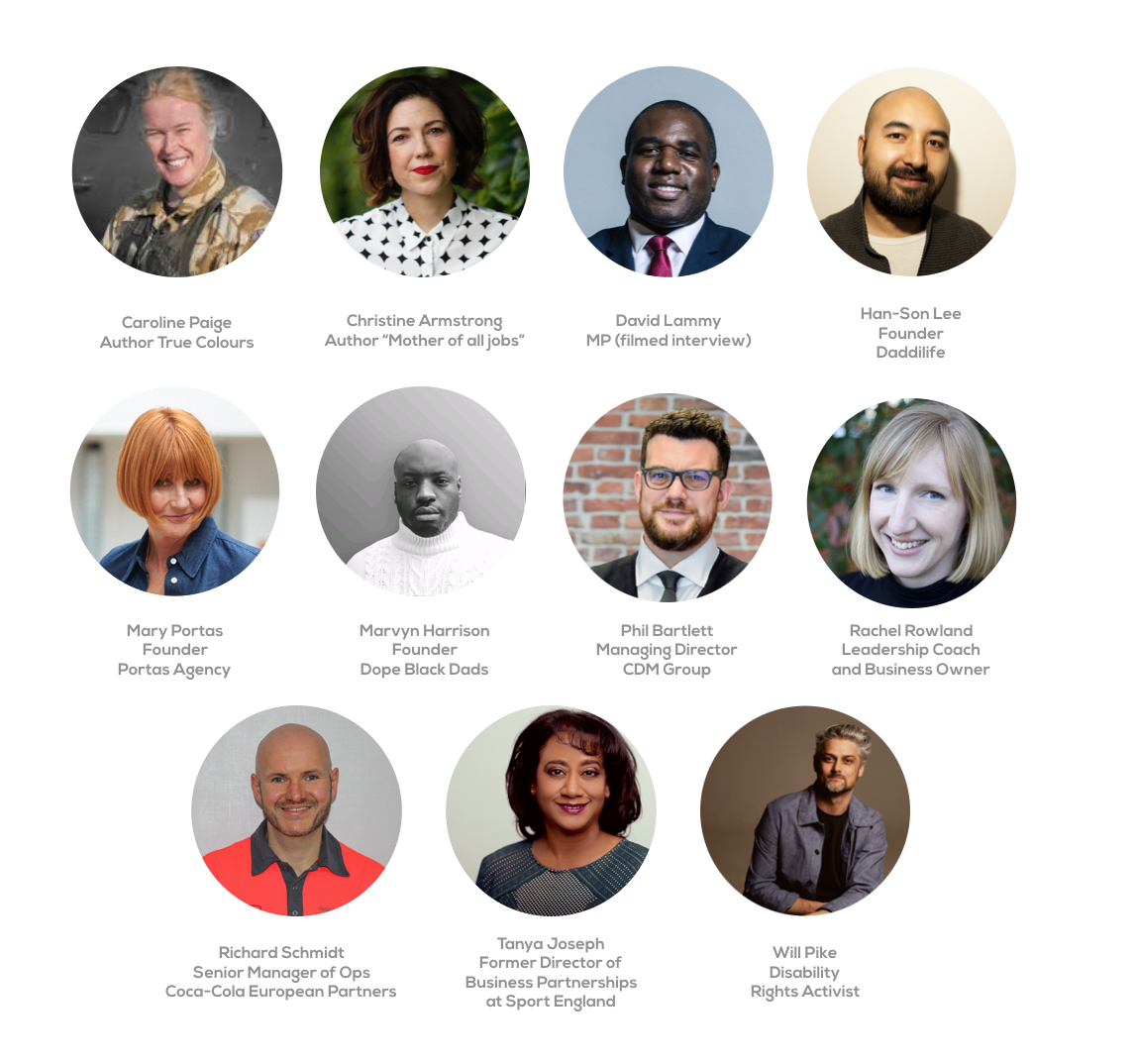 AGENDA
14:00 Introduction and welcome - Daniele Fiandaca, Roxanne Hobbs
14:15 Keynote: Will Pike - Mumbai bombings survivor, disability advocate and media spokesperson
14:45 A research perspective by Opinium
15:00 Panel (Hosted by Nadya Powell): Stories of Positive Change - Phil Bartlett, Richard Schmidt, Tanya Joseph and Caroline Paige
15:45 Break
16:15 A filmed interview with MP David Lammy
16:30 Panel (Hosted by Roxanne Hobbs): How could men being more involved in family life create systemic change at work and in society - Marvyn Harrison, Han Son Lee, Christine Armstrong, Rachel Rowland
17:15 Keynote: Mary Portas - Taking the Alpha out of the workplace
17:45.
Hack 1: How we lead
Hack 2: How we parent
Hack 3: How we interact with one another
18:15 Close
18:30 Drinks and networking
EVENT PARTNERS
A huge thank you to our fantastic partners, it is so critical that companies weigh in on this important discussion:

WHAT TO EXPECT

The event is for anyone who is passionate about driving gender equality in the workplace and we welcome everyone however they identify or express themselves. In particular we would love to see a broad representation of CEOs, CMOs, HR Directors and Inclusion & Diversity Practioners. Irrespective expect to come away with:
A better understanding of the impact a more modern and positive view of masculinity can have on the workplace

Case studies to show how change is already being delivered in the workplace

A list of small things you can do tomorrow as a business to make a difference to well being

A real understanding of the value a more inclusive workplace will have on your business results
EVENT SUPPORTERS
We have also been super lucky to have been supported by the following:

Note: We are a firm believer in inclusivity and diversity and would like to welcome everyone we can to our event. So, if you (or someone you have booked a ticket for) has reduced mobility, please do contact us at least a week in advance of this event so we can make every effort to accommodate the individual needs and ensure suitable assistance is available. Also, we can provide a complimentary companion ticket to you (or someone you have booked a ticket for) at this event if needed, just let us know their name when you contact us.
Organiser of Masculinity in the Workplace 2019
After the successful Father's in the Workplace event, Token Man and HeANDShe are delighted to be collaborating once more. 
Token Man is an initiative to give men in industry a better understanding of the challenges women face in business and a greater empathy for when they are in the minority. We hope to achieve individual behaviour change that fuels a cultural shift in the workplace, enabling men in a tangible way to contribute to the movement for gender equality. 
The HeANDShe conference series, founded by Roxanne Hobbs of the Hobbs Consultancy, is designed to bring men along to the gender conversation, and explore how both men and women are held back by gender stereotypes.