#Maskoff21 is brought to you by Truewave events The Unltimate Soundclash we all want and love is back. This event will sell out 100%
About this event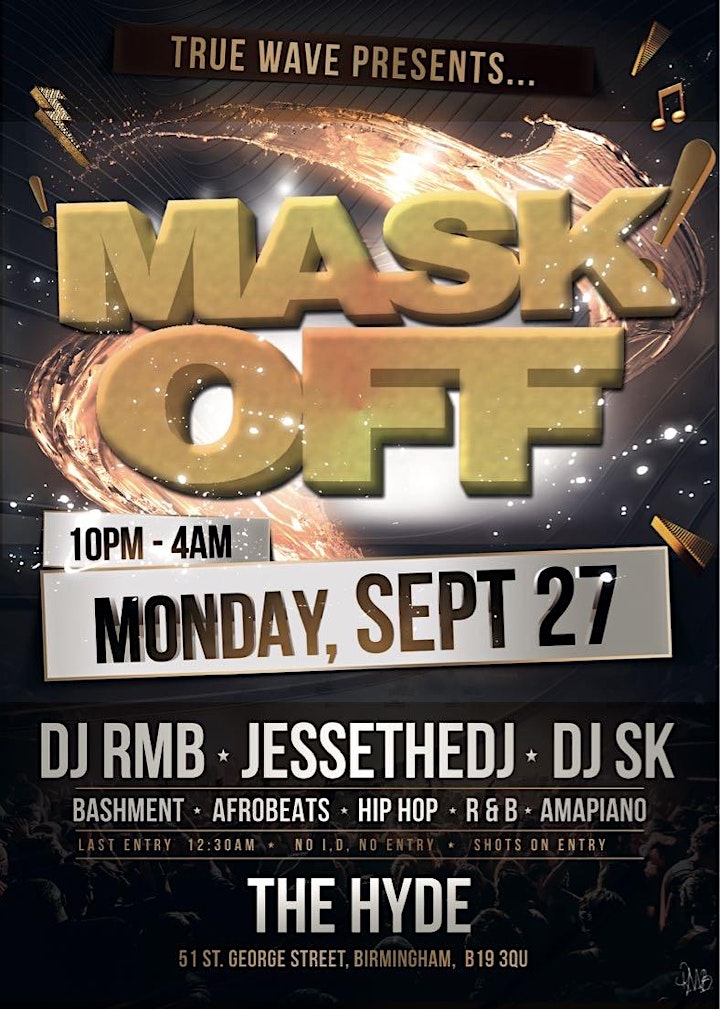 #Maskoff21 is brought to you by Truewave events
The Unltimate Soundclash we all want and love is here. Which Genre will take the Crown this time around??
J1 Night, 5 Genres & 1 Winner! This promises to be a night to remember!
Djs Includes:  Dj Rmb, Dj Sk and JesseTheDJ
Special Guest Referee: Hefner
Music Policy: Strictly Afrobeats, Bashment and amapiano with a dash of Hip Hop & RnB
Attractions on the night includes; shots on entry, Part Starters, Drink deals from £1.50, Photo Booth & much much more
Full Videography and Photography available on the night
Follow us on all socials:  @truewaveuk
Contact number : 07780462712
#Maskoff21 Which side are you repping? 
Over 18's (Government I.D required)
TERMS AND CONDITIONS FOR GENERAL TICKET PURCHASES:
1. Indiviual event ticket entitles the ticket holder to a single entrance before last entry (Check individual tickets for time restrictions)
2. It is advised to arrive by 22:00 to avoid queuing.
3. The ticket holder must adhere to the venues entrance guidelines. For full details contact us
4. Failure to adhere to these guidelines may result in refusal of admission.
5. Refunds will not be issued if the ticket holder is refused admission for failure to adhere to the venues entrance guidelines.
6. Entertainment and acts may be subject to change.
7. Refunds will only be issues should the event be cancelled.