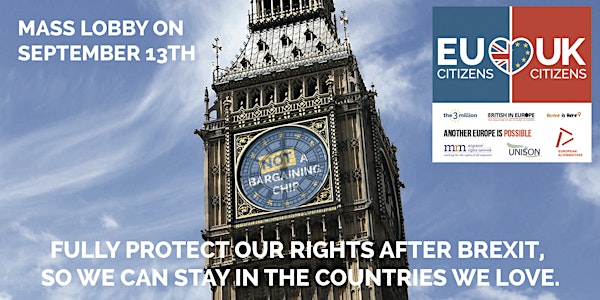 Mass lobby for rights of EU citizens in the UK & British citizens in the EU
Location
Palace of Westminster
London
SW1A 0AA
United Kingdom
Sales Have Ended
Ticket sales have ended
Thank you for confirming your attendance at the mass lobby on 13 September and your support for EU/UK citizens' rights. We will be in touch soon to let you know how you can contact your MP. If you have questions about the mass lobby or what we are asking for, please contact lobby@the3million.org.uk . To get updates on our campaign, please go to https://www.the3million.org.uk and https://britishineurope.org/ or follow us on @The3Million and @BritishInEurope.
Description
British in Europe and the3million are inviting you to a day of action to lobby Parliament on Wednesday 13 September - asking MPs to fully protect our rights after Brexit, so we can stay in the countries we love.
You can take part in three ways:
Join the mass lobby of Parliament (1pm-6 pm) - click to register on this page.
Support the social media E-lobby up to and during 13 Sept - click to register on this page.
Join the rally on Trafalgar Square - sign up here.
The mass lobby is a day where EU citizens and their British family and friends, along with UK voters living in other EU countries, will arrange to meet with their MP in Parliament to raise their concerns and tell their own story.
Click here for everything you need to know about the mass lobby from the day's agenda to what to ask your MP - print out this document and bring it on the day.
Programme for the day:
We are meeting at the Emmanuel Centre in Marsham Street, Westminster SW1P 3DW, which opens at 12 noon.
11.30am Photo opportunity in front of Parliament
To have your photo taken with lots of other activists, come to Victoria Tower Gardens at 11.30am on 13 September. We are heading over from the Emmanuel Centre, so be there at 11.20 if you want to meet us there - it should be a fun way to start off the day.
12pm Emmanuel Centre opens to lobbyists
1pm-2pm Emmanuel Centre welcome session - a cross-party group of MPs will speak in support of protecting citizens' rights.
The following politicians will be speaking at the Emmanuel Centre:
Dominic Grieve MP (Chair, Conservative Group for Europe)
Paul Blomfield MP (Labour - Shadow Minister for Exiting the European Union)
Joanna Cherry MP (SNP - Shadow Spokesperson for Justice and Home Affairs)
Ed Davey MP (Liberal Democrat - Shadow Home Secretary)
Hywel Williams MP (Plaid Cymru -

Shadow Spokesperson on Brexit

)
Jonathan Bartley (Co-Leader of the Green Party)
2pm-6pm Lobby in Parliament – we go over to Parliament in groups.
Parliamentary committee rooms 8 and 9 are booked from 2pm to 6pm - when you contact your MP, please ask them to meet you there.
6pm Rally in Trafalgar Square (see separate event)
8pm Rally ends
Our campaign to protect citizens' rights after Brexit
We are not asking for special treatment – just that the rules of the game are not changed after the match has started. Here is what we are asking for:
Keep the rights we already have as EU citizens in the UK and British citizens in the EU, so that we can continue to live our lives as before the Brexit vote.
Guarantee these rights for life under the ECJ, so we have certainty that rules will not change in the future.
Support ring-fencing an agreement on citizens' rights from the rest of the UK/EU negotiations, so our lives are not used as a bargaining chip, and we can have peace of mind even if there is no overall deal.
Introduce a free, easy to use registration process for EU citizens in the UK, so we can effectively claim our rights.
British citizens in the EU keep their free movement rights, and the right to study in the UK paying the same fees and with access to the same loans as someone living in Britain.
When registering, you will be asked to donate to fund the mass lobby. This is a grassroots event – that means the only funding comes from you, so please contribute whatever you can.
All funds will go towards the organisation of the mass lobby, and any excess will be spent on an outreach programme to EU and UK citizens between now and the withdrawal of the UK from the EU.
We are working together with our partners Another Europe is Possible, European Alternatives, Migrants Rights Network and UNISON.