Description
Join the very best manufacturers, technical disruptors, industry leaders and innovators to master industry 4.0!
Upskill future leaders to scale-up your business through disruptive leadership learning and disruptive innovation application. Our unique approach seamlessly combines talent, technology and capital to deliver scale and success.
Hear from manufacturing leaders from businesses of all sizes and industry 4.0 experts. Together they'll share their experiences of how they've adopted the mindset, skillset and technology set appropriate their business size and how this has enabled them to reap the rewards that Industry 4.0 brings keeping them competitive and one step ahead.
Agenda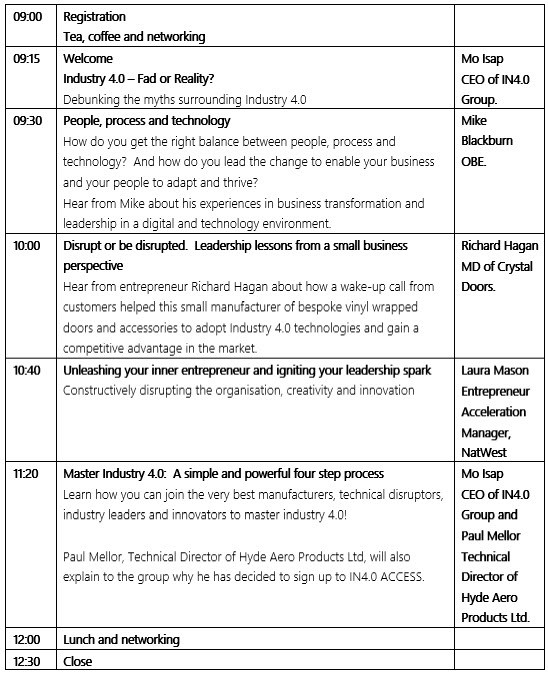 Who should attend?
Manufacturing business owners and leaders of small and medium sized companies. Also any other businesses who are seeking to adopt digital technologies!
Register your place at Master Industry 4.0!
There is no charge for this event and lunch is included. Hurry, places are limited!
Speaker Bios
Mo Isap - CEO of IN4.0 Group
During his career, Mo has successfully started and scaled several businesses. He is a Board Member of the Greater Manchester LEP leading on schools and future skills, and he chairs the Greater Manchester Careers and Employability Board.

Mo also has an MBA, is a Fellow of the Chartered Management Institute and is the Founding Director and Vice Chair of STAR Academies, a Multi Academy and Free Schools Trust, operating some of the most successful schools in the country.
Mike Blackburn OBE

Mike has significant experience in the IT industry, specifically in helping the development of organisations as they grapple with the implementation of technology to support or transform their business. As we move into the next generation of technology, getting the correct balance of technology, people and process will be even more critical for success. Mike's experiences in business transformation and leadership development means he can support individuals and businesses to adapt and be even more successful.

Richard Hagan - MD of Crystal Doors

Richard founded Crystal Doors, a Rochdale-based manufacturing company, 25 years ago and he's revolutionised his business operations through the adoption of industrial digital technologies. Crystal Doors manufacture bespoke kitchen, bedroom and bathroom vinyl wrapped doors. They've fully incorporated industry 4.0 technology into their production processes by implementing 3D printing, CNC nesting cells and robotic spraying. They also operate the country's first customised industry 4.0 dust extractor which has saved the company £10,400 a year!