Master the skills of top public speakers for impact and influence when you speak.
About this event
This is a virtual event, so you can attend from anywhere.
When it comes to events, we're now back in the room! After all the time spent adapting to virtual platforms like Zoom and Teams, we suddenly find ourselves speaking in front of live audiences again.
Luckily we all have the capacity to flex and adapt. And learning how to pick up a mic again or stand up in front of your team or colleagues doesn't have to be daunting.
How would you like to feel confident in ANY situation where the spotlight is on you?
Join us for this FREE online event with communications expert, Camilla Long from Bespoke Communications to learn how to:
* avoid the three killer mistakes that trip most people up when it comes to an impactful presentation – whether that's an online event or a face-to-face keynote
* grow your mindset to take on any presenting challenge with confidence
* develop a simple system to help you to prepare no matter how little time you have
*learn how Bespoke Communications can help you to raise your A-Game.
Join us for this free 45-minute webinar on 9 December 2021 at 9.30am.
This event will be delivered via You Tube Live. A link to the event will be sent to you via the Eventbrite joining instructions in advance of the webinar.
About Camilla Long, Director, Bespoke Communications.
From software developer in Japan to stockbroker in London, I now use my experience of selling to some of the largest corporates in the world to empower people to build their personal brand with confidence and conviction. I'm a public speaking coach - used to helping people to find their voice. I help busy lawyers and accountants to build thriving practices by helping their teams to realise their potential. I help commercial directors make sure that their team's performance measures up their ambitious growth plans. I help business owners to encourage their teams to be brand ambassadors for their business. And I'd like you to join me at this event to think differently about how you connect with your audiences for face-to-face events and online events like webinars or virtual presentations.
For more information on Bespoke Communications please visit our website.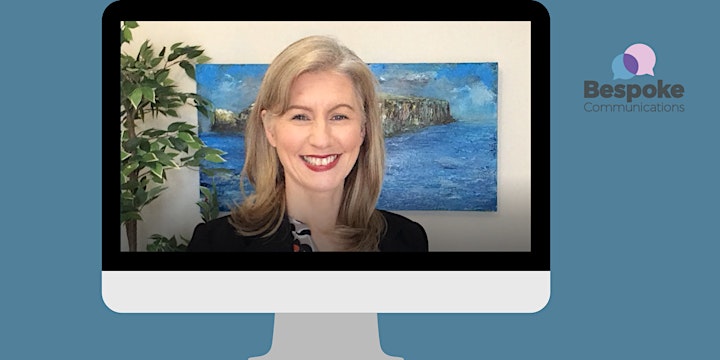 Organizer of Master the Skills of Public Speaking for impact and influence - Edinburgh
At Bespoke Communications, we help you to be a brilliant public speaker. We offer media training and public speaking coaching, both online and face-to-face.
Camilla Long is a former stockbroker and software developer. Sarah Travers is a familiar face to many in Northern Ireland as a former BBC news anchor and ITV presenter. We're known for facilitating great live events and training sessions that build trust with your teams.
This event is the latest in a series of events we're offering to help our clients to upskill and communicate in a new blended world.