Description
At the heart of the event, hosted by NovAzure & Tilix, will be a deep dive into blockchain's role in the electrification of everything. As well as technology, we also consider the human elements of inventing, deploying and optimising innovation. Throughout we will showcase startups and innovations by incumbents.
We are proud to hold the event at IDEALondon, a post-accelerator centre in the heart of London's Tech City, run by Cisco, UCL Engineering and EDF Energy.
Connect with a number of promising start ups, investors, innovative service providers and subject matter experts to the energy industry. Plenty of time will be given during our networking breakfast, breaks and over drinks after the main event for you to mingle.
Christopher Gruen will be the master of ceremonies. He will harness the energy in the room and provide a golden thread that stitches the event together.
Timetable
10:00-11:00 Coffee & Registration
11:00-11:10 Welcome & Intro
11:10-11:45 Innovation Management (including StartUp Spotlight)
11:45-12:00 Block Chain Exec Overview
12:00-13:00 Lunch
13:00-13:45 Block Chain Group Discussions
13:45-14:00 Networking Break
14:00-15:00 The Human Element
15:00 Final Comments
15:05-16:00 Drinks & Networking

Key Topics
Energy 4.0, Smart Grid, Blockchain
Success factors for innovation in energy
Key drivers for leveraging social value & business transformation
Best practices for enhancing business performance and employee engagement
Visions for future work & process organisation
Addressed Audience
Energy Industry Leaders
Entrepreneurs & Start-ups
Blockchain Subject Matter Experts
Investors in Early Stage Ventures
HR & Organisational Development
Partnership Management
Innovation Management
Dr Neil Williams will lead a discussion on the investor's view of innovation. The ever changing smart and digital energy is creating a myriad of opportunities around storage, demand side response, AI and blockchain. Entrepreneurs and investors will share ideas on how to methodically and effectively surf these waves.
Blockchain
Hope or hype? The reality is not black or white. There will be an executive briefing from Jean-Jacques Jouanna where he will take a thorough look at the facts, opportunities and myths. This will followed by lively discussion around blockchain use cases in energy, financing through ICOs and blockchain technology led by Andrew Coleman, Adrian Cole, Neil Foster from Baker Botts and Jon Ferris from Electron.
Human Factors
Andrew Hancock will discuss why he thinks that technology is unlikely to make us all redundant. This is because people are the vital spark who drive innovation and then provide flexibility to make it work in practice. He will also shares his views on why the skills needed in customer service and back office operations are increasing at a rapid pace. Andrew will be joined by Mark Simpson from Mando and John Callachan from DDC to share ideas and opinions around the ever increasing pace of transformation in customer centric operations & services.
Event Partners
NovAzure & Tilix are delighted to be hosting this event in partnership with IdeaLondon, EDF, Cisco, UCL, Generis Technology, Landis & Gyr, Mando Agency, DDC Outsourcing, Electron, Baker Botts, Energy PR and Impact4All.org.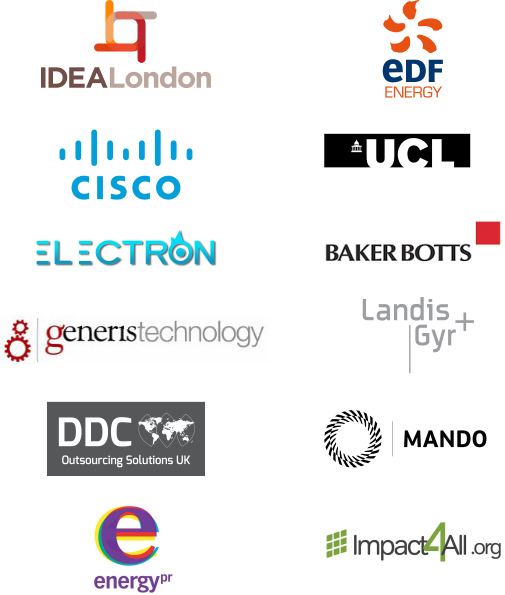 Organiser of MASTERCLASS: Blockchain, Smart Grid, Energy 4.0