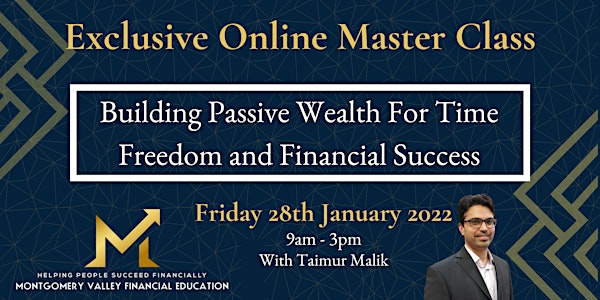 MasterClass | Building Wealth for Time Freedom and Financial Success
Refund policy
Contact the organiser to request a refund.
Eventbrite's fee is nonrefundable.
Join us to learn how to become financially successful, achieve time freedom and earn passive wealth, regardless of your starting point.
About this event
Are you finding it challenging to build the financial future you dream of?
You're not alone. Many people face this challenge due to ineffective strategies and investment approaches where the return on time and money investment does not meet expectations.
This applies to both the people who do not have money and people with money.
Overall, this type of situation results in a lot of time commitment without any resulting time freedom or financial prosperity. With this comes increased stress and feelings of defeat, but how does this happen?

You don't know how to obtain time freedom and financial prosperity.
You have tried financial success methods and approaches that have worked for others only to find that those methods do not work for you or your business.
You get distracted by the latest trends and approaches that the gurus are tipping to be the next big thing.
Your financial strategy is not working without constant involvement and you have started to burn out.
Even after working several years to generate more income and assets, your financial situation has not improved.
You don't know how to find money or the skills you need to start investing and making better financial decisions.
You are approaching retirement but have no financial sources to support yourself after leaving the active work in employment or business.
This situation will lead you to frustration and prevent you from achieving time freedom and financial prosperity.
What you need is financial knowledge that allows you to create a strategy that works for you and allows you to build a future of time freedom and prosperity. Luckily, we have been fortunate to develop that knowledge and create the strategies that lead to time freedom and financial prosperity - and now we'd like to share our methods with you to help you achieve the same.

Our exclusive online master class 'Building Passive Wealth for Time Freedom and Financial Success'
When you invest, you are buying a day that you don't have to work
It has never been easier to start building a way to earn wealth passively or consolidate your existing wealth in a way that allows it to grow. All you need is the knowledge and a path that works for your financial strategy.
During this exclusive masterclass, Taimur Malik, founder of 'Montgomery Valley Financial Education', will talk you through how to:
Know why right now is the best time to build wealth passively
Develop the right mindset and strategy to build your income and wealth
Grow your wealth passively through investing in property, stock markets/off-market, pensions, tax relief and crypto investment over blockchain
Grow your investments in rising or falling markets
Taimur will also provide examples through case studies and exercises, offer an interactive Q&A session and will discuss possible next steps you can take.

Within the financial success mindset and strategy session, you will learn:
What is a financial success mindset, and why is it important?
Why do most people fail to achieve the financial success they dreamed of?
How to develop an efficient and effective financial success and investment strategy?
Top strategies to build wealth
How to take the next step in your financial success journey?
Within the Property Investment session, you will learn:
How to buy your first property even with no deposit available?
The best ways to buy properties for higher cashflow (Personal name vs LTD company)
How to grow your portfolio using your home?
How to get a six-figure return from a single property?
Most tax-efficient property investment strategies for a higher return
How to use debt as an asset to create cash flow or equity growth?
What are the upcoming trends to benefit from for higher growth?
How to invest and build a real estate portfolio using stock markets?
Within the Investment through Stock Market session, you will learn
What to invest in and how to get started?
How do index funds, equities, investment trusts, ETFs works?
When to invest?
How to evaluate a stock as a good investment?
How to build a six-figure investment portfolio?
How debt investment works passively to derisk and diversify your portfolio?
What are the upcoming trends to benefit from for higher growth?
Within the Investment through Crypto/Blockchain session, you will learn:
What are Cryptocurrencies and Blockchain and how do they work?
Is it a good time to invest in Crypto?
Is 1000% plus return on investment is for real?
How to invest in Crypto products?
What are the upcoming trends to benefit from for higher growth?
Within the Pensions and Tax reliefs and savings, you will learn:
Investing through pensions and types?
About SIPP, SSAS, employee pensions and state pensions
How to use pensions to control your tax payments
How to build a £1m pound pension portfolio
How to a develop tax-efficient financial strategy
Various tax reliefs for investors.