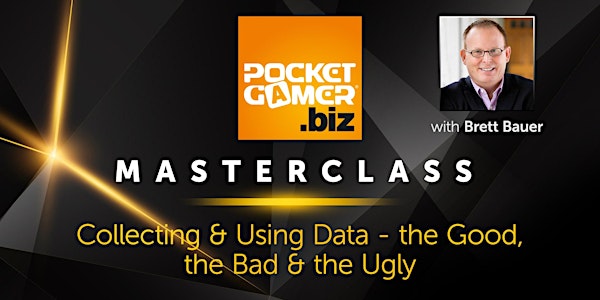 MasterClass: Collecting and Using Data - the Good, the Bad and the Ugly
Sales Have Ended
Ticket sales have ended
Thanks for checking out this PG.biz MasterClass! Sales are ended now and we are looking forward to hosting this online class. If you have any questions or queries please contact the team at masterclass.support@steelmedianetwork.com. You can find out more about the whole range of MasterClasses, and other upcoming events in our games industry series, at PocketGamer.biz. https://www.pocketgamer.biz/events/
Sales Have Ended
Ticket sales have ended
Thanks for checking out this PG.biz MasterClass! Sales are ended now and we are looking forward to hosting this online class. If you have any questions or queries please contact the team at masterclass.support@steelmedianetwork.com. You can find out more about the whole range of MasterClasses, and other upcoming events in our games industry series, at PocketGamer.biz. https://www.pocketgamer.biz/events/
The PocketGamer.biz MasterClasses are a new series of deep-dive workshop sessions, covering practical game design topics.
About this event
This is a self-contained, professional, half-day class, featuring tutorials and breakout groups. It's delivered by an industry expert, and accessed from your home office.
"Collecting and Using Data - the Good, the Bad and the Ugly" with Brett Bauer, co-founder and CEO of Shared2you, Inc.
OVERVIEW
When it comes to meeting new people, there's an old saying that's timeless - you'll never get a second chance to make a first impression.
And, unless you have a plan for collecting data prior to the launch of your game, you'll never be able to go back to get it, you'll never understand your earliest users, and you'll miss out on the nuggets of information that can be learned during this crucial period in your game.
This is where the opportunity for growth is greatest and the market for new users is fertile because few people have had the opportunity to experience your game. Data is an enabler. If managed correctly, it can provide the foundation for activities as simple as understanding basic user behaviours, analysing creative performance in UA campaigns and provide the foundation for full scale automation.
The key takeaways people can expect from this session are:-
When to start collecting data
Where to get the data
How to prioritise data to be collected
Identifying the available source data
Determining which data to capture, where to store it and how much data to keep before archiving or deleting
How to make the data actionable
About the host
Brett Bauer, as co-founder and CEO of Shared2you, Inc., created internal data and analysis solutions to answer complex questions, which led to a deeper understanding of the mobile app economy and the completion of a fully automated data management platform powered by first party data. This became the foundation of the Appfluencer® Platform and enabled "IDFA-less" targeting at scale in a fully automated campaign management platform.
Content
The workshop will focus on 3 subject areas (each with 20 min Presentation, 20 min Group Work and 20 min Feedback/Review):
Part 1, Data Collection: Why you should be motivated to collect and use data?
Are you interested in growing your user base or are you interested in improving the quality of game play? When do you begin collecting data? We'll talk about the primary types and sources of data available for collection.
Part Two, Discovery: What can you learn from your data?
There are many things that can be learned through the collection and analysis of data. However, before you analyse data, you should have a basic understanding of what you want to learn. That will help to identify the data that needs to be collected, the available formats and frequency it can be collected, and depending on how you want to analyse the data, what you need to do before you get the answers you are seeking.
Part Three, Data Management: How to get actionable information from your data?
Did you get the answer you were seeking? Did you find there were other questions you need to ask? If so, do you need to capture additional data? What is time efficient vs effective?
Attendees will learn:
When do you start collecting data
Where do you get the data
How do you prioritise data to be collected
What type of source data is available to be captured
How much data do you want to capture and where do you store it
How do you make the data Actionable
Format of teaching
This will be a highly interactive session with a total length of 3 hours.
We'll use Zoom as our primary platform and Google Sheets for some of the practical work.
Each section will be distributed between a presentation, and a set of group work activities where we will apply the learned techniques and get feedback.
While questions will be allowed at any point during the class, at the end we will run a Q&A session to discuss any topics that the attendants see fit.
Target audience
Any level of seniority from the disciplines of Development, Design, Product, Live Ops Business Intelligence, Production etc. This workshop is suitable for game-teams within almost any genre. We will not be discussing privacy regulations or iOS 14 updates. However, discussions regarding data collection will be in the context of appropriate data collection methods in light of the new privacy requirements.
Other sessions & attendee offers
PocketGamer.biz is well known for its conferences and round-tables, but the short nature of conference sessions means they only scratch the surface of important subjects. For real in-depth learning, we have worked with industry experts to create these deep-dive MasterClasses. There are five different classes running in March 2021, and each one is separate and stand-alone.
As well as the MasterClass featured on this page, there are four other sessions available in March 2021. Each MasterClass requires a separate ticket, although multiple bookings are encouraged and come with a discount:
Tuesday, March 9th (10am-1pm)
Understanding The Market Through External Data & Tools, with Max Samorukov
Wednesday, March 10th (10am-1pm)
How (and When) To Save a Failed Game, with Oscar Clark
Wednesday, March 10th (2pm-5pm)
Game Economy Design & Optimisation, with Nick Murray
Thursday, March 11th (2pm - 5pm)
Game User Experience, Making Your Games More Fun & Profitable, with Jason Schklar
Individual multi-buy discount: book for three & get fourth free.
Corporate discount: a group of six or more from one company can get 30% off if booked together.
To take advantage of multi-buy or group discounts, please email sally.kevan@steelmedia.co.uk to discuss your bespoke package.
Book your ticket today!
Select your ticket above and follow the simple online booking system. Payment is required at the time of booking, so please have your credit or debit card ready.
Group bookings from the same company: to arrange a discount on block bookings, please contact us if you wish to purchase more than 6 tickets, via sally.kevan@steelmedia.co.uk
Please note the final ticket price is in £UK, and conference tickets can be subject to UK VAT at a rate of 20%. You will be sent a VAT receipt by email along with confirmation of your booking.
For all other questions, please contact support@pgconnects.com
Terms and conditions apply.
Organiser of MasterClass: Collecting and Using Data - the Good, the Bad and the Ugly