Refund policy
Refunds up to 7 days before event
Eventbrite's fee is nonrefundable.
Trying lots of spiritual practices to feel better but they aren't working? Learn the difference and benefits of heart vs soul-centred.
About this event
Trying lots of spiritual practices to feel better and step into the flow, but they aren't working? Struggling to know who you are? Practising being in your heart but finding it only works for a while?
Master Chou invites you to join him to learn about the differences and benefits between being Heart-centred or Soul-centred and what impact that has on your life. Everyone seems to be telling you to be in your heart, come from heart, be Heart-centred, but is that what you need? Does it help you create flow?
"To speak from your heart is to speak with non-judgment, acceptance and balance. Master Chou"
Spirit talks about being connected to your Soul and letting it guide your life. The Soul knows your purpose, your path, your identity. Does being in your heart mean the same as allowing your Soul to lead? Master Chou will explain and help guide you to better understand these terms and how best to use them.
He will speak with kindness, humour and a deep understanding of human life. He has learned to be authentic through his countless lifetimes and have flow, grace, and meaning. He shares that wisdom with you today.
"The soul holds all the answers you need. It is your guide, manual, friend and teacher. You need to look nowhere else. Master Chou"
In this special event, Master Chou will start with a 60-80 minute talk about the meaning of Heart-centred and Soul-centred and is one better for living an authentic and purposeful life than the other.
After a short break, we will reconvene for a 60-80 minute session with Master Chou. Where he will guide the group in an exercise to be Soul-centred and then answer audience questions.
Timetable
Event starts - 13:00
Session One Master Chou talk starts - about 13:20
Comfort break - 14:30 - 14:45
Session two Master Chou talk starts - about 15:00
Scheduled end - 16:30 (the event may overrun slightly)
Session One and Two are being recorded (audio only)
The ticket price includes both audio recordings -- session two's recording is EXCLUSIVE to ticket holders.
Due to the nature of this event, it may end slightly later than listed.
Previous participants say
Master Chou's teachings are incredibly insightful and help one find clarity and answers to many questions. WZ
Master Chou is very clear and spends the time to ensure that everything is understood, he will clarify every question asked of him and pay great attention to detail. He also has a great sense of humour. HB
After learning all about the Soul, we ended with a meditation. This really worked for me, I could physically feel full, this was great evidence of strengthening my Soul Connection. HB
He really made tiger come to life talking about him. I found it engaging and helpful, distilling important elements and building a picture of what we can expect and need to work with. Thank you to you both for a wonderful event. AA
Event Instructions 
Via a Zoom Meeting - To take part, you will need the Zoom app and a computer with a webcam and microphone. To download the app visit, https://zoom.us/ and sign up for free. 
Zoom Link  - Once you purchase your ticket, Eventbrite will send you an "Order Confirmation" email. It will contain the ZOOM LINK. 
KEEP THE "ORDER CONFIRMATION" EMAIL.
YOU NEED IT TO ATTEND THE EVENT
Remember to check your SPAM/JUNK folder if you do not receive either email in your inbox. TIP: Copy and Paste the ZOOM LINK information into your Calendar, so it is easy to find on the day.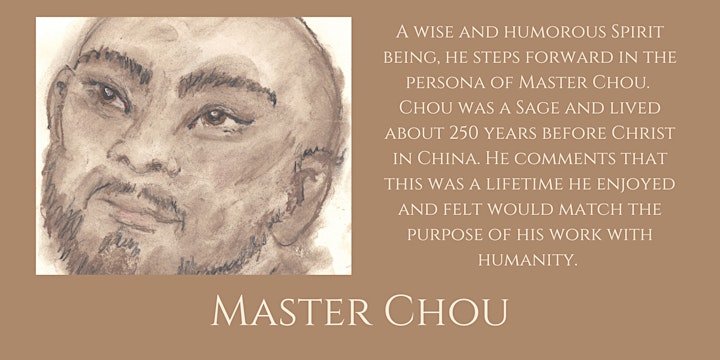 FAQ's
Q: Who are Sarah and Master Chou?
A: Sarah Tyler-Walters is a trance medium and the chosen vessel for the Spirit Being - Master Chou. Chou is giving this masterclass. They have been working exclusively together for over 19 years. Their relationship is based on trust and a deep-seated intent to help humanity return to a Soul-led way of life - authenticity through acceptance and grace.
Q: What is trance mediumship?
A: Trance mediumship is the oldest form of Spirit communication. It requires the medium to enter into an altered state and allow Spirit to blend with their energy, mind and body. There will be an opportunity to ask Sarah questions at the end of the event about trance mediumship.