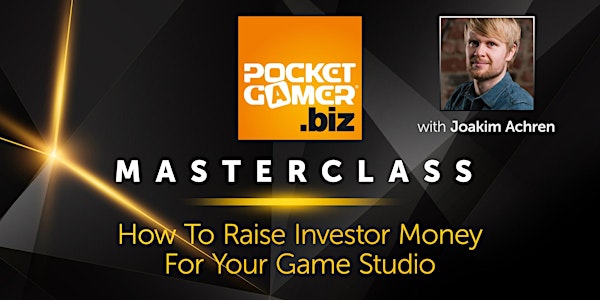 MasterClass: How To Raise Investor Money For Your Game Studio
Sales Have Ended
Ticket sales have ended
Thanks for checking out this PG.biz MasterClass! Sales are ended now and we are looking forward to hosting this online class. If you have any questions or queries please contact the team at masterclass.support@steelmedianetwork.com. You can find out more about the whole range of MasterClasses, and other upcoming events in our games industry series, at PocketGamer.biz. https://www.pocketgamer.biz/news/73990/introducing-masterclasses-a-series-of-deep-dive-workshops-exploring-all-things-games-design/
The PocketGamer.biz MasterClasses are a new series of deep-dive workshop sessions, covering practical game design topics.
About this event
The PocketGamer.biz MasterClasses include online webinar lessons and workshop sessions conducted by video.
PocketGamer.biz is well known for its conferences and round-tables, but the short nature of these sessions means they only scratch the surface of important subjects. For real in-depth learning, we have worked with industry experts to create the MasterClasses. They are professional half-day activities featuring tutorials and breakout groups, all accessed from your home office.
There are four sessions running in December 2020 (see below), and this session is: How to raise investor money for your game studio - with Joakim Achren
OVERVIEW
Attracting investors to invest in your game is challenging. You don't know which investor to talk to, how to approach them, what they are looking for, and how you could improve your situation to be more attractive for investors.
In this Masterclass, we'll address all of these issues and more. You get a glimpse into some investment cases which were not attractive to investors early on. As the studio progressed, it started attracting an abundance of interest from investors wanting to invest in the studio.
This course is taught by Joakim Achren of Elite Game Developers. He tells us:
"A gaming entrepreneur from Helsinki, Finland, I started my first video games company in 2005 and ran it for six years before it failed. Then I went to work at Supercell before founding my second company, Next Games, in 2013. In 2019, I left Next Games to start Elite Game Developer, with the mission of helping gaming founders build successful gaming companies.
Where can you find me? I spend lots of time on Twitter. I sometimes say that "I think in Tweets." It's been the best place to grow a community, learn new things, and talk to people.
Besides my weekly blog articles, every Monday, I publish a new podcast episode. On Fridays, I send out the "EGD News," a weekly newsletter to bring you the content that sharpens your knowledge of the gaming industry and enables readers to have my perspective on what is happening with gaming startups and funding and M&A."
You can read more Q&A with Joakim about what he'll be teaching, on PocketGamer.biz.
We will focus on three core areas of design:
The Masterclass will focus on three subject areas:1) The Investors. What kind of investors are out there, and what are they looking for? Some are looking for significant billion-dollar outcomes, whereas others are more specialized, invest their own money and are more hands-on when it comes to getting games to the market. When we cover this area, you will learn the right way to approach these different kinds of investors.
2) The Pitch. How to elevate your offering to investors? Your team, product, and what you accomplished so far might not be attractive for an investor. In this section of the Masterclass, we'll discuss ways to improve your odds at landing an investment from investors and how you communicate these to the investor.
3) Deals, terms, negotiations. In this section of the Masterclass, we will cover the following: What are all the funding instruments out there, what the terms for investment would look like and we'll go through several real-life examples of how fundraising has happened in gaming.
In this class attendees will be able to learn:
What investors are looking for
Get an understanding of what the next steps are to pitch your company to investors
How the investment terms work and what is fair and not fair for either party
This will be a highly interactive session using Zoom and Miro as tools to support the participants working together to see how the theory can be applied.
For each subtopic we will have the following format:
20 mins lecture
20 mins group activity
20 mins Feedback/Review
60 mins x 3 = three hours total
There will be audience participation encouraged throughout the MasterClass.
This Masterclass is tailored for gaming studios, from gaming startups of dozens of people to one-person game development entrepreneurs.
Other sessions & attendee offers
There are three other sessions available in December 2020. Each MasterClass requires a separate ticket, although multiple bookings are encouraged and come with a discount:
Tuesday, December 1st (2pm-5pm)
Game Design: How to benchmark, create and validate fun, with Javier Barnes
Wednesday, December 2nd (2pm-5pm)
Game Monetisation Design: Building Value into Your Game, with Oscar Clark
Thursday, December 3rd (2pm-5pm)
Predicting Commercial Success in Free-to-Play, with Martine Spaans
Individual multi-buy discount: book for three & get fourth free (so, book for all four MasterClasses and get one of them free).
Corporate discount: a group of six or more from one company can get 30% off if booked together.
To take advantage of multi-buy or group discounts, please email sally.kevan@steelmedia.co.uk to discuss your bespoke package.
Select your ticket above and follow the simple online booking system. Payment is required at the time of booking, so please have your credit or debit card ready.
Group bookings from the same company: to arrange a discount on block bookings, please contact us if you wish to purchase more than 6 tickets, via sally.kevan@steelmedia.co.uk
If you are an indie developer (small privately-owned studio with fewer than 10 members, engaged in game creation) or student you may be entitled to discounted tickets. Please contact us with proof of your status and we can discuss relevant offer codes: sally.kevan@steelmedia.co.uk
Please note the final ticket price is in £UK, and conference tickets can be subject to UK VAT at a rate of 20%. You will be sent a VAT receipt by email along with confirmation of your booking.
For all other questions, please contact support@pgconnects.com
Terms and conditions apply.