Where Female Tech founders connect with like minds to launch, and scale their businesses.
About this event
Masterclass: Money Matters for Female Founders
Date: Tuesday 7th June 2022
Time: 7.30pm BST
About this event
If you're a female founder, tech entrepreneur, allied entrepreneur, thought leader, business owner, non-tech founder, or an aspiring founder looking to amplify your money mindset for a successful fundraising, this masterclass is for you.
Our amazing guest speaker is Rasa DiSalvo, founder and CEO of RD Coaching and Consulting.
About Female Techpreneur
Female Techpreneur is a community for female tech founders at any point in their journey to access a carefully crafted Business Ecosystem whilst launching or building their start-ups.
We're championing the fabulous work our members do and ensuring they've got the support they need to go from concept, to launch, and the scaling of their startups.
Sign up to the community: https://www.femaletechpreneur.com/fetech-lite/
For membership enquiries, sponsorship and speaking opportunities, feel free to contact our admin at: hello@femaletechpreneur.com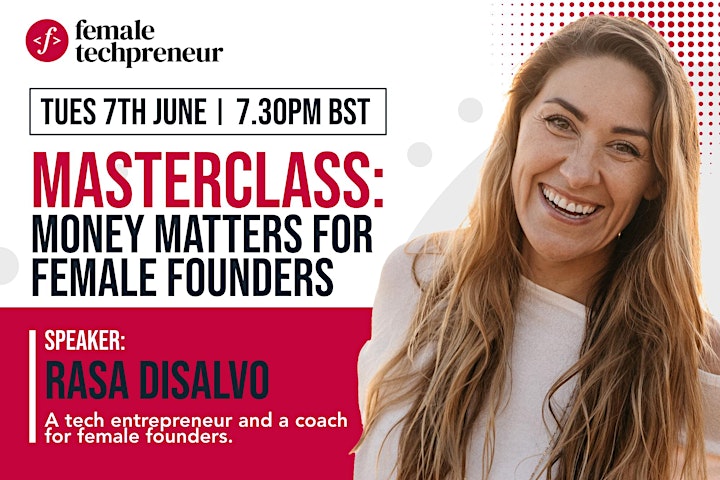 About Rasa
Rasa has coached founders, pro-athletes, Hollywood celebrities, corporate executives, and CEOs across the globe guiding them to achieve outstanding results. Prior to starting her own coaching and consulting business, Rasa spent 15 years as a Strategy and Transaction Consultant where she led multi-million-dollar projects and assessed the value of multi-billion-dollar companies.
Throughout her career, Rasa has built and led numerous high performing teams as well as championed various initiatives to drive authentic leadership and promote women into leadership roles.
We are passionate about helping business owners in tech connect with industry specific mentors, investors, access to alternative finance, thought leaders, grants, education, support and so much more!!
We are membership led and offer coaching, mentoring and events to support our members to achieve success in their chosen fields.
If you are considering signing up to our membership, there is still time!
Feel free to contact us; Operations - hello@femaletechpreneur.com