Masterclass: The Change Series 'Innovation - Taking Meaningful Risks'

Thursday, 5 March 2015 from 10:00 to 14:00 (GMT)
Event Details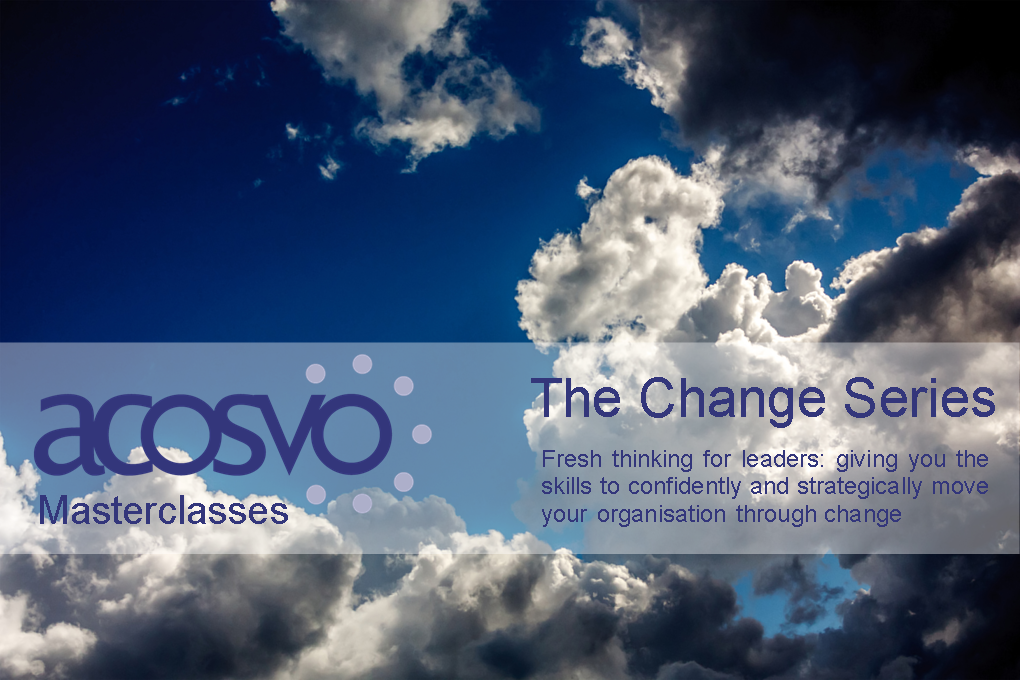 Innovation - Taking Meaningful Risks
Session led by Joette Thomas of Animate Consulting

You could recieve a 15% discount for booking the full programme - £238 ACOSVO Member, £360 Non-Member (Cost per single workshop: £70 ACOSVO Member, £100 Non-Member) 
The Change Series: Fresh thinking and useful frameworks to resource leaders to more confidently and strategically support organisations, and their people, through periods of significant change.
Each masterclass in this series has been created to 'stand-alone' or work together as an in-depth programme, providing an opportunity to consider change within your organisation.
At each masterclass there will be a blend of theoretical input, reflective and experiential learning; and we will conclude with creating a clear plan for applying insights and taking action to transition organisations, teams and individuals into the desired future. The thinking in these modules is informed by systemic and psycho-dynamic approaches to organisational development with the integration of some tried and tested models, and tools of the trade.
Masterclass 1: Innovation - Taking Meaningful Risks
The current context in which the third sector operates seems to be becoming ever more unpredictable. Available financial resources are reducing while demand for services is increasing, leaving us unable to apply 'tried and tested' solutions to the challenges our organisations are facing. This workshop is an opportunity to consider 'meaningful risks', tools for identifying them, and a key leadership skill for leading risk.
Topics covered:
The resource of Organisational Purpose

Using 'Negative' Capability

Boston Matrix Framework

Edward DoBono's Six Thinking Hats




Following Masterclasses:
Masterclass 2: Managing and Supporting the Change Process
12th May 10.00 - 14.00, Edinburgh
Many of today's 'wicked issues' are what writer Ron Heifetz refers to as 'adaptive challenges' – those that require active innovation and learning; not expertise and good management, as a 'technical' challenge does. To meet these adaptive challenges, organisations are likely to be required to change the way they are thinking and working. This workshop is an opportunity to consider the change related adaptive challenges that your organisation is facing, explore them through fresh lenses, and leave with new ideas for action.
Masterclass 3: Taking People with You
8th October 10.00 - 14.00, Glasgow
The reality of organisational change is that the leadership team is often six months ahead of the rest of the organisation in terms of considering, and preparing for, significant change. This workshop offers some theories of change, that will be explored experientially, and an opportunity to consider the resilience of your people, and yourself, in the face of organisational change.
Masterclass 4: Leading Change
8th December 10.00 - 14.00, Edinburgh
Following on from thinking about your own resilience, this workshop is intended to resource third sector leaders with increased understanding of how to support their own motivation, and happiness at work. The focus will be on theories from the growing field of positive psychology, the use of practical tools and each participant's unique psychological strengths. We will also spend time considering how your learning can be taken back into your organisation, to increase motivation, effectiveness and happiness at work.
To book for these masterclasses, please click on the title links above.
A 15% discount is available if you book for the full programme.

Do you have questions about Masterclass: The Change Series 'Innovation - Taking Meaningful Risks'?
Contact ACOSVO
When & Where

RBS Kirkstane House
139 St Vincent Street
G2 5JF Glasgow
United Kingdom


Thursday, 5 March 2015 from 10:00 to 14:00 (GMT)
Add to my calendar
Organiser
Our Vision is: 'Excellent Third Sector Leadership in Scotland'
Our Mission is to:

Shape the future of Scotland's third sector by providing every leader with opportunities to develop, influence and excel
If you are a third sector leader in Scotland click HERE to become a member of ACOSVO or to find out more