Event Information
Location
Centre de Cultura Contemporània de Barcelona
5 Carrer de Montalegre
08001 Barcelona
Spain
Refund policy
Refunds up to 7 days before event
Description
Good companies give their customers what they want.
Great companies give their customers what they want, before they want it!
In software, customers rule the day. We must continuously learn from our customers so that we consistently meet their ever-increasing expectations and demands. We must "Sense & Respond" to customer behaviours while anticipating needs—or we'll get left behind.
Join Jeff Gothelf for a half-day Masterclass on continuous product innovation.
HOW TO BUILD BETTER PRODUCTS FASTER
USING LEAN, AGILE, & DESIGN THINKING
KEY TAKEAWAYS
Integrate Lean, Agile, and Design Thinking into a cross-functional innovation process
Build better products that improve your innovation efforts and revenue
You'll discover how to:
Improve outcomes
Leverage Lean Startup, Agile, and Design Thinking to build a culture of continuous learning
Build Sense & Respond practices into everyday work
Run, optimise and incentivise innovation efforts
Use OKR's to build a customer-centric organisation
Build a user experience your customers love
Optimise your organisational structure
Staff, align and incentivise teams to make customers successful
Discover why product management is the must-have discipline on your staff
Succeed with your Digital Transformation through humble leadership and empowered teams
Operate at any scale
Integrate changing technology
Overcome the challenge of fitting technology into your organisation
Understand DevOps and why you can't win without it
For more reasons why this class is critical to product success, scroll down;
Do you care about building better products? Then you should attend!
Of course you care. We all do. That's why this masterclass is ideal for anyone involved in product management, innovation, digital transformation or software development, in any type of organization, at any level. It can help you improve your work, your team and your organization.
Exclusive access
During the class, in addition to the material, you'll have access to Jeff for questions. You'll also receive an invitation to an exclusive Slack group to continue the discussion after class and beyond.
Also; every participant will receive a copy of Jeff's award-winning books:
• Lean UX
• Sense & Respond
• Lean vs Agile vs Design Thinking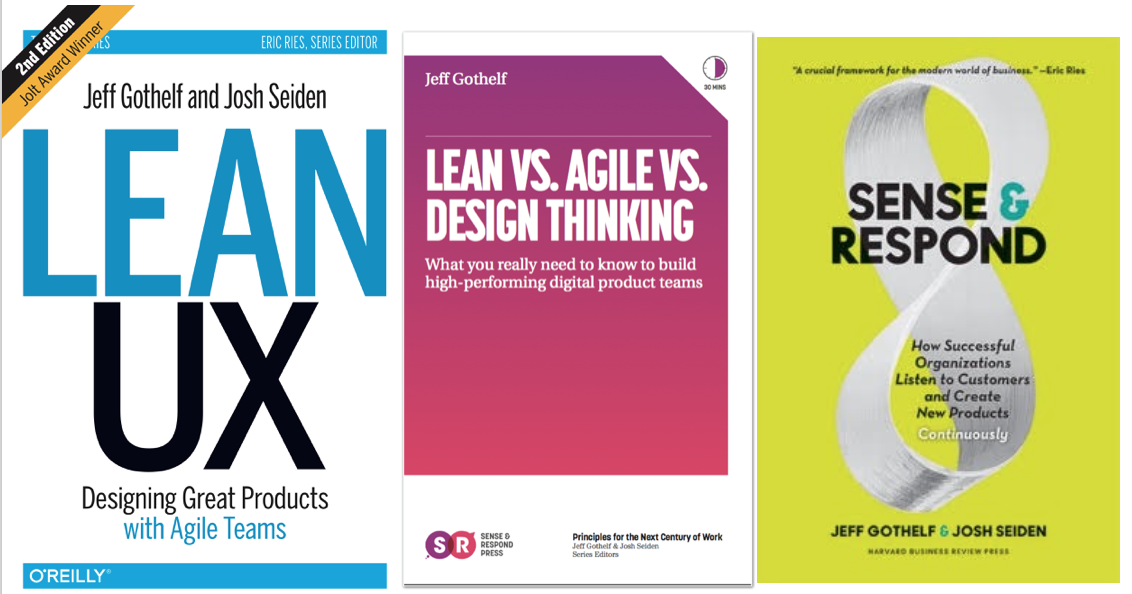 This is a limited opportunity. The masterclass will fill fast. Reserve your spot today.
The backstory:
Why continuous product innovation is critical to product success!
There's no escaping it: Software has changed the way companies interact with their customers, employees, and other stakeholders. Entire industries that once existed outside of the "tech movement" now understand that the only way to compete—and scale—is through software-driven technology.
The new reality: You embrace software or get left behind. Today, your software is no longer just in the hands of the "IT folks." Your whole organisation has to get involved, and it feels like sheer size of your org seems to be getting in the way of getting things done.
On top of that, as you've been adapting to this transformation, you've been noticing your competitors—and even little startups—seem to be moving much faster and beating you to market. You have to start getting out in front. But how?
Is it process? To some extent, yes. Modern practices like Lean Startup, Agile software development and Design Thinking provide valuable, customer-centric frameworks teams can use to increase innovation and success. But making them work together is difficult. This masterclass will explain how to get your designers, engineers and product managers working in harmony to ensure a great customer experience and business growth.
But process is not enough. Software development can't simply be forced into traditional operational structures or measured by the same old success metrics. In software, customers rule the day. Their real-time interactions—or lack thereof—now drive our direction and determine our success.
Therefore, we must continuously learn from our customers so that we consistently meet their ever-increasing expectations and demands. We need to "Sense & Respond" to customer behaviours while anticipating needs. It's time to move beyond simply delivering "products"—also known as outputs—to focus on driving customer success, aka "outcomes."
Date and time
Location
Centre de Cultura Contemporània de Barcelona
5 Carrer de Montalegre
08001 Barcelona
Spain
Refund policy
Refunds up to 7 days before event