Learn how to create and host exceptional 1:1 client sessions and workshop/learning experiences, using Zoom
About this event
What's stopping you from taking your client sessions, classes, workshops and demonstrations to the next level?
In these workshops you will learn loads of professional
tips
tricks
techniques
insights
to help you gain confidence using Zoom technology and create your powerful, professional presence online.
Zoom is a useful and versatile tool that can support you to move your business online quickly, efficiently and professionally.
In these 2 x 3 hour workshops you will learn how to manage a whole range of business events, including meetings, seminars and courses using a wide range of Zoom tools.
Join us as I gently walk you through the functionality, supporting you to understand how and when to integrate Zoom and it's valuable tool kit into your events and meetings.
We'll combine the technology with expert teaching and learning insights gleaned from over 20 years' experience delivering training, workshops, meetings and events both face to face and online.
Learn how to get the best out of this fabulous platform
Use Zoom to be your best online self
Get your business exactly where you want it to be.
Spaces are strictly limited to ensure everyone can experiment with the functionality and receive 1:1 support to enhance their learning.
Leave feeling confident, capable and ready to host, manage and run a variety of interesting events and engaging meetings in this virtual space.
The only limit is your imagination.
You'll learn how to
Manage your attendees
Create the ultimate interactive learning and sharing experience
Share useful learning tools in a variety of creative ways
Stimulate discussions
Gather useful participant feedback
Work with your delegates 1:1 and in smaller groups
Session 2 is on Thursday, October 29th (10:00 - 13:00) - You are able to defer to a later workshop, if you prefer
After these workshops you'll be granted access to regular 'Play & practice' sessions, where you can connect with other workshop attendees and practice the functionality, as well as working through any Zoom related issues you might have.
You'll also be invited to join our exclusive 'Masters of the Zoomiverse' Facebook group where you can keep up to date with the latest developments in the Zoom platform, ask questions and, of course, network with other members.
All training is provided via the Zoom platform so please ensure your device is capable of running the functionality prior to completing your booking.
To find out visit www.Zoom.us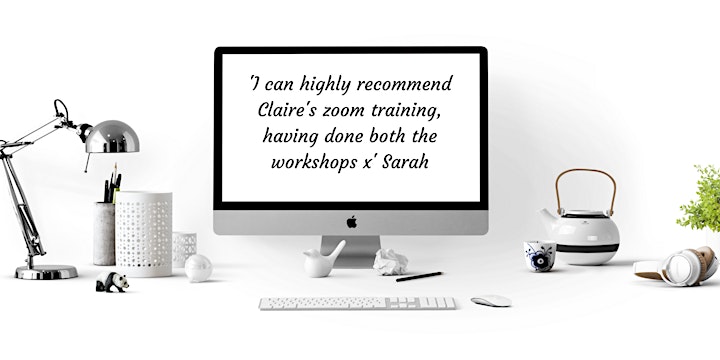 During the first six months of 2020 Zoom users increased by a whopping 2000%, increasing from just over half a million to a staggering 13 million people, all ready, willing and waiting to work with you, via Zoom.
Magnus Falk - Zoom CIO- expressed his amazement at the creativity and ingenuity of people using Zoom.
Make no mistake, the revolution is happening and your customers are ready to log on to your next online offer.