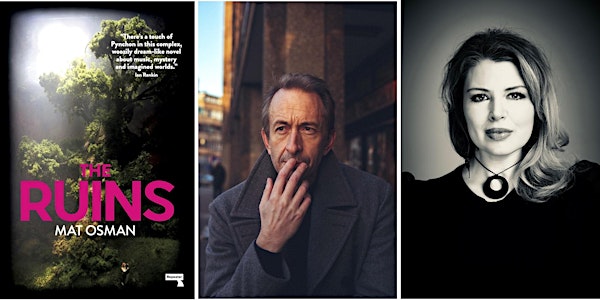 Mat Osman and Zoë Howe in conversation: The Ruins, Writing, Music and more
Refund policy
Contact the organiser to request a refund.
Eventbrite's fee is nonrefundable.
Mat Osman and Zoë Howe in conversation: The Ruins, Writing, Music and more
About this event
Join Mat Osman in conversation with Zoë Howe - a very special event hooked to Mat's debut novel 'The Ruins', exploring the place where music, writing and literature intersect, the inspiration behind the writing and the journey of Mat becoming a successful novel writer, in both senses!
Ian Rankin described The Ruins as a "complex, woozily dream-like novel about music, mystery and imagined worlds."
John Niven describes it as "Magical, surreal, disturbing. Reminded me in places of early Ian Banks and DBC Pierre ... one of the best, most fully realised debut novels I've read in a long time. Hell, one of the best novels I've read in a while."
The Ruins is a magnificent modern noir tale of music, murder, and myth. It's about the inimitable feeling of making music, the slipperiness of identity, and the struggle to control circumstance.
It's about the magical sound of snowflakes falling in Lake Tahoe, and speeding through the LA night to the sound of acid house. It's about melancholic mists over London and starlit skies above the Nevada desert.
It's about how in today's world, with enough money and ruthlessness you can make people believe in anything, as long as you are prepared to get your hands very, very dirty.
Mat Osman is a founding member of the iconic British rock band Suede. The Ruins is his first novel.
Zoë Howe: Zoë Howe has written acclaimed biographies of artists including The Slits, Poly Styrene, the Jesus & Mary Chain, Wilko Johnson, Stevie Nicks and Lee Brilleaux. Zoë was also part of the team behind hit documentary Poly Styrene: I Am A Cliché. A visual artist and sometime musician, she has worked with Viv Albertine, Helen McCookeryBook, Steve Beresford and others. Zoë currently presents the Rock 'n' Roll Witch show on Soho Radio.
* In addition to this Event Only ticket, a discounted Book Combo ticket is also available.
** This event will be the third in our monthly series of online events and opportunities - a 40% discount for a year's subscription to our our Louder Loyalty Club is available - giving you access to each session throughout the year, together with a host of other benefits. For all details and purchase options paste this link into your browser: http://tinyurl.com/y9f3xjxk