The true story of a group of women in Bishops Itchington who became the 1st female council in the UK.
About this event
Refreshments will be available before the performance - doors open 1 hour before the shows start time .
The performance will be OUTSIDE, so please come armed with jumpers, coats or blankets!
This performance will have BSL interpretation so is accessible for the deaf or hard of hearing.
This local small town tale delights with modern folk music, dance & storytelling, as we follow the story of how a real life group of housewives in a rural Warwickshire Village broke down barriers to transform the area & community around them, forming the first female council in Britain.
In the wake of the devastation that war brings, & with Britain & its people still struggling to be anything but austere - these women brought about change & hope, showing how to make great change on a local level, inspiring a nation.
Our production incorporates storytelling, song, dance, and puppetry. With songs from the charts, mixed into folk arrangements and movement pieces (based around mangles) this is a story following the strength of women with an all female cast.
Basically, this story, of these women, didn't happen in a city.
It isn't in London, or Manchester or Birmingham,
although it's near Coventry.
It happens in a place you wouldn't expect,
a place you wouldn't expect a revolution to happen.
And from women you wouldn't expect to start a revolution.
And where do revolutions begin?
Like everything, they begin with a mother…
Presented by Boys Club Theatre & Steph Hartland Productions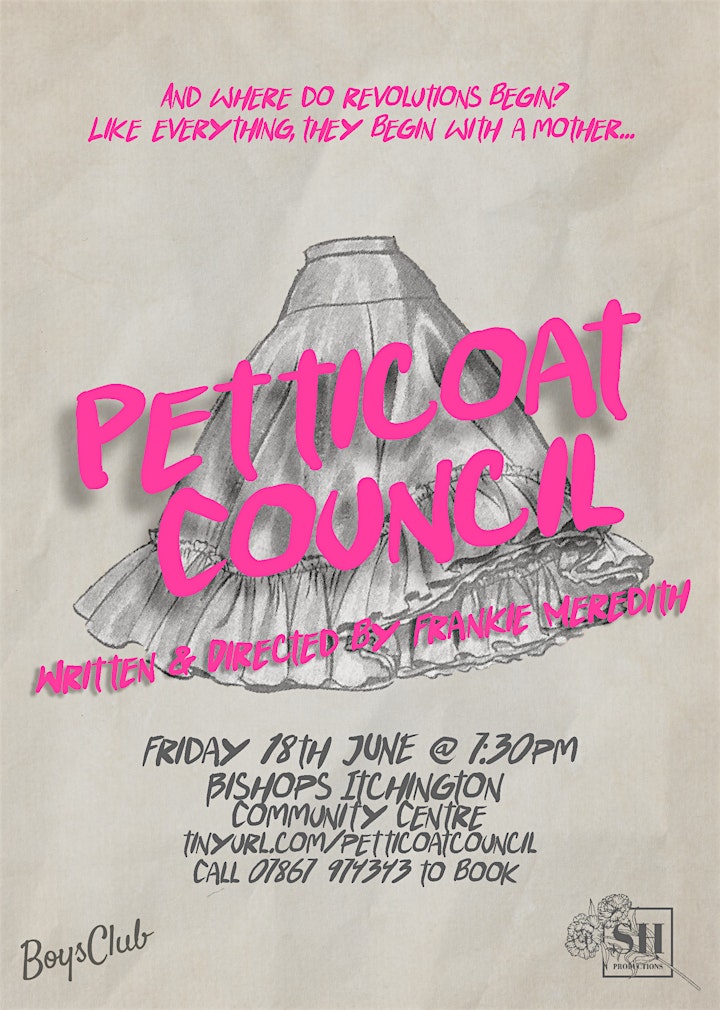 Organiser of Matinee - Petticoat Council @ Bishops Itchington Community Centre