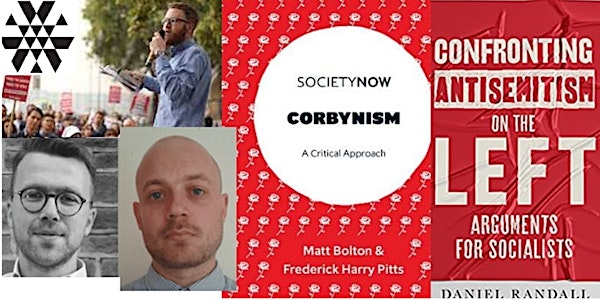 Matt Bolton & Daniel Randall talk "Confronting Antisemitism"
Matthew Bolton co-author of "Corbynism" discusses "Confronting Antisemitism on the Left: arguments for socialists" with Daniel Randall
About this event
How has antisemitism historically manifested on the left? Is it an expression of generic antisemitism in wider society, or a distinct form of antisemitism? What are its historical roots, and what is its relationship to anti-Zionism and political discourse about Israel/Palestine? And, crucially, how can it be overcome?
Daniel Randall, author of Confronting Antisemitism on the Left: Arguments for Socialists, will present the themes from his book and discuss these questions, and others, in conversation with Matt Bolton, co-author of Corbynism: A Critical Approach.
Matthew Bolton is a founding scholar at the London Centre for the Study of Contemporary Antisemitism, and a researcher at the Zentrum für Antisemitismusforschung at Technische Universitat Berlin. He is working on the conceptual development of contemporary antisemitism.
Daniel Randall is a railway worker and trade-union activist based in London. He is a supporter of the Workers' Liberty. He has written extensively about antisemitism on the left.