Matthew Bourne solo piano concert with support from Fifth Wheel Jazz Quintet
About this event
To celebrate the arrival of the 'Beckstein' grand piano at dai hall we are very fortunate to present:
Matthew Bourne solo piano concert
with support from: Fifth Wheel Jazz Quintet
Doors 19:00pm Concert 19:30pm (ticket available at the door for £7)
With a reputation as a fearlessly unpredictable pianist and composer, Matthew Bourne is a passionate explorer of sound, possessed of a burning desire to make music on anything old, broken or infirm.
In the last year, Bourne set up studio in his rural West Yorkshire home in order to capture the spontaneous moments of inspiration his concerts have become famed for. With an arsenal of vintage synthesisers, tape delays and a creaky harmonium alongside his trusty piano and cello, he is preparing for a period of intense and varied activity in his own name after many years of collaboration.
Born in Avebury, Wiltshire in 1977, Bourne first came to national attention as a winner of the Perrier Jazz Award in 2001, which was followed by an award for innovation at the BBC Radio Jazz Awards in 2002, and the International Jazz Festivals Organisation's International Jazz Award in 2005. Renowned for his intensely personal and sometimes confrontational solo work, Bourne's uncanny ability to balance delicacy and virtuosity, while establishing a close affinity with his audience, have become hallmarks of his concert performances.
Bourne's first solo studio album, Montauk Variations (The Sunday Times' Leftfield Album of the Year in 2012), was celebrated for its sense of stillness and serenity, marking an important musical turning point in his career and the beginning of a new creative direction. Pieces from Montauk Variations have appeared on compilations by Bonobo and Needwant.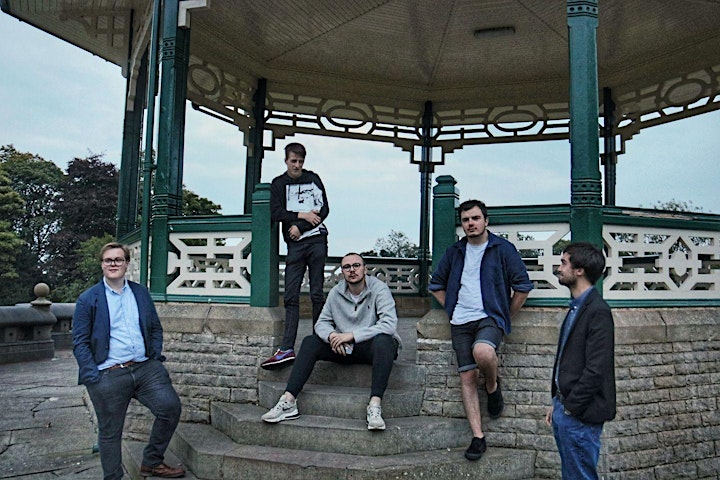 Fifth Wheel Jazz Quintet are a West Yorkshire based Jazz Quintet, who in their final year at the University of Huddersfield and join us to play some of their favourite tunes.
Organiser of Matthew Bourne solo piano concert with support from: Fifth Wheel Jazz Quint
AME (Art.Music.Experiment) based in Huddersfield West Yorkshire, is an international creative hub that supports experimental music and art. We commission new work from the most innovative composers and sound artists, providing concerts, installations, educational projects and artists-in-residence programs, working together with local venues and organisations.