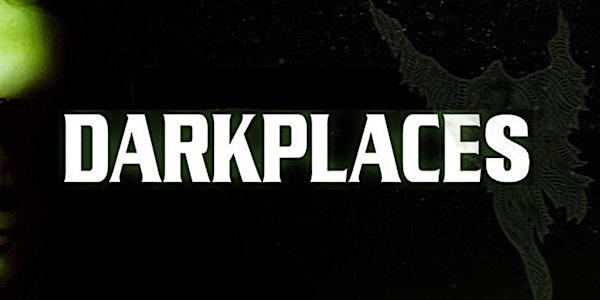 Matthew Holness and Edward Parnell's Darkplaces - Zoom lecture
Event Information
Refund policy
Refunds up to 1 day before event
Join Matthew Holness and Edward Parnell as they talk about their favourite ghost stories and tales of the weird and eerie.
About this event
They'll cover writers including M. R. James, Sheridan Le Fanu, Robert Aickman, Algernon Blackwood, Walter de la Mare, E. F. Benson and more, as well as hopefully finding time to discuss their own work.*
Matthew Holness is a writer, actor and director who wrote and starred alongside Richard Ayoade, Alice Lowe and Matt Berry in the 2004 haunted hospital-set Garth Marenghi's Darkplace. The six-part Channel 4 series remains a cult classic and probably the greatest – perhaps the only? – eighties spoof comedy-horror series ever made for TV. More recently Matthew has acted in a number of television comedies and films, as well as writing, directing and starring in A Gun for George, a short feature about a delusional fan of British 1970s pulp crime novels. In 2016, he wrote and directed Smutch, a Halloween Comedy Short for Sky Arts, in which he played an embittered author haunted by a ghost writer. His debut feature-length film as a director came in 2019 with Possum, a hugely atmospheric and disturbing psychological horror film set in Norfolk, the county where he now lives. Matthew also writes stories of the weird and eerie, including most recently for the anthology Beyond the Veil (published October 2021). He also contributed the introduction to Swan River Press's 2019 edition of Le Fanu's Green Tea.
Edward Parnell also lives beneath the brooding skies of Norfolk. He is the author of two books. The Listeners (2014), is an unsettling novel of family secrets set in the wilds of East Anglia at the start of WWII, and was the winner of the Rethink New Novels Prize. Ghostland: In Search of a Haunted Country (William Collins, 2019), a work of narrative non-fiction, is a moving exploration of what has haunted our writers and artists – as well as the author's own haunted past; it was shortlisted for the PEN Ackerley 2020 prize, an award given to a literary autobiography of excellence. For further info see: https://edwardparnell.com
* Please be warned that in this evening's discussion there will (probably) be blood. Crimson copper-smelling blood… And bits of sick.
Date and time
Location
Refund policy
Refunds up to 1 day before event