Join us for this 90 minute Blackmagic Design DaVinci Resolve live webinar!
About this event
Join us for this 90 minute Blackmagic Design DaVinci Resolve live webinar!
Working with a mix of camera file formats at increasingly higher resolutions and frame rates puts pressure on modern post production workflow.
DaVinci Resolve is the fastest post production tool and is the only solution that combines editing, color correction, visual effects, motion graphics and audio post production all in one piece of software! You no longer have to learn multiple apps or switch software for different post production tasks.
The new processing engine Inside DaVinci Resolve makes decoding, encoding and playback even faster, making it possible to work with 8K and even 12K files on a laptop computer!
How do you choose the right computer for the realtime performance you need and how does DaVinci Resolve harness CPU and GPU hardware to offer unrivalled speed?
In this webinar we'll discuss the efficiency of Blackmagic RAW, working with other popular video codecs and examine the speed of DaVinci Resolve's most popular features.
Learn how to choose the right hardware for your needs and see performance tests using powerful Apple M1 computers.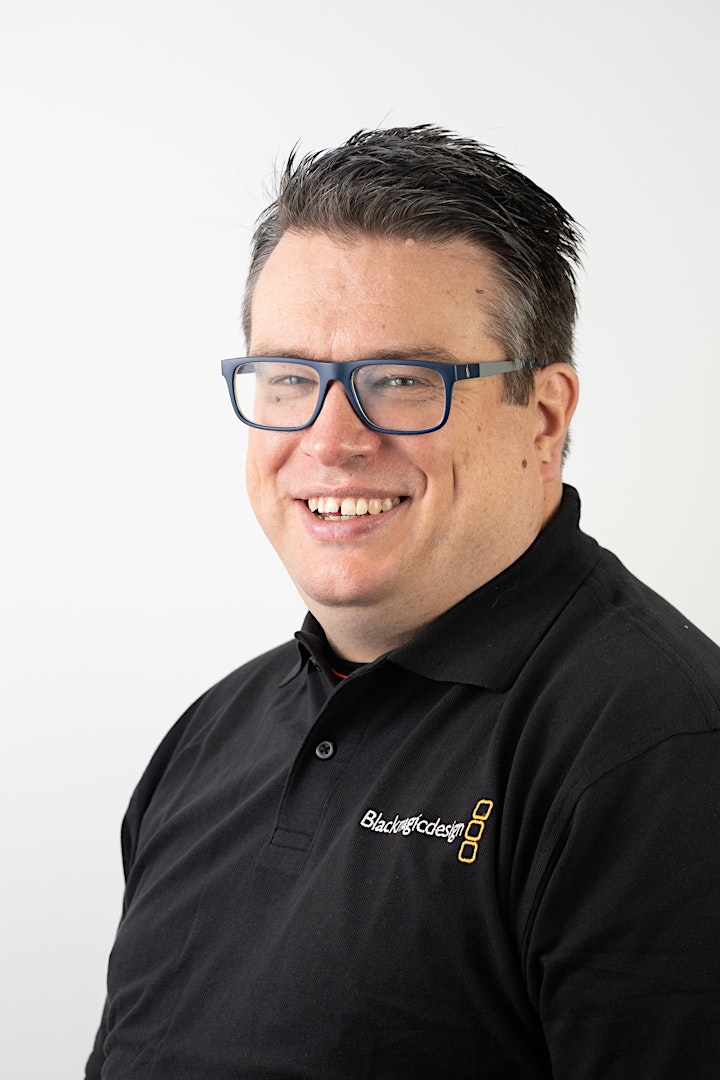 Simon Hall
Simon is Senior Technical Sales Specialist for Post Production at Blackmagic Design. He has been in the industry 18 years, starting out as a runner, rising through the ranks of assistant editor, editor, Smoke operator and colourist working with several broadcasters including the BBC, Channel 5, MTV and Sky, as well as high end corporate clients including BMW, Jaguar, Lockheed Martin, Nike and Red Bull. He was lead trainer at Soho Editors before joining Blackmagic Design in 2015.
Organiser of Maximising The Performance of DaVinci Resolve - Visual Impact
Blackmagic has grown rapidly to become one of the world's leading innovators and manufacturers of creative video technology. And that's because our philosophy is refreshing and simple - to help true creativity blossom.
Blackmagic Design's founders have had a long history in post-production editing and engineering. With extensive experiences in high-end telecine, film and post, harnessed with a real passion for perfection, Blackmagic set out to change the industry forever.
A company dedicated to quality and stability and focusing on where it's needed most; Blackmagic has created some of the most talked about products in the industry. World famous for their unbeatable codecs, Blackmagic envisioned truly affordable high-end quality editing workstations built upon Blackmagic software and hardware.
In November 2002, Blackmagic launched the DeckLink capture card and in doing so single handedly made working in true 10 bit uncompressed video on a Macintosh OS X™ system an affordable reality. The DeckLink card has become a market-leading product due to Blackmagic Design's philosophy of delivering "what ever it takes to give creative editors and designers the very best quality tools".
"Blackmagic Design is dedicated to allowing the highest quality video to be affordable to everyone, so the post production and television industry can become a truly creative industry." Grant Petty-CEO