Event Information
Location
William Morris Gallery
Forest Road
London
E17 4PP
United Kingdom
Description
May Morris, younger daughter of William Morris, was a professional designer, embroiderer, teacher and writer. She exhibited widely in the UK and abroad, founded the Women's Guild of Arts and was responsible for designing some of Morris & Co's most iconic textiles. May also participated in the early Socialist Movement and was instrumental in preserving and shaping her father's legacy.
2016 marks thirty years since the publication of Jan Marsh's seminal biography, Jane and May Morris – A Biographical Story. Since then, public interest in May's career as a leading female exponent of the Arts and Crafts Movement has grown enormously. New material – including textiles and archival holdings– has entered public collections and continues to come to light.
This two-day study event will present new research on May's life and work, in advance of a new exhibition at the William Morris Gallery in the autumn of 2017.
On Friday 13 May, participants will visit the V&A's Clothworkers' Centre to view a wide selection of May's embroidered textiles up close. The William Morris Society will be hosting a riverside walk, exploring the environment in which May lived and worked in Hammersmith. In the evening, Jan Marsh will deliver the keynote lecture at the William Morris Gallery in Walthamstow, followed by a wine and cheese reception.
On Saturday 14 May a wide range of speakers will explore different aspects of May Morris's life and career in a packed programme at the William Morris Gallery. Coffee and a sandwich lunch will be provided.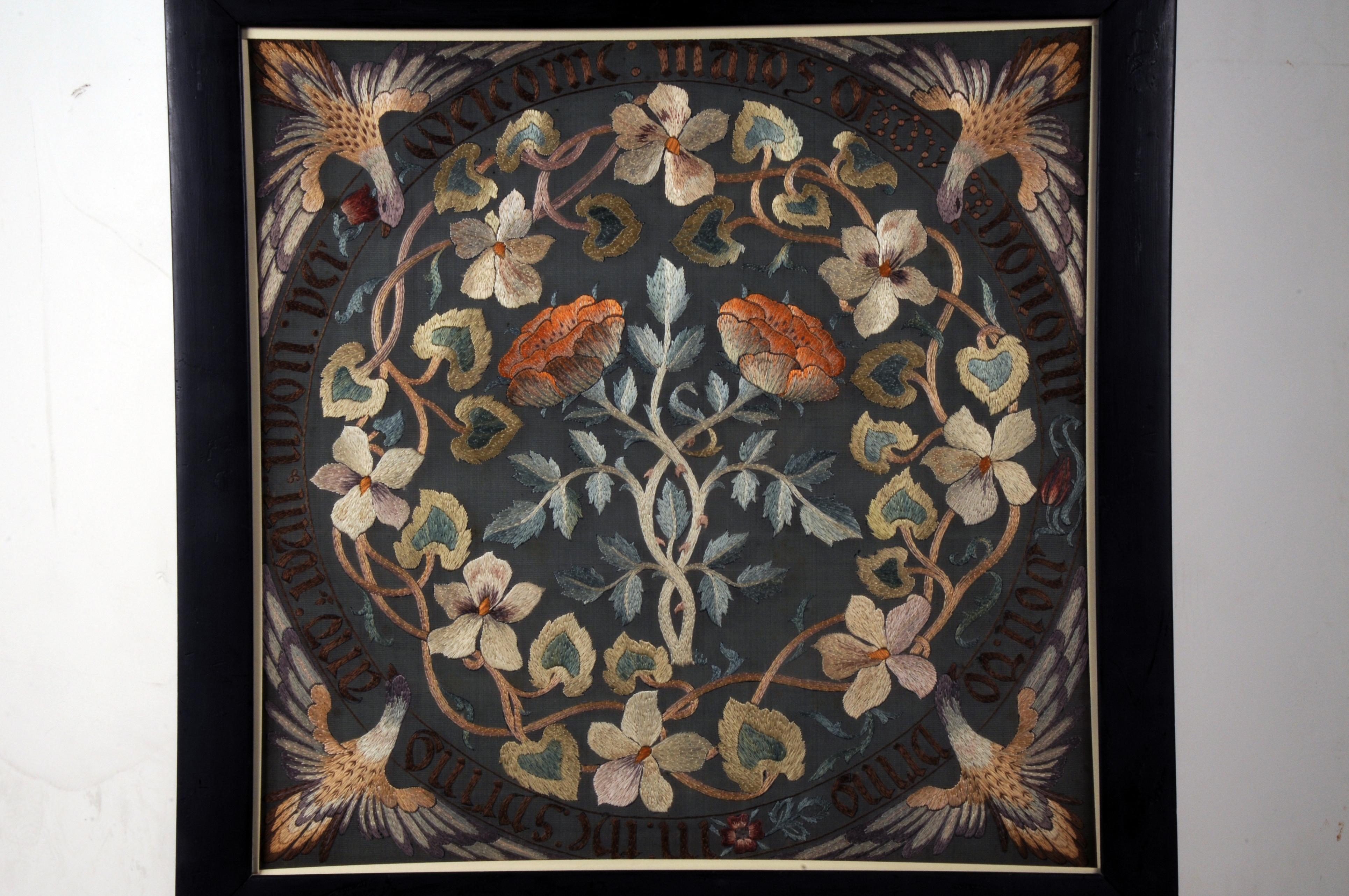 ---
Full programme


Friday 13 May
11.30am – 12.30pm
Group 1
Visit to the V&A's Clothworkers' Centre to view May Morris embroideries with curator Jenny Lister
Group 2
Riverside walk in Hammersmith led by the William Morris Society
12.30pm – 2.00pm
Break (lunch not included)
2.00pm – 3.00pm
Group 1
Riverside walk in Hammersmith led by the William Morris Society
Group 2
Visit to the V&A's Clothworkers' Centre to view May Morris embroideries with curator Jenny Lister
3.00pm – 5.00pm
Break (travel to Walthamstow)
5.00pm – 5.30pm
Registration, coffee, galleries open, William Morris Gallery
5.30pm – 6.00pm
Visit to the William Morris Gallery collection store to view May Morris textiles
6.00pm
Keynote lecture: Jan Marsh, 'A remarkable woman - though none of you seemed to think so': the overdue reevaluation of May Morris's career
6.45pm – 7.30pm
Wine and cheese reception


Saturday 14 May
9.30am – 10.00am
Registration and coffee
10.00am – 11.30am: Session 1

'Decorative Needlework': May Morris and her embroiderers, Catherine White, independent researcher
May Morris, Hammersmith and the Women's Guild of Arts, Helen Elletson, Curator, William Morris Society

'When [needlework] was at its very finest': May Morris's writings on Opus Anglicanum, Dr Lynn Hulse, Visiting Research Fellow, V&A
11.30am – 11.45am
Coffee/tea
11.45 - 1.15: Session 2

May Morris and Kelmscott, Kathy Haslam, Visitor Experience Manager, Kelmscott Manor
May Morris and Socialism, Anna Mason, Manager, William Morris Gallery
A Tale of Two Sisters: May and Jenny Morris, Rowan Bain, Curator, William Morris Gallery
1.15pm – 2.00pm
Lunch
2.00pm - 3.45pm: Session 3
May Morris at the Birmingham School of Art, Helen Bratt-Wyton, House Steward, National Trust, Wightwick Manor
Apple Tree to Vine Leaf: the Morris & Co. embroidery daybook 1892-96, Jenny Lister, Curator, Textiles and Fashion, V&A and Hanne Fauerby, Assistant Curator, Furniture, Textiles and Fashion Department, V&A
Darning, dyeing and embroidery: May Morris at Melsetter, Annette Carruthers, Honorary Senior Lecturer, University of St Andrews
3.30pm – 3.45pm
Break
3.45pm - 5.15pm: Session 4
May Morris in America: spreading the Arts and Crafts Gospel, Margaretta Frederick, Chief Curator and Annette Woolard Provine Curator of the Bancroft Pre-Raphaelite Collection, Delaware Art Museum
May Morris and Ernest Gimson: a wartime relationship, Mary Greensted, independent scholar
Memorialising her father's legacy: May Morris as curator of the William Morris estate, Julia Dudkiewicz, PhD Candidate, Central Saint Martins
5.30pm: Close
Date and time
Location
William Morris Gallery
Forest Road
London
E17 4PP
United Kingdom