Mayflower Myths : Storytime In A Teacup

Thursday, November 24, 2016 from 2:30 PM to 5:30 PM (GMT)
Event Details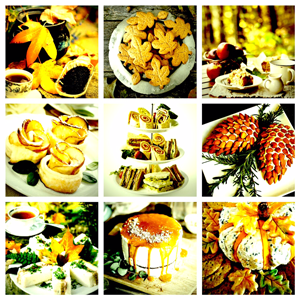 Pardon the Turkey
Thanksgiving's a national holiday in the States. A day of gratitude & giving thanks. A melting pot of myths, legends & traditions. Today the celebration revolves around a hodgepodge of feasting with family & friends.

Thanksgiving & turkeys go hand in wing. Indulgence is the order of the day, as more than 50 million turkeys are served up. One perky turkey however escapes a basting, gets a pardon from the President and is then sent to Mount Vernon to live out the rest of its days. Fact or fiction? Book November's Afternoon Tea and find out if this is myth, legend or tradition. 

A venue with a view
Make a beeline for Bloomsbury to combine culture with clotted cream under a stunning canopy, as afternoon tea will be served against a historical backdrop. Glide up the stairs to the Great Court Restaurant which sits under the transparent glazed roof of the British Museum's Great Court. A world famous architectural wonder, it's a destination in it's own right with spectaluar views that overlook the magnificent 19th century Reading Room.   

Dress code
Combine comfort with chic and dress for season in warm rustic colours of autumn. Chestnut and maple. Saffron and scarlet or cinnamon and ginger with a hint of amber.

Teatime traditions
14:30 - 15:00 : Meet in the Great Court Restaurant
15:00 - 16:00 : Afternoon tea served
16:00 - 17:00 : Storytime in a Teacup 
17:00 - 17:30 : Trip to the musuem shop 
17:30             : Museum closes

Who can attend?
Sisters-in-Waiting. Sisters. Big Sisters. Really Big Sisters.Body Doubles (if you're a Kitten Heel member and you're double booked).

KILLER HEEL MEMBERSHIP
CANCELLATION POLICY : SISTER SNOG REQUIRES AT LEAST FOUR WORKING DAYS' NOTICE TO CANCEL AN EVENT BOOKING. THE NOTICE NEEDS TO BE BY EMAIL TO connect@sistersnog.com AND BE ACKNOWLEDGED BY SISTER SNOG. OTHERWISE AN INVOICE FOR FULL PAYMENT FOR THE EVENT WILL BE ISSUED.

KITTEN HEEL MEMBERSHIP
REFUND POLICY: PAYMENT IN FULL IS REQUIRED TO SECURE AND CONFIRM THE BOOKING. ONCE PAYMENT HAS BEEN MADE SISTER SNOG DOES NOT OFFER REFUNDS. MEMBERS WHO ARE UNABLE TO ATTEND MAY SEND A SUBSTITUTE I.E. ANOTHER SISTER OR THEIR BODY DOUBLE.  
CANCELLATION POLICY: SISTER SNOG REQUIRES AT LEAST FOUR WORKING DAYS' NOTICE TO CARRY A BOOKING FORWARD TO ANOTHER EVENT. THE NOTICE NEEDS TO BE BY EMAIL TO connect@sistersnog.com AND BE ACKNOWLEDGED BY SISTER SNOG.
Interested in discovering more about Sister Snog?
1. Visit www.sistersnog.com to get the full scoop.
2. Call Hela on 07714 218699.
3. Click to send an email with your phone number & someone from Snog Towers will call you.
4. Follow #snogtowers on Twitter, Instagram, Pinterest and LinkedIn.
5. Become a fan on Facebook.

When & Where

Great Court Restaurant
The British Museum
Great Russell Street
WC1B 3DG
United Kingdom


Thursday, November 24, 2016 from 2:30 PM to 5:30 PM (GMT)
Add to my calendar
Organizer
Sister Snog
Welcome to the world of Sister Snog
Sister Snog is a remarkable club for successful business women who want to stop networking and start connecting. If the shoe fits join the tribe and grow your business one connection at a time. It attracts smart, sassy business women who are looking for a refreshing way to connect with decision makers of a similar make-up and mind-set. It's a magnet for entrepreneurs, empire builders and those at the top of their game in corporate land, who are who are running or working for an established business, that's been trading for at least two years.

Face-to-face gets seriously social

Sister Snog is the face of face-to-face marketing with a finger on the social media pulse. Members can attend more than 25 sparkling business events a year. And they have access to each other morning, noon and night via Social Snog. A private social network where everyone in the tribe can interact with each other.

A Taste of Sister Snog

So, if you have a sense of adventure, a hint of humour and are curious about the world of Sister Snog, let's talk. Book A Taste of Sister Snog. A 60-minute racey-pacey session with one of the Directors. If there's a perfect fit you'll be invited to join. Then you have seven days to accept the invitation. And pay the annual membership fee. If after your first event there's a change of mind, on either side, the fee will be refunded. In full.*  That's a promise.
*Less the cost of any event attended for Killer Heel Membership and provided that the member has attended their first event within one month of joining.

Mayflower Myths : Storytime In A Teacup