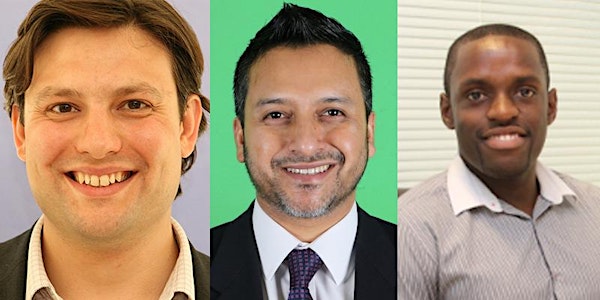 MBA Tuesday Club: Entrepreneurial approaches to developing meaningful exper...
Location
University of Westminster
35 Marylebone Road
London
NW1 5LS
United Kingdom
Description
We are delighted to invite you to the launch of the MBA Tuesday Club 2015/16, a series of networking events tailored for our MBA alumni and students.
For our first event, we welcome Warrick Harniess, founder of Scandinavia Stories, and Suhel Miah and Olu Obafusi, co-founders of MBA Club Distinction. They will discuss the possibilities of applying creative and entrepreneurial solutions to produce high-quality live learning experiences, opportunities for real networking and mentoring opportunities for students, graduates and organisations.
Speakers:
Warrick Harniess
Warrick Harniess and business partner Tom Parkinson created Scandinavia Stories to offer immersive, experiential workshops that gamify live learning experiences. Their programmes help participants to develop essential professional skills and to learn entrepreneurial approaches to innovation, strategy, sales and marketing, and leadership. Scandinavia Stories' mission is to revolutionise the teaching of business and to help grow the UK's entrepreneurial economy.
Upon graduation, many MBA graduates seek traditional teaching opportunities within business schools. Warrick recognised his passion for teaching, but took the opportunity throughout the remainder of his MBA to refine his business idea. Rather than simply taking a teaching post, he identified new ways to revolutionise both university and organisational based workshops.
Suhel Miah
Suhel has attained an MSc in European Politics and an Executive MBA with Distinction. He is a Fellow of the Chartered Management Institute (FCMI) and the Institute of Science and Technology (FIScT), and a Chartered Scientist (CSci). His career has developed progressively into the leadership and management of science, technology and business. As a former British Army Reservist, Suhel has served 3 operational tours for his country across three continents.
As an Operations and Learning Services Manager at the University of Westminster, Suhel provides transformational change management to five cross-functional teams (30+ people) and leads infrastructure projects. He is also Co-Founder and Director of MBA Club Distinction, an exclusive networking club for the world's top MBA graduates and aspiring top MBA students, coupled with management consulting.
Olu Obafusi
Olu obtained BA Hons in Business Management and has since gone on to do an Executive MBA. He is an effective PRINCE2 practitioner qualified Project Manager with over six years' experience working for Pearson in a variety of roles. He has proven experience of managing efficient service delivery teams, whilst his current role requires a great deal of stakeholder engagement. Most recently he project managed the end-to-end delivery of an international qualification (contract worth £1.5m), whilst bid management writing and delivery planning for bid proposals (contracts worth between £1.5m - £100m). Working with specialist teams to capture high-level solutions on multiple projects at any one time is part of his day job and as such is transitioning these skills to MBA Club Distinction as a co-founder.
This event is free, but please register in advance to attend.
For more information, or to suggest speakers/topics for future events please contact the alumni team at wbs-alumni@westminster.ac.uk.