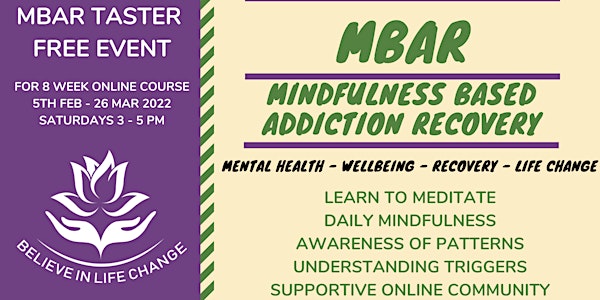 MBAR taster session - Mindfulness Based Addiction Recovery
An opportunity to meet with me and ask any questions relating to the 8 week MBAR course and experience a little of the content.
About this event
WHAT IS MBAR?
Mindfulness Based Addiction Recovery (MBAR) is a mindfulness-based approach to promoting recovery from addiction and understanding relapse.
This secular mindfulness course is for anyone who has obsessive or compulsive behaviour that brings temporary pleasure and relief and also for professionals working in the field of addiction who would like to understand addiction through the mindfulness lens.
The key areas the course addresses are:
1. Develop awareness of personal triggers and habitual reactions and learn ways to create a pause in this seemingly automatic process
2. Change our relationship to discomfort, learning to recognise challenging emotional and physical experiences and responding to them in skillful ways
3. Foster a non-judgmental compassionate approach towards ourselves and others
4. Build a lifestyle that supports both mindfulness practice and recovery
The course is experiential and includes group sharing and discussion managed via the zoom platform which is a covid safe, inclusive learning platform.
The course will run from 3 - 5 pm GMT, on Saturdays(10 am – 12 noon ET and 7 – 9 am PST ) commencing 5th February and offers a safe online community to support you on your journey.
The cost is £30 per week, £240 for the whole course. I offer a 20% discount for those on low income & additional concession for those in hardship, plus weekly or monthly payment plans.
Previous participant gave the following feedback
" I liked the Group experience and learning about the different types of meditation. It is a very welcoming space, and very easy to feel relaxed ..Mel is an excellent leader. Compassionate and understanding. "
Mel@believeinlifechange.com