Location
Wellcome Collection
183 Euston Road
London
NW1 2BE
United Kingdom
Sales Have Ended
Ticket sales have ended
Don't miss out on future MCG events! Sign up for occasional notices about new events like our UK Museums on the Web conference and our Spring meetings http://eepurl.com/r3Y6H
Description
A limited number of tickets have now been made available. To extend the venue's capacity, some delegates will watch the plenary sessions via a livestream into an adjacent room. These tickets only guarantee access to the overflow 'viewing room' with a livestream from the main auditorium during plenary sessions.
We'll all have a chance to mingle during refreshment breaks, lunch and the afternoon parallel session.

And don't forget - you can still get a free ticket to our evening reception: MCG's Museums+Tech 2016 conference reception.
Tickets are now on sale for this year's annual MCG conference – formerly known as UKMW16 and newly rebranded as the Museums+Tech conference - that will be held at the Wellcome Collection, London on 19 October 2016.
This year's conference will be better than ever with two inspirational keynotes, 10 informative presentation and seven provocative lightning talks, plus plenty of opportunities to network and share your own ideas and challenges with colleagues working in a similar space across the sector.
Meet our Keynote Speakers
Sebastian Deterding is a designer and researcher working on playful and motivational design for human flourishing - he'll share his expertise on 'Designing for Curiosity' We think his wide, international perspective and deep expertise in design is the perfect opening to the day.
Shelley Bernstein is the Deputy Director of Digital Initiatives and Chief Experience Officer at the Barnes Foundation, a fine arts and horticulture museum, where she joined the staff in 2016. You'll know her work at Brooklym Museum including the mobile live Q&A app 'Ask Brooklyn Museum. She'll talk about the challenges of moving between two very different institutions, deploying short term solutions while working towards institutional change and longer-term strategies, and her shift from 'digital' to Chief Experience Officer.
Full Programme
09.45 - Registration & Refreshments
10.15 - Chair & Venue Welcome
10.30 - Keynote: Sebastian Deterding, Designer and Researcher
'I wonder…? Designing for Curiosity'
11.15 - Break
11.45 - Session One: Digital Storytelling
Elaine Macintyre, National Museums Scotland,

B

ehind 'Explore': how we rethought our approach to telling stories online
Rhiannon Looseley and Josh Blair, Museum of London, Fire! Fire! A story told several ways
Rosie Clarke, Culture24

,

Answer me this! Questions and experiments
12.45 - Lunch and MCG AGM
14.00 - Session Two: Lightning Talks
Short, sharp talks aimed to provoke and stimulate
Russell Dornan, Wellcome Collection

- S

leep Stories: crowdsourcing a patchwork of meaningful stories online and in person
Jason Evans, National Library of Wales - Sharing digital content with Wikimedia
Chloe Roberts, Wellcome Collection - Adaptive evolution with A/B testing
Anna Lowe, SMARTIFY - An Audioguide for the Digital Age
Sarah Cole, TIME/IMAGE - Poetic Places: making a geolocation app with little time, less money and no coding
Andrew Larking, Deeson - The naked bot
James Lloyd, Ure Museum of Greek Archaeology - Objects in the Round: photogrammetry for engagement and education
14.45 - Break
15.15 - Session 3: Parallel Sessions
Session 3a: Work in a Digital World
Martin Fell, York Museums Trust

,

Wikipedia projects aren't built in a day - Roman coinage on Commons
Katharine Alston, Imperial War Museums, Using service design dashboards and trello in the trenches
Vahur Puik, Estonian photographic Heritage Society, Hard work of crowdsourcing. The experience of Ajapaik.ee
Sarah Younas, Tyne & Wear Archives & Museums, Digital as New, Authentic Museum Experiences
Session 3b: Working with Collections
Kate Noble, University of Cambridge Museums, It's got to be easy to use: collections based narratives in the classroom and how teachers use digital resources
Lucy Moore, Leeds Museums and Galleries, Creating an online interactive using a 'difficult' collection
Robert Cawston, National Museums Scotland, Generating engagement: creating playful experiences with museum collections
16.15 - Keynote: Shelley Bernstein, Deputy Director of Digital Initiatives and Chief Experience Officer, Barnes Foundation
How to Change the Tires on a Moving Truck
17.00 - Drinks Reception (details to be shared soon)

Don't miss out – book your ticket now to avoid disappointment.
Early bird discounts are only available until 19 September.
This year's theme: Sharing our Stories
This conference will explore how digital technology supports museum storytelling, from the cutting edge to the mainstream, at the audience interface and behind the scenes. Our innovative practitioners will share their expertise on topics including: audience research, collaboration, open data, digital communication, education, reimagining collections, 3D modelling, audio guides, crowdsourcing, artificial intelligence, A/B testing, agile software development.
About the Museums Computer Group
Since its founding in 1982, the Museums Computer Group's events have been an important part of the UK heritage sector. MCG events are an opportunity to learn from experts and peers, and like many others, this event's theme was partly inspired by discussion on our practitioners' list. Our events have an excellent track record for featuring a range of emerging and eminent speakers presenting on topics that matter to you now. Come prepared to challenge speakers, ask questions and network in a friendly and welcoming atmosphere. We will also host an evening event open to all so you can continue the conversations started during the day.
Please note that our events have a Code of Conduct designed to let everyone have a great day.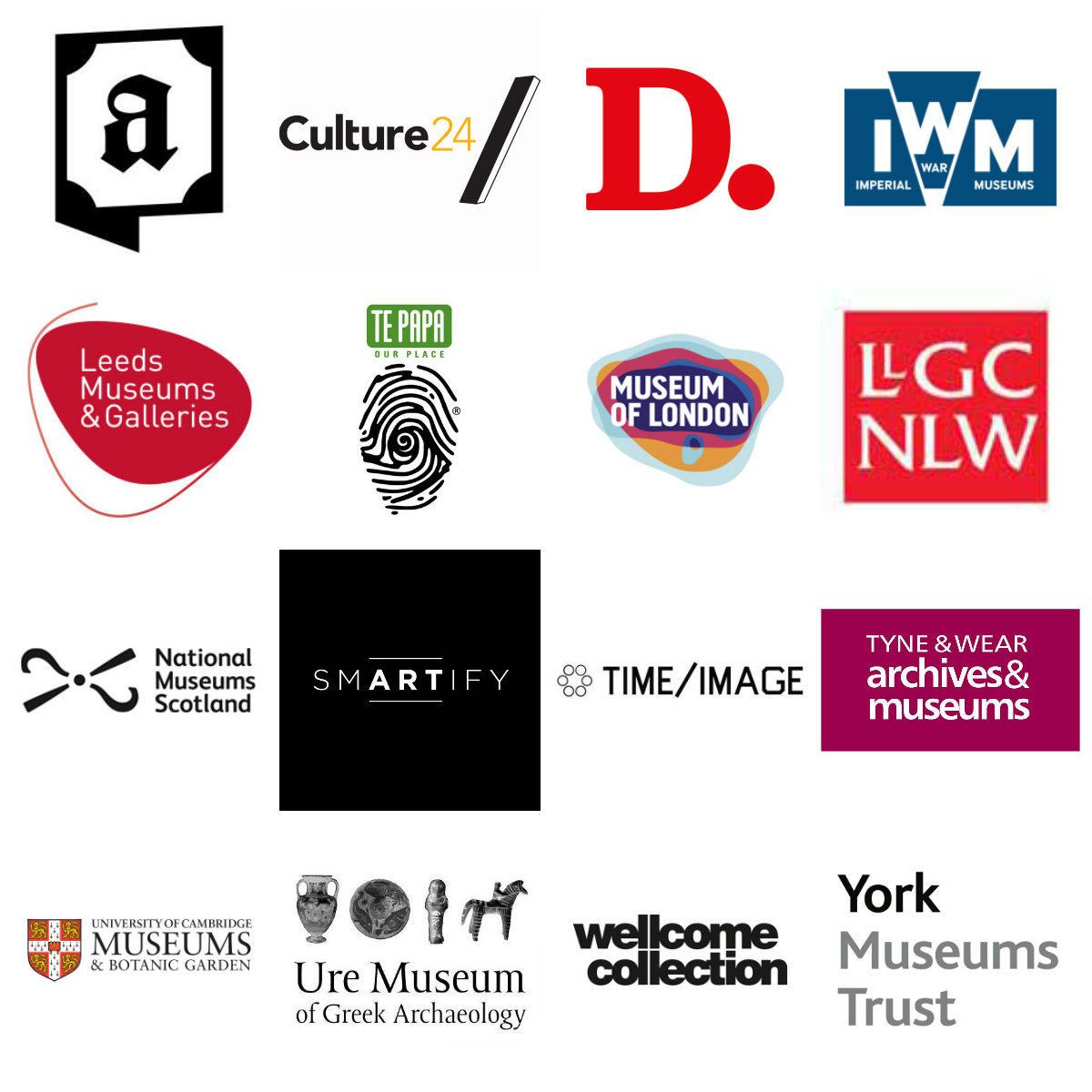 We'll have speakers coming from all these organisations!!