MCR GameJam

Sunday, March 2, 2014 from 9:00 AM to 6:00 PM (GMT)
Event Details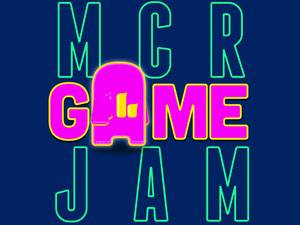 Are you a coder, artist or audio designer interested in videogame design? Or, are you a gamer who's curious about how videogames are put together? If so, we'd like to invite you to come join us at Madlab for the next Manchester Game Jam!

Once again we're throwing a rapid-fire one-day jam, open to anyone and everyone interested in all things game. Like always we'll announce the theme a few days before the event so everyone has a bit of notice to plan stuff out (or, just turn up and wing it!). Solo and groups are both A-OK, and it doesn't even have to be a videogame: if board games or anything else is more your bag, that's cool too. Our only rule is: you have to show your game off at the end!
From novice to ninja, everyone is welcome. Let's make some games! For more info, drop us an email: MCRgamejam@gmail.com Or, leave us a message on the Google group 
You can also follow us on Twitter: @MCRgamejam 
FAQ's
I'm not a programmer, will I be any use at the jam?
Absolutely! We're encouraging a really diverse group of people: artists, designers, audio people and everyone in between. Most of our games are videogames, but in the past we've had board games and all sorts pop up. Go nuts!

What are the rules?
Rules? Pah! No rules for us. We'll announce a theme beforehand, but apart from that you can do what you like. Our only request is that at the end of the jam you show everyone what you've been working on.

Is there a winner?
Nah. We're in it for the games, the learning, and the fun. Let's be honest: you're all winners at our jam.

Do I need to bring a computer?
If you're making a digital/computer game, then yes please: we don't have any machines. We usually have some other fun stuff happening (board games, pervasive gaming), but generally most folks will be making videogames. There's high-speed WiFi and lots of plug sockets, but you'll need your own machine.

Who owns the games that get made?
You do! We usually share the finished games online, and we're encouraging people to share their code too: looking at how people have built stuff is all part of the fun. Ownership of anything goes to the creator of the game, but sharing is caring, right?

Can I participate remotely?
For this event, no. It's a hands-on, group event. Join us!

I don't have a ticket, can I come anyway?
If we're not sold out, you can pay on the door.

I have a ticket, but now I can't make it. What do I do?
Please let us know, so we can refund you and give someone else your ticket. Demand is high, so we don't want to waste any tickets!
When & Where

Manchester Digital Laboratory (MadLab)
36-40 Edge Street
Norther Quarter
M4 1HN Manchester
United Kingdom


Sunday, March 2, 2014 from 9:00 AM to 6:00 PM (GMT)
Add to my calendar
Organizer
Manchester Digital Laboratory (MadLab) is a grassroots innovation organisation, based in Manchester UK. Our primary areas of focus are science and technology; arts and culture.
We support a diverse range of communities and activities – from monthly meetups and courses through to public experimentation with new & emerging technologies, and collaborating with others to deliver new, interesting and exciting projects.
Our courses are learning for doers. Every one of our courses, whether it's electronics or coding, writing or making, is powered by the same magic. Bring your curiosity and a little bit of imagination, and we'll amaze you with what you can do!
Our main base of operations is a three-storey, 3000 square foot Industrial Revolution-era former weavers' cottage centrally located in Manchester's Northern Quarter. We are less than ten minutes walk from Manchester Piccadilly and Manchester Victoria train stations, and just two minutes walk from the Arndale Shopping Centre. For directions, please see our website: http://madlab.org.uk/find-us/