MCSA 365 Certified: Modern Desktop Administrator Associate - Windows 10
Sales Have Ended
Registrations are closed
Awww!!! You might have missed this course... We offer this course frequently. To see all upcoming course start dates, follow the link below: https://www.itpt.co.uk/course-schedule/ IT Professional Training
Sales Have Ended
Registrations are closed
Awww!!! You might have missed this course... We offer this course frequently. To see all upcoming course start dates, follow the link below: https://www.itpt.co.uk/course-schedule/ IT Professional Training
Description
***Please read ticket description at the bottom***
***For course details visit www.itpt.co.uk ***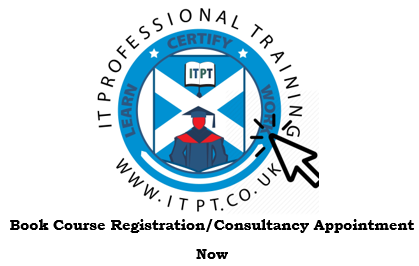 IT Professional Training Edinburgh is offering you the chance to join this free (fully funded by SAAS) MCSA 365 Certified: Modern Desktop Administrator Associate - Windows 10 certification. This will cover the this course will cover MD-100 path only.
. This part-time, tutor-led course is free for people who qualify for SAAS part-time funding grant.

For SAAS funding eligibility:
1. You have to be a resident of Scotland
2. Either employed and earning less than 25k a year or can be unemployed as well
3. Have not used the SAAS funding in this Academic Year.
Exams Objectives:
This exam measures your ability to accomplish the following technical tasks: deploy Windows; manage devices and data; configure connectivity; and maintain Windows.
Deploy Windows

Manage Devices & Data

Configure Connectivity

Maintain Windows
---
Course Information:

Classes: One day a week – Every Sunday 13:30 - 17:00 Hrs
No of weeks: 16
---

Ticket Description:
This ticket logs your interest to join this course.
To study this course free, ITPT requires all interested students to complete SAAS PTFG application and ITPT course registration form. Please contact us to book your appointment to enrol you in the course.
Note: This course is fully funded by SAAS part-time funding and only eligible students will be able to join this course for free, please see below for the eligibility. If you are not eligible to get the SAAS part-time funding please contact us to discuss other options.
To check your eligibility click on this link( Check your eligibility ).
To request for application forms contact us( itpt.co.uk/contact-us/ ) and write your message mentioning the Eventbrite's event.
---
Course Enrolment:

To make an appointment to enrol in this course, click here to Book Course Registration/Consultancy Appointment
---
Contact:
0131 552 5558
Email: info@itpt.co.uk
website: www.itpt.co.uk
Go to contact us page
For more info visit www.itpt.co.uk