Discover ideas to help your autistic child build a healthy relationship with food, followed by live discussion to answer your questions.
About this event
This was the second OpenHouse on Autism event, a free webinar series designed to give practical help to families with autistic children. This event was live on the 16th September 2020. View the FULL RECORDING on Facebook.
Join our host Lucy Sanctuary, Autism specialist with Clinical Partners, eating disorder specialist Dr Vicki Ford and Dr Ann Ozsivadjian to discover practical ways to address challenges around food.
Key things you'll learn:
Creating a low anxiety routine
How to expand your child's food repertoire
Managing meal time meltdowns
The art of distraction
How therapy can make a difference
The format combines an expert presentation followed by hosted discussion where we will explore and seek to address your questions. All attendees will receive a top tips action plan that you can adapt to your needs, to help put the key insights from the event to use.
Please note these are public events and we are not able to give any personal recommendations.
Your host
Lucy Sanctuary is a specialist Speech & Language Therapist and Cognitive Behaviour Practitioner (CBT) working with families, children and young people who are on the Autism Spectrum. Lucy has considerable experience of carrying out autism assessments for children and young people from the age of two to 20, and works with young people with complex presentations such as learning difficulties, high levels of anxiety, selective mutism and behaviour difficulties.
Our expert speakers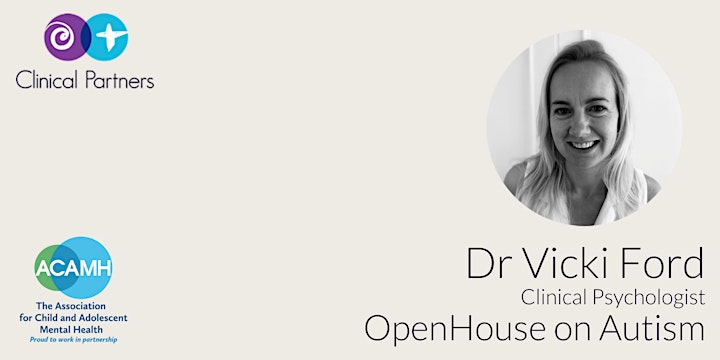 Dr Vicki Ford is a Clinical Psychologist, a specialist in ASD, and part of the complex feeding team at Evalina London Children's Hospital. She's worked in both community teams and hospital settings now she works in a multidisciplinary team taking referrals from paediatricians primarily in the south-east of England.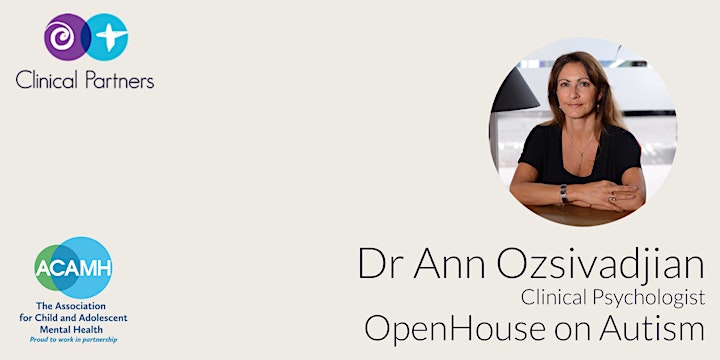 Dr. Ann Ozsivadjian is an Independent Practitioner and Honorary Researcher at Kings College London. She is a leading expert in the assessment and treatment of mental health difficulties in ASD, in understanding cognitive pathways to anxiety in ASD, and also working with girls and women on the autism spectrum.
OpenHouse on Autism series
Don't miss the full series of events running September - November 2020:
Managing your child's 'back to school' anxiety [02 Sep]
Meal time stress and managing food sensitivities [ 16 Sep]
In search of a bedtime routine. Giving your child the foundations for sleep [30 Sep]
It's not a tantrum, it's a meltdown. Creating positivity around emotions [14 Oct]
"She doesn't seem autistic." Tackling low diagnosis for autism in girls [28 Oct]
How to help schools help your autistic child [11 Nov]
Please note, once our events have taken place, you can view full recordings on our Facebook page
Produced in partnership
The OpenHouse on Autism series is produced by the leading mental healthcare practice, Clinical Partners, in partnership with The Association for Child and Adolescent Mental Health (ACAMH).
About Clinical Partners
Our mission is to make a positive impact on the lives of every one of our patients and their families. CQC registered and with clinics across the UK and online, we combine exceptional mental healthcare with end-to-end support that puts patients' needs truly at the heart.
For advice on autism assessments or getting help with specific mental health challenges, please contact our triage team. We're here to help.
About ACAMH
We are proud to join with Clinical Partners to present these free webinars that will help us work towards our vision of 'Sharing best evidence, improving practice'.
To learn more about ACAMH, and to access a host of free evidence-based resources on a range of mental health topics, visit www.acamh.org.
Organiser of Meal time stress and managing food sensitivities
We are one of the UK's leading providers of mental health services who work both privately and with the NHS to help people and families experiencing mental and emotional difficulties to get better. Through in-person and remote appointments, we connect thousands of patients with senior clinicians for a range of mental health difficulties including autism, ADHD, anxiety, and depression.

Mental health affects us all. Whatever your challenge, we're here for you.