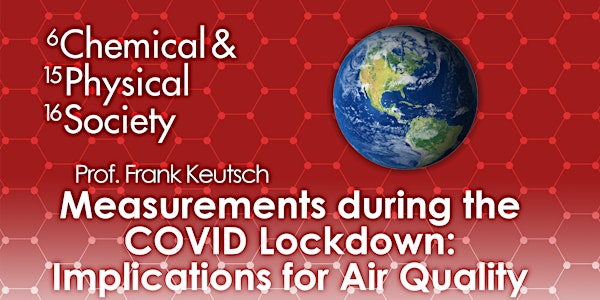 Measurements during the COVID Lockdown: Implications for Air Quality
We have an exciting talk by Prof. Frank Keutsch, Stonington Professor of Engineering and Atmospheric Science at Harvard University!
About this event
Synopsis:
Reductions in human activities during COVID lockdown measures in the spring of 2020 directly impacted emissions of both greenhouse gases and precursors to air pollution. Mobility data provided an estimate of reductions of CO2 emissions from traffic reductions. However, a comparison of official traffic counts with the mobility data highlights challenges in using the mobility data to estimate changes in CO2 emissions. The formation of important urban air pollutants such as ozone and particulate matter (PM) is directly coupled to nitrogen oxide (NOx) emissions. NOx concentrations regulate both the oxidative chemistry that transforms emissions to pollutants and NOx is a direct precursor to both ozone and PM. After an introduction to this highly non-linear chemistry, observations of nitrogen dioxide (NO2), ozone and PM in Germany in 2020 are used to demonstrate that German urban areas are often in a NOx saturated regime. In this regime, reductions in NOx emissions result in increases in ozone pollution and PM levels also do not decrease as strongly as the NOx emissions. This response is explained by the detailed day and night-time chemistry of NOx. The results underscore the well-established complexity of using NOx emissions reductions to regulate air quality.
Organiser of Measurements during the COVID Lockdown: Implications for Air Quality