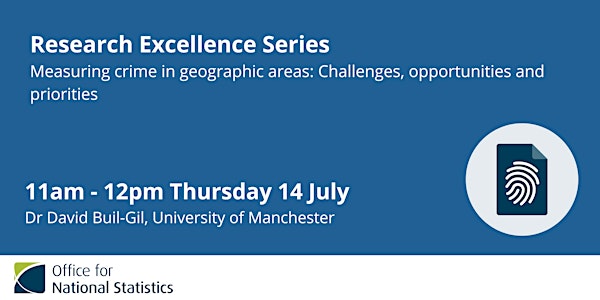 Measuring crime in geographic areas: Challenges, opportunities & priorities
ONS Research Excellence Series 2022 - Measuring crime in geographic areas: Challenges, opportunities and priorities
About this event
We are pleased to welcome Dr David Buil-Gil, winner of the Research Excellence Early Career Award 2021 and a Lecturer in Quantitative Criminology at the Department of Criminology of the University of Manchester, UK, and the Cluster Lead for Digital Technologies and Crime at the Manchester Centre for Digital Trust and Society.
His research interests cover small area estimation applications in criminology, crime and place, measurement error in crime data, and new methods for data collection.
The Talk
Police-recorded crimes have long been the main data source used to document community differences in crime risk and study the concentration of crime in geographic areas.
While the accessibility and versatility of police-recorded crime data allow its usage in a variety of contexts, police data have been subject to criticism due to the presence of measurement error resulting from the combined influences of victims' under-reporting and inconsistencies in recording practices across police jurisdictions.
The analysis of community differences in crime may be affected by variations in the magnitude of the 'dark figure of crime' (i.e., crimes that are not recorded in statistics) across neighbourhoods, with substantially more under-coverage in some small geographic areas than others. As a result, researchers are increasingly using crime surveys to obtain 'unbiased' estimates of crime in geographic areas.
However, survey-based crime data are not error-free. Other sources of crime data, such as calls for police services, incidents recorded by health emergency services, social media and crowdsourced data, and synthetic crime data generated through computer simulations are also increasingly being used to analyse geographic crime patterns.
This presentation will discuss the opportunities and challenges for accurately measuring crime in geographic areas from available sources of data.
There will also be time for you to present your questions to David in the last 15 minutes of the talk.
Book your place now!
Register to join us on Thursday 14th July 2022.
Your confirmation email will contain your a Microsoft Teams invite to join us on the day.
If you have any questions, please contact: SRS.Engagement.team@ons.gov.uk
ONS Research Excellence Series 2022
The SRS Engagement Team like to provide ONS colleagues and members of our research community with a greater understanding of how ONS data is being used to make a real difference.
We are currently building our ONS Research Excellence Series 2022 programme so please keep an eye open for updates.