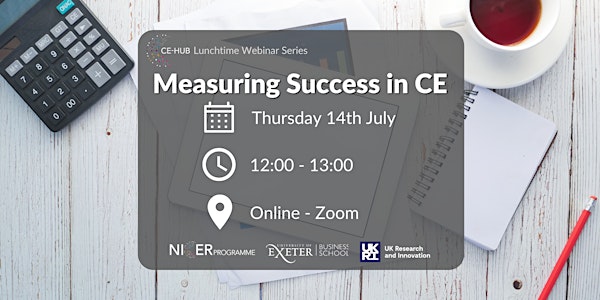 Measuring Success in CE - CE-Hub Lunchtime Webinar Series
Join the CE-Hub and guest speakers to explore measurements and metrics to understand impact an success of CE interventions.
About this event
Date: Thursday 14th July 2022
Time: 12:00 - 13:00 BST
Location: Event hosted online
Overview
So you've made the decision to implement a CE based actions - but how do you measure its progress, understand what has changed as a result and ultimately, measure your success? In this webinar we will explore the world of 'Impact', Key Performance Indicators, metrics and other ways to measure and understand the effects of what we are doing.
Designed to engage and promote discussion on key topics, these webinars will include short presentation from guest speakers, followed by audience Q&A.
Meet our Panellists
Katja Hansen, Mulhall & Hansen Beneficial Footprint
Katja Hansen is a leading practitioner, executive trainer, mentor and author in product & process innovation and infrastructure development using the Cradle to Cradle (C2C) Design framework that forms the basis for the Circular Economy. She has worked across many different industrial sectors and has specialized expertise in the build environment and biological systems, for example with bio-based materials, wastewater re-use and improving soil quality in urban environments. She is has been a long-time lecturer at the Exeter EMF CE Masterclass. She will introduce product circularity datasheets (PCDS), a Luxembourg initiative to standardize data collection for the circular economy, which she co-developed.
Atta Ajayebi, Sphera
Atta is a Sustainability Consultant at Sphera. He is experienced researcher with a history of working on the sustainability of economic systems. He is skilled in supporting the transition towards a Circular Economy, utilising Life Cycle Assessment (LCA), Energy, and environmental engineering. Atta has more than 10 years of professional experience in LCA and other sustainability assessment metrics and methods such as Material Flow Analysis, Natural Capital assessing, Spatial analysis and Circularity indicators.
Sophie Thornander, Philips
Sophie is Program Manager Circular Economy & Transformation at Philips, driving the agenda for two key sustainability programs at Philips. For Circular Economy, this includes key topics such as closing product loops, product & business model design and building global coalitions. For Transformation, this includes engagement and communication to empower employees to realise their purpose and actively contribute to Philips sustainability ambitions. These projects support digital businesses on sustainability, from target-setting to co-creating how digital can contribute to sustainability.
Format
This 1 hour webinar will include:
12:00 - 12:05 Welcome and Chair Introduction
12:05 - 12:25 Speaker presentations
12:25 - 12:55 Audience Q&A
12:55 - 13:00 Chairs Closing Remarks
13:00 Close
Registration
Please register using the 'register' link on this page. Please make sure you use your University of Exeter email address. If you wish to register without using Eventbrite, or if you have any questions regarding the event please contact: CE_Hub@exeter.ac.uk.
Data Protection and Privacy
To aid organisation of this event, attendee information may be shared with relevant staff in the University e.g. a list of attendees could be provided to the University host, guest speaker.
We will store your information securely, so that we can communicate to you about the event (e.g. cancellation of event, changes to the itinerary, a satisfaction survey).
We delete our access to personal information on Eventbrite after 6 months.
More information on the University's privacy policies can be found here.
For more information on Eventbrite's own privacy policy, please visit this page.