Description
Please return to this page frequently for updates on Media Street's 10 Year Anniversary Event.
PLEASE NOTE: this is a free event, held on July 19th from 10:30am - 4.30pm. Media Street welcome business owners and working professionals, interested in receiving support in areas such as marketing, web design and web development, at anytime during the six hour time frame. There will be something happening at all times, therefore even if you can only attend for half an hour to an hour, the Media Street team would love to welcome you.
REGISTER for free now to confirm your attendance and/or to schedule an individual 15 minute workshop, to discuss your online presence and what's possible. View the timetable under the heading, 'Event Structure - Group Presentations and Activities',to ensure you don't miss out on the discussion topics that can have the greatest impact on your business.
PLEASE inform Media Street of any food allergies or dietary requirements prior to the event so that their team can account for your specific needs.
Overview
Leading South West full service digital agency, Media Street, are turning 10 in July! To celebrate a decade's worth of digital transformations, they're hosting an all-day event and would like to see as many new and familiar faces in attendance.
With Media Street's long list of clients and local business owners/representatives invited to this eagerly anticipated event, the day promises to be a fantastic, fun-filled networking opportunity not to be missed. Attendees will have the opportunity to learn more about the company, the services they provide and the impact they can have on your digital presence.
Media Street's trustworthy and knowledgeable team of web design and digital marketing staff will ultimately help you deliver on your brand strategy.
The Media Street Journey
Founded in a bedroom by owner Charlie Street, Media Street emerged from humble beginnings. Having grown exponentially from the outset, the business has since evolved into a highly acclaimed digital agency with clients throughout the UK and Europe.
Earlier this year, Media Street were recognised by The Parliamentary Review for their best practices in the 'Digital, Culture, Media and Sport' sector. They featured in the official 2018/19 edition of the widely distributed and read publication. What a way to mark their anniversary!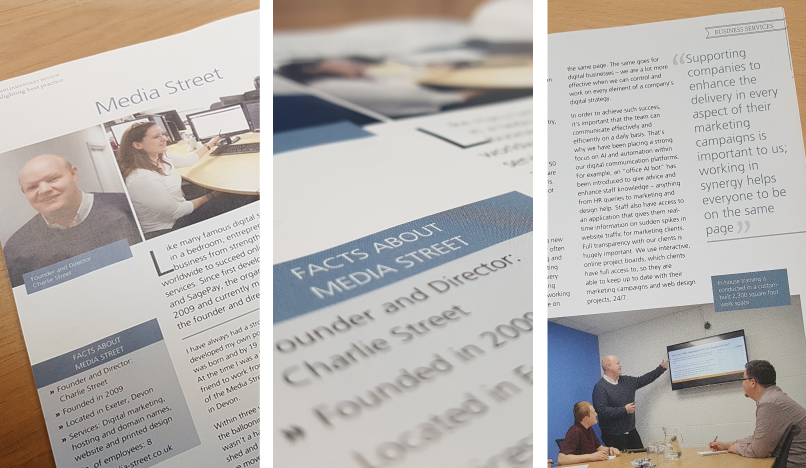 Read the feature article on Media Street in the 2018/19 Parliamentary Review.
What to Expect from Media Street's 10 Year Anniversary Event:
1:1 Workshops - The Media Street team will be holding 1:1 workshops to go through all things web design and marketing. During the workshops, the marketing and web design experts of Media Street will give an assessment of your company's current online performance, outlining key existing areas and how to enhance your digital presence.

Games and Fun-filled Activities - There will also be the opportunity to partake in classic games that take you back to your childhood, such as splat the rat, hook a duck, ball in a bucket and tin can alley.

Virtual Reality - You'll have the chance to experience the world of virtual reality.

Food & Drink - A selection of food, including vegetarian, gluten free options and a range of desserts - as well as a special anniversary cake - will be available throughout the day. The Media Street team will also be serving a variety of delicious mocktails, which will take the colours of their recent rebrand.
Treasure Hunt - Discover hidden QR codes and embark on a factual treasure hunt.

Photo Booth - Including a red carpet photo opportunity.
Event Structure - Group Presentations and Activities:
Whatever the next step in your business' digital evolution - getting all digital aspects in place to enter a new country or undergoing a completely new website design, for example - Media Street is best positioned to help drive your business forward.
10:30am - Media Street's doors open
10:45am - 11:00am - Company opening speech
11.00am - Free 1 on 1 Workshops and Games & activities Begin
11:30am - 11:45am - The Do's And Don'ts Of Marketing
12:00pm - 12.15pm - Simplicity of Web Design
12:30pm - 12:45pm - How SEO Can Benefit Your Business
1:00pm - 1.15pm - The Attraction of Wordpress
1:30pm - 1:45pm - Secrets For Social Success

1:30pm - 2:30pm - An Hour of Number 1's From 1990's

2:15pm - 2:30pm - The Future Of The Internet

2:45pm - 3:00pm - Using Paid Advertising To Beat Your Competitors
3:15pm - 3:30pm - Effective Ecommerce Design
3:45pm - 4:00pm - Top Tricks For Content Marketing
4:15pm - 4:30pm - Company Closing Talk
Car Parking
There is plenty of free parking around Media Street's offices for attendees. There's space to park on a long, wide stretch of road leading up to Merlin Business Park.
July 19th - Mark the Date and Celebrate with Media Street!
The event is completely free, all you need to do is register your attendance via this page. Contact Media Street on 01392 914033 or via email - mail@media-street.co.uk - for more information leading up to the day. Otherwise, the team very much look forward to seeing you soon and we hope you enjoy the event!