About this Event
REGISTER TO ATTEND!
>> REGISTRATION IS NOW LIVE, SECURE YOUR TICKET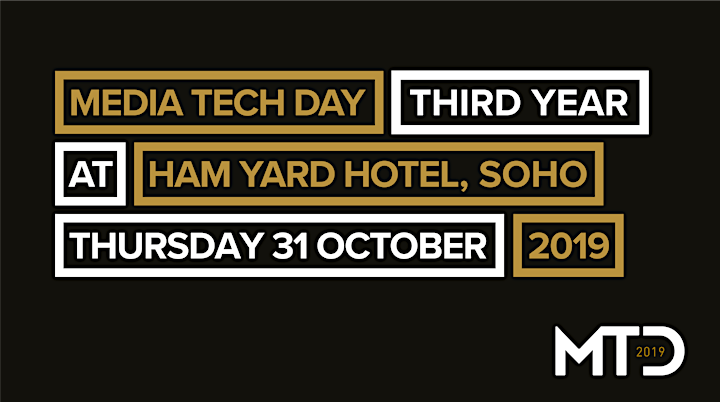 Following the tremendous success of the past two years, Media Technology Day has been firmly established as one of the must-attend events of the year. Back by popular demand, Media Technology Day returns for the third consecutive year on Thursday, October 31st. The event is brought to you by the Procam Group – Procam, Procam NY, Take 2, Procam Projects and TLS – and supported by Televisual.
Held at the Ham Yard Hotel in Soho, this all-day industry event features a compelling line-up of seminars and panels where you'll hear from more than 30 expert speakers in ten high impact sessions across the day, and for the first time ever in the UK, see with your own eyes the first demonstration of Dolby Vision Tunnelling. The inspiring and practical discussions include: creating engaging short-form and long-form content for a digital audience; what's in demand with leading UK factual commissioners; a topical discussion on the resurgence of film; best practice HDR for high-end production from capture through grade; the benefits of full frame acquisition; and plenty of case studies showcasing some of the last year's most remarkable productions and recent product launches. 
Come see the latest technology in the market and catch up with the UK's leading camera and lens manufacturers, all exhibiting in one place and in central London. Join us for this FREE to attend event, comprised of: 
Latest camera and lens technology 
Seminars and panel discussions
Networking opportunities
SHOWCASE OF THE LATEST KIT:
We are thrilled to offer you the exclusive opportunity to get your hands on the latest technology in the market. ARRI is showcasing amazing creative possibilities with its new ALEXA Mini LF & Signature Prime lenses on Trinity and SRH-3. Canon presents its latest full frame cinematography offering. Meanwhile, Panasonic comes with their full VariCam line-up, EVA 1 and their new live production and PTZ cameras. Red Digital Cinema is leading with its new RANGER with MONSTRO 8K VV, an integrated Large Format camera system made for top-tier production use. Sony focuses on Full Frame content acquisition allowing attendees to get hands-on with the brand new FX9 6K Full Frame camera as well as the VENICE v4.0, bringing high frame rate functionality and the 'Rialto' extension kit for unrivalled creative flexibility.
The latest cinema and television lenses will all be on display as well.  Cooke Optics is presenting their Spherical and Anamorphic/i Full Frame lens series with /i metadata updates. Fujinon is showcasing their brand new Premista 28-100 and 80-250mm T2.9 Large Format Cine Zoom Lenses. SIGMA leads with their competitively priced full frame and S35 cine lenses. Zeiss comes with a new range of unique lenses and the latest Supreme Prime focal lengths, and TLS brings a selection of its most popular rehoused vintage glass.
Litepanels is presenting its Gemini RGBWW LED soft panel range with the latest Anton/Bauer batteries and Sachtler' Flowtech tripods. Global Distribution will be showcasing Atomos, G-Tech and Symply – Atomos and their Neon series, the Cinema grade HDR Monitor/Recorders, providing support for HDR pipelines from lens to final master delivery. Their own brand Symply offer a unique blend of enterprise-class five nines reliability storage with embedded StorNext®6. Driving Plates is showcasing their updated library with new content from all over the UK, along with upgrades to the rig including enhanced monitoring, 10-bit 4k 4:2:2 and upcoming train plate options. Holdan is hosting leading brands including Teradek, SmallHD, CoreSWX, Blackmagic Design, Panasonic, Manfrotto and Syrp. New technology on show includes Bolt 4K wireless transmitters, Pocket Cinema Camera 6K, LUMIX S1H, low-cost NEO batteries (V and Gold mount) and new fast set-up tripod systems.
* * * * * * * * * * * * * * * * * * * * * * ** * * * * * * * * * * * * * * * * * * * * * ** * * * * * * * *
SESSION TIMETABLE
09:00am Doors Open
Breakfast Sponsored by Performance Film & Media Insurance
09:15 - 10:00am BBC: Dynasties and Beyond
BBC Studios discusses how through storytelling and stunning images in the hit series, Dynasties, the BBC Natural History Unit made a major impact on public environmental awareness and how this theme continues with the brand new series, Seven Worlds, One Planet.
Panel includes: Andy Corp, Head of Technology, BBC Studios • Andrew Dunne, Technology Manager, BBC Studios • Caroline Cox, Production Executive, Seven Worlds BBC Studios • Colin Jackson, Series Producer, BBC Studios • Chaired by Andy Quested, Production Standards, BBC Design and Engineering
10:00 - 10:30am Cinelab: "Why Isn't Shooting Film a Thing of the Past?"
Why are filmmakers still shooting on celluloid? Why do so many new people aspire to do so? This panel will share their personal experiences, what's involved, the benefits, challenges and results. Be inspired by their creative passion and award-winning work.
Panel includes: Ben Link, Co-Founder & Managing Director, Missing Link Films • Eoin Glaister, Director, Stink Films • Simona Cristea, Head of Colour, Coffee & TV • Adrian Bull, Co-Founder & CEO, Cinelab London • Chaired by Ed Sayers, Director
11:00 - 11:30am Fujinon and Zeiss: Shooting Full Frame
DoP Balazs Bolygo BSC, HSC, discusses the philosophy and benefits of shooting full frame, and why you should consider 'smart lenses' with live distortion and shading mapping metadata. Chaired by Ron Prince.
11:30 - 12:30pm The Future of Factual: A Commissioning Panel
Looking ahead to 2020 and beyond, leading UK commissioners share insight about the modern audiences' expectations for factual programming and reveal the important nuances of what they are looking for on their channels.
Panel includes: Catherine Catton, Commissioning Editor, Popular Factual and Factual Entertainment, BBC • Daniel Pearl, Commissioning Editor, Channel 5 • Jo Clinton Davis, Controller of Factual, ITV • Victoria Noble, VP & Head of Original Content, Factual, Discovery Networks International • Chaired by Simon Dickson, Co-Founder, Creative Director, Label 1
Lunch Sponsored by Atomos
1:30 - 2:00pm Canon: Shooting Full Frame Cinematography
Gain insights from DoP Tania Freimuth on shooting with full frame Cinema Prime and Sumire lenses to produce high quality, high-end productions
2:00 - 2:30pm Panasonic: A View from a Fixed-Rig Production Gallery
Join Panasonic and Procam Projects in a discussion that provides a first-hand overview of an increasingly in-demand PTZ Camera format
3:00 - 3:45pm HDR: What You Need to Know, Sponsored by AJA Video Systems
A panel of experts on the preparation and workflow needed to create better-looking HDR programming, from capture through grade
Panel includes: Kevin Shaw, CSI Colorist, Instructor and Consultant on Colour Management • Matthew Causon, EMEAR Business Management, AJA Video Systems • Pablo García Soriano, Head of Colour, Mission • Richard Wilding, CTO, Molinare • Chaired by James Bennett, Managing Director, Televisual
3:45 - 4:15pm SONY: Full Frame Filmmaking
With the introduction of the VENICE, Sony takes a look at the shift towards Large Format sensors and full frame content creation
4:45 - 5:45pm Creating Engaging Content for a Digital Audience
The non-linear world of viewing demands a dynamic and flexible approach to production. This panel will look at the opportunities to engage audiences with both short-form and long-form content, and discuss what they believe works to bring audiences to watch and share their shows
Panel includes: Alex Morris, Chief Creative Officer, Barcroft Studios • Athena Witter, Head of Digital, Fremantle • Johnny Webb, Managing Director, Sundog Pictures • Selma Turajlic, Co-Founder/COO, Little Dot Studios • Chaired by Adam Gee, Commissioning Editor & New Talent Consultant, Red Bull Media House
5:45 - 6:15pm ARRI: Enlarge Your Visual Expression by Creating Your Unique Aesthetic Signature with Mini LF and Signature Primes
A focus on remarkable productions produced this year with Mini LF and Signature Primes, aided by Trinity
Panel includes: Daphne Schmon, Director • Emily Carlton, Director • Luke Bradford, Director • Charlie Rizek, Trinity Operator, ARRI • Chaired by Milan Krsljanin, Head of Business Development, ARRI
6:15 - 7:15pm Networking over Drinks, Sponsored by Cinelab
And at the end of a busy day, sit back with a drink and compare notes with your peers.
7:30 – 10:00pm BSC Screening and Q&A
- By Invitation Only -