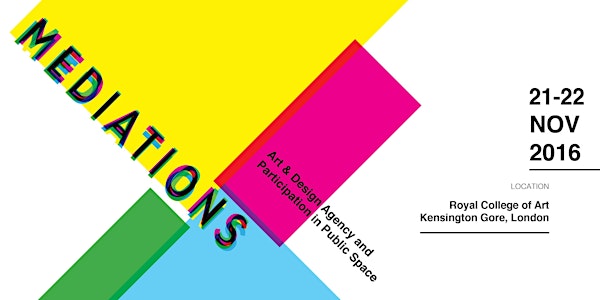 MEDIATIONS - Art & Design Agency and Participation in Public Space
Event Information
Location
Royal College of Arts
Kensington Gore
London
SW7 2EU
United Kingdom
Description
The MEDIATIONS conference will explore approaches through which artists and designers can pursue the empowerment of publics in the decision-­making for, and co-­creation of, public space. Operating within the context of public space means dealing with discrepancies between a multiplicity of forces (e.g. political, economical, environmental, legal, etc.), concerns (e.g. social justice, privatisation, digitalisation, etc.) and actors (e.g. citizens, policy makers, urban planners, etc.). Artists and designers who aim to empower citizens in often 'agonistic' spaces [i] need to mediate between various aspirations in order to help bring about desired social and/or political change. Such a mediation can take shape in many ways: mediating between different stakeholders, between the client and the public, between different publics, between top­-down and bottom-­up, between theory and practice, between ideas and action, between imaginaries and reality, and so on.
In this conference we are exploring six possible approaches to mediation for artists and designers that aim for civic empowerment:
Data Mining – ­data­-driven methods to mediate between the top-­down and bottom­-up to promote citizen empowerment in the 'smart city';
Intervention–­ a method to mediate between ephemeral actions and long-­term effects on civic participation in public space;
Play –­ mediating between realities and imaginaries of children and adults in their experience of, and participation in, public space;
Modelling in Dialogue –­ mediating between different actors and voices by modelling multivocality within participatory processes;
Multiple Performative Mapping –­ performative and participatory mapping as a method to mediate power configurations in the digital-physical urban lanscape;
Curating ­- exploring if and how the curatorial negotiates and mediates between knowledge boundaries in art and design.
The KEYNOTE SPEAKERS, Usman Haque, Jane Rendell, Susannah Hagan and Ramia Mazé, will explore how designers' agency and attitudes towards the design and production of public spaces have evolved over the last decades; how issues of gender play a role in the use, behaviour and appropriation of public space by a multiplicity of publics; how different participatory approaches can reconfigure existing power relations in art and design processes, and how new technologies can promote greater citizen participation in the design, use and sustainability of public space.
For more information on the paper sessions, submission requirements, keynotes and more, please visit: tr-aders.eu/conference
Date and time
Location
Royal College of Arts
Kensington Gore
London
SW7 2EU
United Kingdom