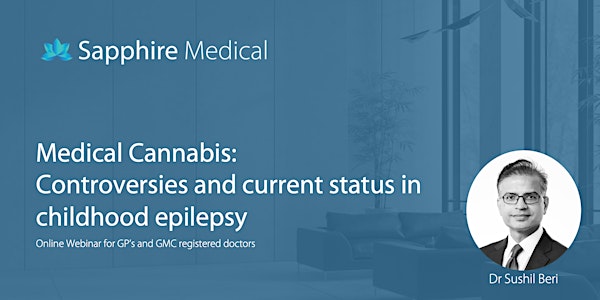 Medical Cannabis: Controversies and current status in childhood epilepsy
Dr Beri, Sapphire's Consultant Paediatric Neurologist, presents a free online webinar on Medical Cannabis and its role in childhood epilepsy
About this event
Sapphire Medical Clinics is pleased to announce the fifth topic in a schedule of live medical cannabis webinars, free for GPs and GMC registered doctors. These sessions are designed for busy GPs who want to find out more about current evidence for medical cannabis and its uses.
We are hosting two 30 minute sessions in June 2020
The first session will be held on Tuesday 16th June 19:00 - 19:30
The second session will be held on Wednesday 17th June 12:30 - 13:00
Key topics:
Medicinal cannabis and its role in childhood epilepsy
Current evidence to support its use in children
Alongside seeing patients at Sapphire Medical Clinics, Dr Sushil Beri is a consultant paediatric neurologist at Imperial College Healthcare NHS Trust. He has trained at various university and teaching hospitals across the UK and he undertook his general paediatric training at Alder Hey Children's Hospital, Liverpool, and Royal Manchester Children's Hospital. Dr Beri sees young children and adolescents with all kinds of acute and chronic neurological disorders including childhood epilepsy, faints and funny turns, migraines and other headaches, cerebral palsy, neuromuscular and neurogenetic disorders.
Sapphire Medical Clinics lead the way in the UK as the first UK medical cannabis clinic registered by the CQC. You can find out more about the team of consultants at Sapphire here https://www.sapphireclinics.com/about/. Sapphire Medical Clinics can see patients via telemedicine with full CQC registration to do so, and in response to Covid-19.
We provide doctors and patients with an expert opinion on their medical condition and help determine whether medical cannabis treatments could be a viable option. Referred patients are seen by a consultant who specialises in their condition, as well as in prescribing medicinal cannabis. Our medical cannabis clinics are here for clinicians who've yet to find an effective solution to challenging medical conditions, and for patients who've been referred to us to establish the next stage of treatment.