Medical School Interview Course | For Students Applying for Medicine (UK)
Event Information
Refund Policy
Contact the organiser to request a refund.
Eventbrite's fee is nonrefundable.
Medical School Interview Training by British NHS Doctors who teach at UK Medical Schools
About this Event
A full day of intensive medical school interview preparation for students wishing to apply to study medicine at a British medical school for 2021 entry.
Medical school interviews are tough. Not only are you competing against your fellow students from your school, but also some of the best students worldwide.
Your tutor is a fully qualified doctor who teaches at UK medical schools. No other provider has this level of expertise. Every student is mentored through the course with professional feedback, support and pastoral care.
Our students learn independently in small groups. We develop interview skills such as communicating your answers clearly and concisely to examiners, but also build up your confidence and critical thinking.
We also cover dental school interviews. If there are dentistry students on the course, we add modules specific to dentistry such as manual dexterity and knowledge of NHS dental practice and regulation in the UK.
We are happy to teach any student regardless of academic background. We can also help students who have a disability or lack confidence.
Our courses are proven to be highly effective over the years, with a consistent offer rate of over 98%. Students usually only get one attempt per university, so it is vital the students prepare properly.
We are also one of the most transparent providers of medical education. We have posted some of our learning materials and extensive feedback from former students on our main website.
Please have a look at our main website for further details at https://www.bluepeanut.co.uk/medical-school-interview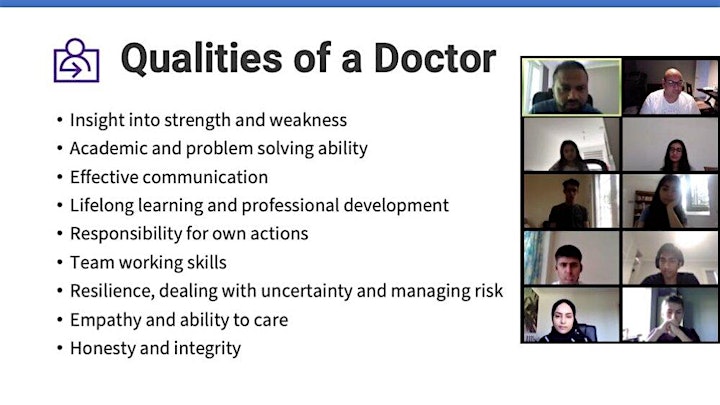 Our comprehensive medical school interview package includes all the following
A full day of intensive training with a doctor who teaches at medical school. We do not use students or administrators. We do not compromise on the standard of our training.
There is comprehensive coverage of over 50 topics that come up in medical school interviews.
Being medical school tutors we use our experience to try and predict and new topics or assessment methods that may come up this year.
Your tutor will act as an examiner and practice live MMI stations. Expert and comprehensive feedback will be given on your performance.
We are aware that medical schools are moving to online interviews due to the corona virus. We will adapt our training and your preparation accordingly.
We include a review of hot topics, how to show empathy and role play. Gain confidence in your approach and develop your communication skills.
Includes is access to our online portal so that you can continue your preparation . This includes over 100 video tutorials and recordings of students sitting hot topics.
An extensive up to date question bank to help you continue your revision.
Courses this winter will be taught by live webinar - join the classroom from home anywhere in the world. No more trains to catch or hotels to book.
Here is an overview of some of the topics we will be covering on our course :-
Personal assessment stations and this includes your motivation and reasons for wanting to be a doctor and choice of medical school.
Critique of your work experience, stations that look at your personal statement and knowledge of the some of the qualities of a doctor including resilience and leadership.
Medical regulation and standards in the UK including the General Medical Council good medical practice.
Critical analysis and team working stations. This includes how to approach team exercises, practical tasks (and how they can be assessed remotely) and data interpretation stations.
NHS policy including current hot topics and government policy.
Your understanding of the medical school curriculum including how medical schools teach. This includes problem based learning, case based and integrated learning.
Ethical principles and frameworks of how to apply them, the principles of capacity and consent, conflict of interest and duties of a doctor (and how medical schools assess this).
Stations that assess your communication skills. This includes how to show empathy, critique of a video or consultation, simulated challenging colleagues and patients with the use of role play.
How to break bad news and respond when mistakes have been made or something has been missed.
We go through the 10% of stations that you cannot easily prepare for - include the bizarre and odd ones. We will use our knowledge and experience to try and predict what new topics will come up.
We will demonstrate techniques that you can try when you are stuck and try and get some marks.
If we have dental students on the course, we will add sessions specific to these candidates.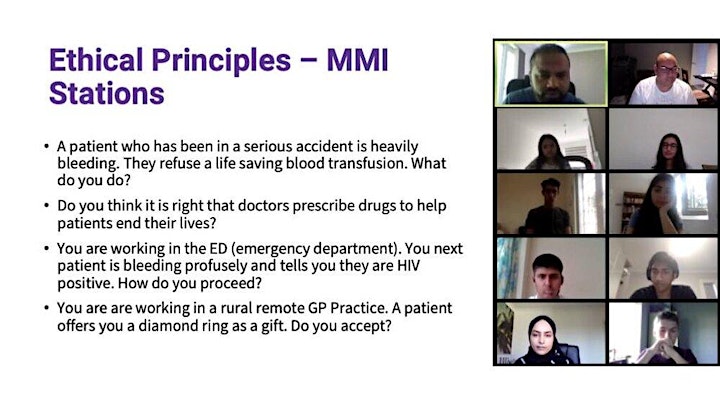 Who will be teaching me on the interview course?
Dr. Abdul Mannan MBChB, DFSRH, PG Cert, MRCGP
MB.ChB., University of Manchester 2000 (UK)
MRCGP, Member of the Royal College of General Practitioners (UK)
DFSRH, Diploma of the Faculty of Sexual and Reproductive Healthcare
PG. Cert. Medical Education. University of Manchester.
General Practitioner – The Surgery, Haslingden
GP Trainer – Health Education North West
GP Appraiser
Primary Care Network Clinical Director
Undergraduate Tutor – University of Manchester & UCLAN medical school
Medical Director, Blue Peanut Medical
Dr. Imran Khan MBChB, LLM, DFSRH, FRCGP
MB.ChB., University of Manchester 2000 (UK)
FRCGP, Fellow of the Royal College of General Practitioners (UK)
LL.M., Masters in Medical Law and Ethics – University of Edinburgh (UK)
DFSRH, Diploma of the Faculty of Sexual and Reproductive Healthcare
General Practitioner – The Surgery, Haslingden
GP Appraiser
Medicolegal GP Expert
Undergraduate Tutor – UCLAN medical school
Former CCG (Clinical Commissioning Group) Clinical Lead
Medical Director, Blue Peanut Medical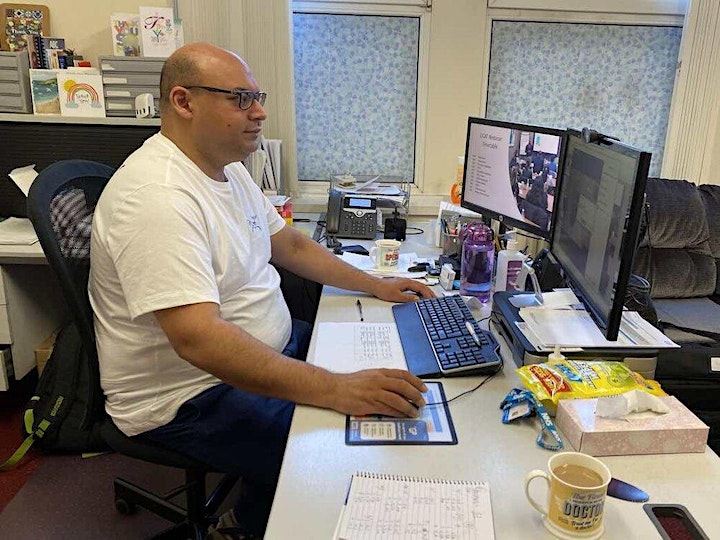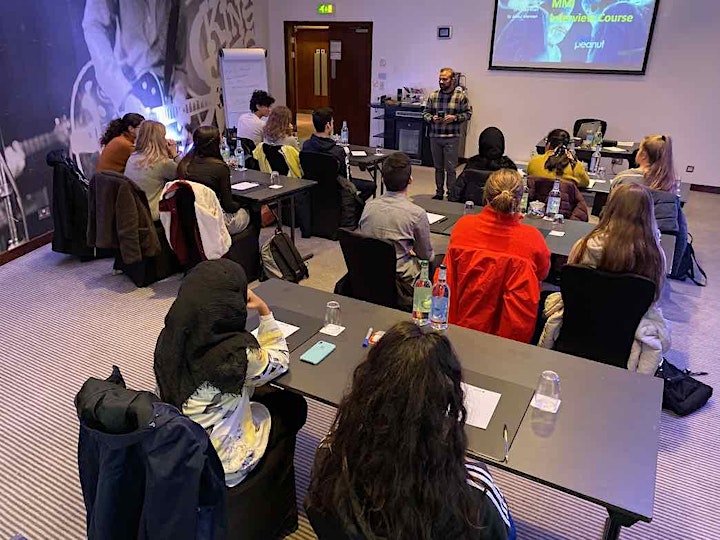 Please note the course is non refundable once booked. However, we may be able to change your course date (subject to places). Please contact us for help.
If you have any further questions, please email us at support@bluepeanut.co.uk or phone 01706 491146
Have a look at our website for our online medical school interview courses as well as UCAS personal statement help and work experience placements.
Date and Time
Location
Refund Policy
Contact the organiser to request a refund.
Eventbrite's fee is nonrefundable.