Description
Medical School Interview Training by the UK's top performing provider. MMI and Traditional. 97.3% Success rate 2018 Entry with most students having at least two offers.

A FULL DAY OF TRAINING UNDERTAKEN BY DOCTORS WHO TEACH MEDICAL STUDENTS AT UCLAN, MANCHESTER AND LANCASTER MEDICAL SCHOOLS. WE COULD ONE DAY ALSO BE TEACHING YOU AT MEDICAL SCHOOL OR AS A JUNIOR DOCTOR!

WE ALSO CAN HELP DENTAL AND VETERINARY MEDICINE APPLICANTS!

September 2018 Update - Each course is designed based on the learning needs of the students. Please let us know which medical schools you are applying for. If you have already booked - please e-mail us at support@bluepeanut.co.uk if you have not provided this information to us yet.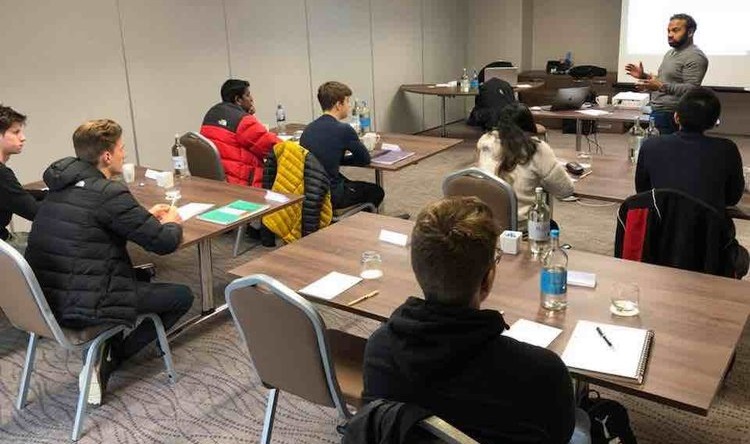 2018 Entry (Last year) - FULL BRISTOL COURSE - LEARN IN SMALL GROUPS JUST LIKE AT SIXTH FORM!

Based on our research, we cover over 90% of the curriculum used in UK medical school interviews.
We cover Scottish, Oxbridge and private medical schools. MMI and Traditional
Delivered in a lecture based format, in small classrooms, just like at sixth form, with plenty of time for interaction, using videos and workshops to keep you focused and awake.
We cover over 40 topics, based on our own research as medical school tutors and feedback from thousands of students over the years.
Opportunity to participate and observe in a full MMI circuit based on our 2019 medical school entry curriculum under exam conditions.
The course usually starts at 10.00am and finishes around 5.30pm, dependent on the engagement of the group. Exact timings are in your course confirmation.
Now from only £159 (early bird discounts until 30 September 2018- usual price from £199) and further discounts for multiple and school bookings. This includes lunch, refreshments and coursework. This is the most enjoyable of way of helping you prepare for your interview!
Courses in Manchester, London, Glasgow and Birmingham.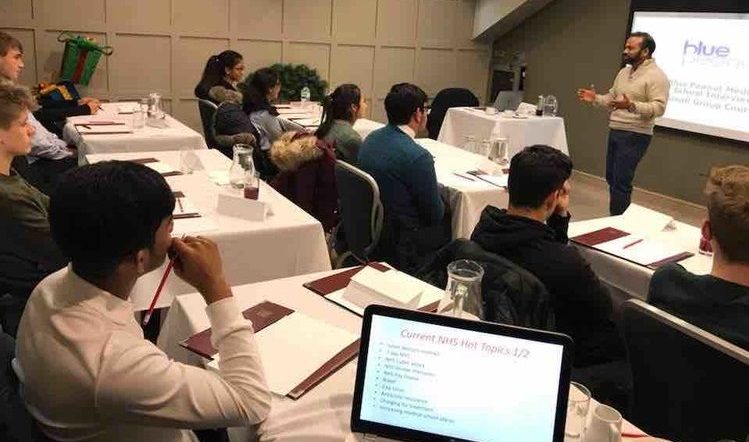 2018 Entry oversubscribed Manchester course - Last year most of our students have at least two offers!

IS IT FOR ME?

This course is designed for students who are applying for medical school 2019 Entry. We aim it for students in their second year of A-level but welcome any one who wishes to learn. Includes graduate entry and those applying for foundation year medical programmes.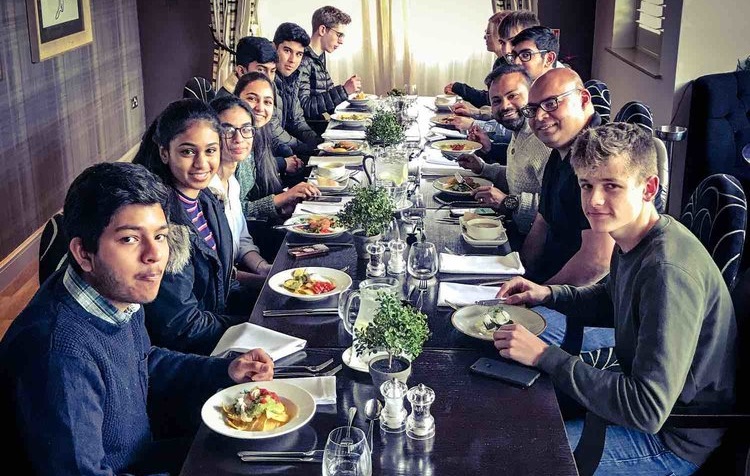 2018 Entry Extra Manchester Course - Refreshments and Lunch included. All our 2018 Entry Courses sold out!

WHAT WILL I LEARN?

Here are some of the topics we will cover on our medical school interview course for 2019 entry: -

Personal assessment stations including your motivation for medicine and choice of medical school. Critique of your work experience, personal statement and knowledge of the qualities of a doctor including resilience and leadership.
Critical analysis and team working stations, including group exercises, practical tasks and data interpretation.
Your research for medical school and ethics. This includes recent hot topics, ethical principles, capacity and consent, conflict of interest and duties of a doctor.
Experience of NHS policy including conversational areas such as the right of doctors to strike, 7 day working, brexit and other policies.
Your knowledge of the medical school curriculum including teaching methods used at medical schools including PBL.
Communication skills stations. This includes empathy, consultation critique, simulated challenging colleagues and patients. Breaking bad news and handling mistakes.
Examples of the the 10% of stations that you cannot prepare for.
We will go over example marking schemes used by medical schools and highlight where candidates often make mistakes and how to put them right.
We will look at a candidate journey to show you how you can best prepare for your medical school interview.
We will demonstrate techniques that you can use when you are stuck to try and salvage marks.
If we have dental and veterinary medicine students on the course, we will add sessions specific to these applications.
HAVE A LOOK AT OUR BLOG, WHERE WE WILL REGULARLY POST HINTS AND TIPS RELATING TO THE MEDICAL, DENTAL AND VETERINARY SCHOOL APPLICATION PROCESS. CLICK HERE TO HAVE A LOOK.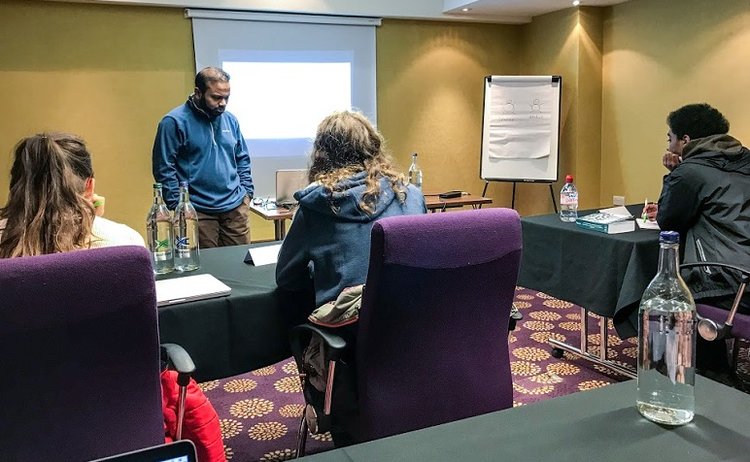 2018 Entry London Course - Individual feedback for every student!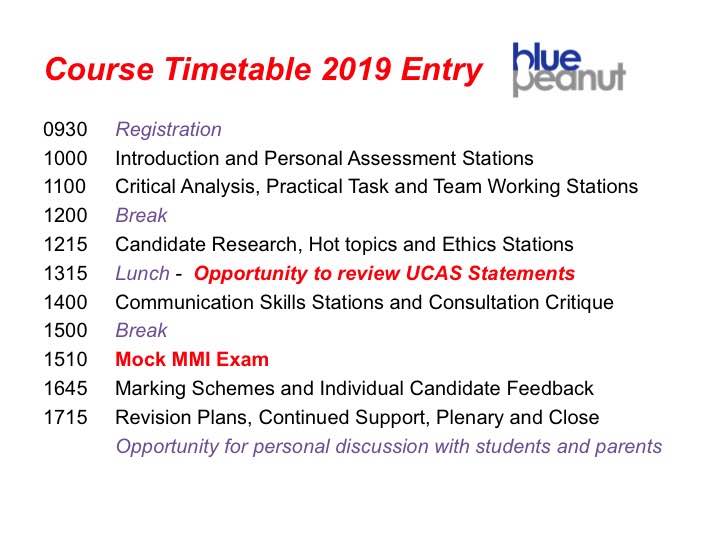 An example timetable for our 2019 course. The timings and contents of each course may vary according to the needs of the candidates in the group.
The stations on the MMI Circuit will be based on the learning needs of the candidates.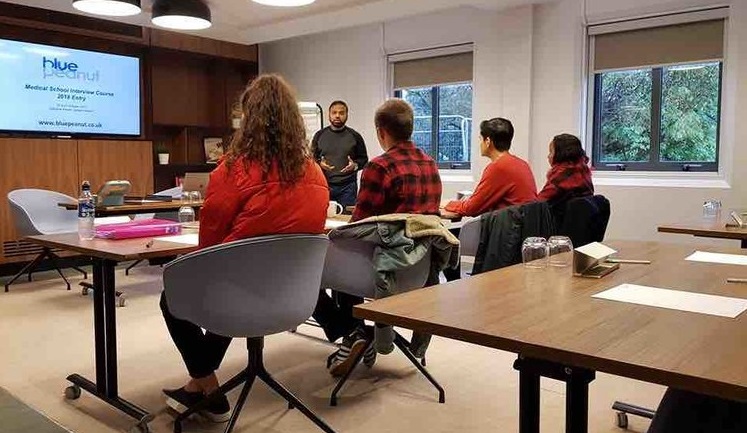 2018 Entry Glasgow Course - These students enjoyed a success rate of 97.3%

WHY USE BLUE PEANUT FOR YOUR TRAINING?

We research and deliver all our courses ourselves. We are a group of fully qualified practicing doctors who also teach at medical schools. We will never get medical students, administrators or random tutors to teach you.
We could sit on medical school interview panels – but this would be a conflict of interest. It is not fair for us to teach you and then interview you in your real interview!
We look after medical students in our own GP surgeries, as well as providing work experience placements for sixth form students. We also teach junior doctors who are training to be future general practitioners.
We do teach at top local sixth form schools in East Lancashire on a voluntary basis, such as Clitheroe Grammar and Tauheedul.
We provide you with e-mail and, if needed, telephone follow up just in case any new areas some up on your interview that we did not cover on our course.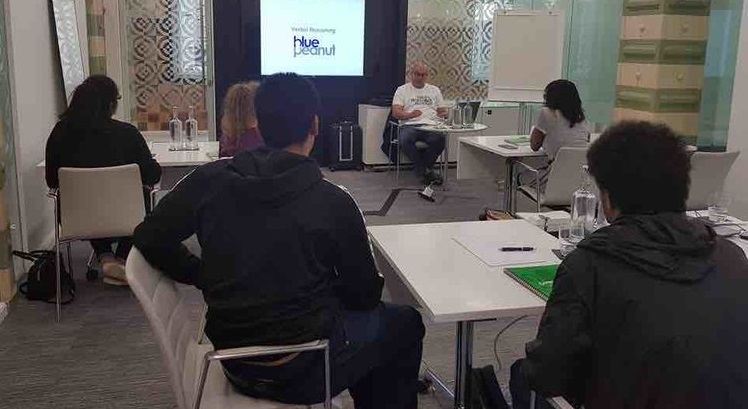 2018 Entry London Course - We teach ourselves and never use medical students or administrators!
Have a look at our website where we have more details of our training courses, as well as free advice to help you secure your place at medical school:-