Description
We offer medical school interview preparation and training designed and delivered by doctors from UK medical schools. 98.2% success rate. Contact us today to discuss your needs.

Medical School Interview Training by the UK's top performing provider. MMI and Traditional. 98.2% Success rate 2019 Entry - Record numbers of students with 3 or 4 offers.
TRIED AND TESTED INTERVIEW COURSES
Taught by Doctors who teach at UK medical schools. No one else does this.
We teach at some of the best performing schools in the country such as BRGS, CRGS and TIGHS
We are open and transparent. Look at our testimonials from parents and former students.
Extensive workbooks and support to help you with your revision. Unlimited follow up.
Mock MMI station practice for every student with detailed feedback from medical school tutors
Learn in small classrooms in a friendly and supportive environment.
Our students report getting better than advertised offers and places on results day even with lower actual grades!
We also cover dentistry students. Our dental students report 4 out of 4 offers.
We can also provide this course in your own home worldwide via Skype. Click here for details of personal tuition.
We are open and transparent. Read our reviews and look at our videos and photos - Click here for further details on our main site.
Combine your learning with a 20 station mock MMI circuit on our MMI circuit training days. Click here to learn more.
COURSES IN LONDON, BIRMINGHAM, LEEDS, MANCHESTER AND GLASGOW!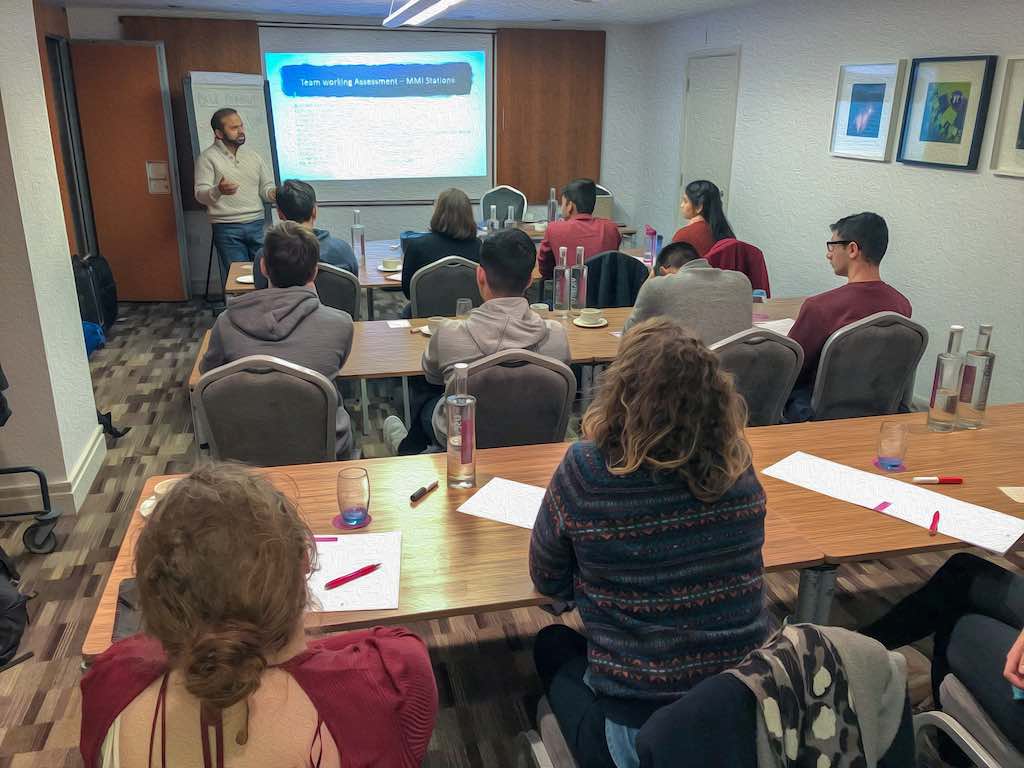 "Your performance at interview was exceptional - well done!. We want students like you to come to our medical school. We are therefore happy to reduce our offer of AAA to AAB should you decide to make (this) University your firm choice" (2019 Entry University Email)
"Blue Peanut's expertise enabled me to secure offers after interview at Glasgow and St Andrew's. Now I will start at Glasgow Medical School this year, a dream come true! Thank you Blue Peanut for the support!" (2019 Entry Student Review)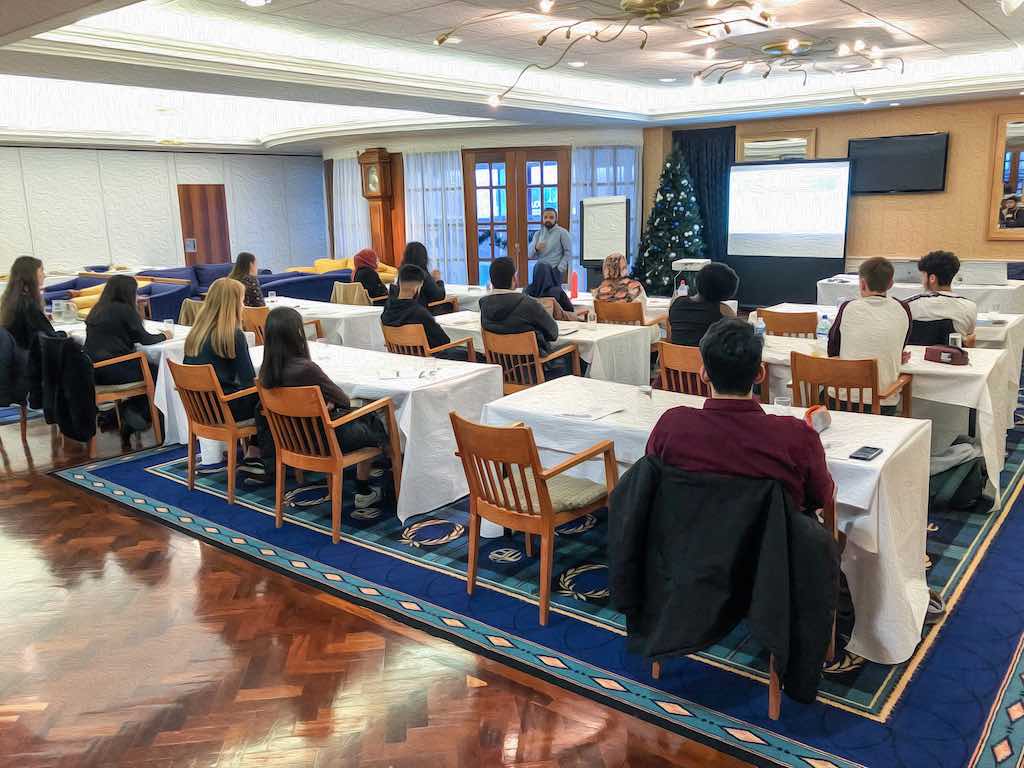 We are open and transparent. We have uploaded photos, videos and testimonials from students, parents and teachers on our main site - Click here to have a look!. You can book with us in total confidence.

Here at Blue Peanut we do things differently…
Based on our research, we cover over 90% of the curriculum used in UK medical school interviews. We cover Scottish, Welsh, N Ireland, English, Oxbridge and private medical schools. MMI and Traditional.
Our doctors teach medical students from UCLAN, Manchester and Lancaster medical schools. We have extensive experience in helping students that are struggling and need extra help or are academically gifted but lack confidence.
We could sit on the medical school interviews panels in which we teach but this is a conflict of interest. It is not fair for us to teach you and then interview you.
We welcome applicants at all stages of their career - from years 11,12,13 students to graduate entry candidates.
We cover over 50 topics, based on our own research as medical school tutors and feedback from thousands of students over the years.
We include regular refreshments, a top lunch and breakout sessions where you can talk to the tutors and other students. This is the most enjoyable way of preparing for the exam.
Feedback has been positive from all our students as well as teachers and parents with satisfaction rates of over 99%. We have posted some testimonials for you so don't take our word for it! We are a 5 star provider of medical education.
Last year (2019 entry) was our best cohort yet. A record 98.2% of students reported offers. Record numbers of students with 3 or 4 offers. Students having offers reduced from AAA to AAB because they did so well at interview. Come and join them on one of the most successful interview courses in the UK!
THOUSANDS OF STUDENTS, TEACHERS, PARENTS AND DOCTORS TRUST BLUE PEANUT AND ITS DOCTORS AND TUTORS TO HELP MEDICAL SCHOOL APPLICATIONS SUCCEED.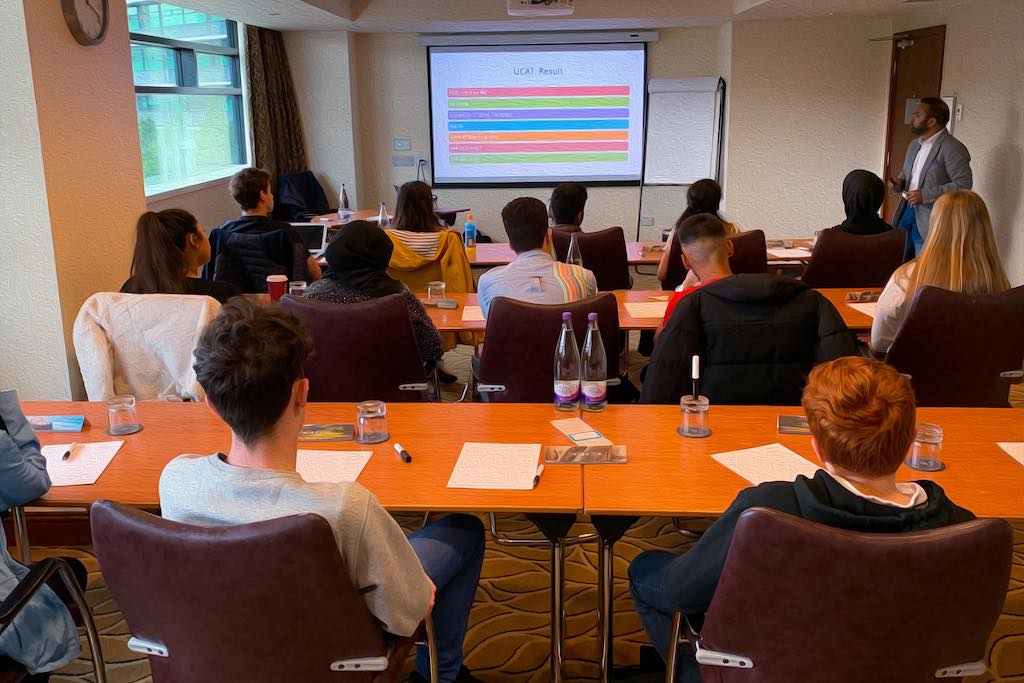 Dentists and Vets covered. We have stations and workshops specific for applicants to these courses.
"I would say with confidence that attending the Blue Peanut interview course a couple weeks before my interview helped me dramatically. I'm sure I would not have scored so highly without it and would not have managed to secure a place at a top university with lower grades than the asking grades" (2019 Entry Student Review)

"I got an offer from Glasgow on 14th February, and then after that I got 4/4 of all my chosen unis for dentistry. I want to thank your course for helping me, I don't think I could have done the interviews successfully without this course providing me with the expertise and knowledge necessary. Thank you so much" (2019 Entry Student Review)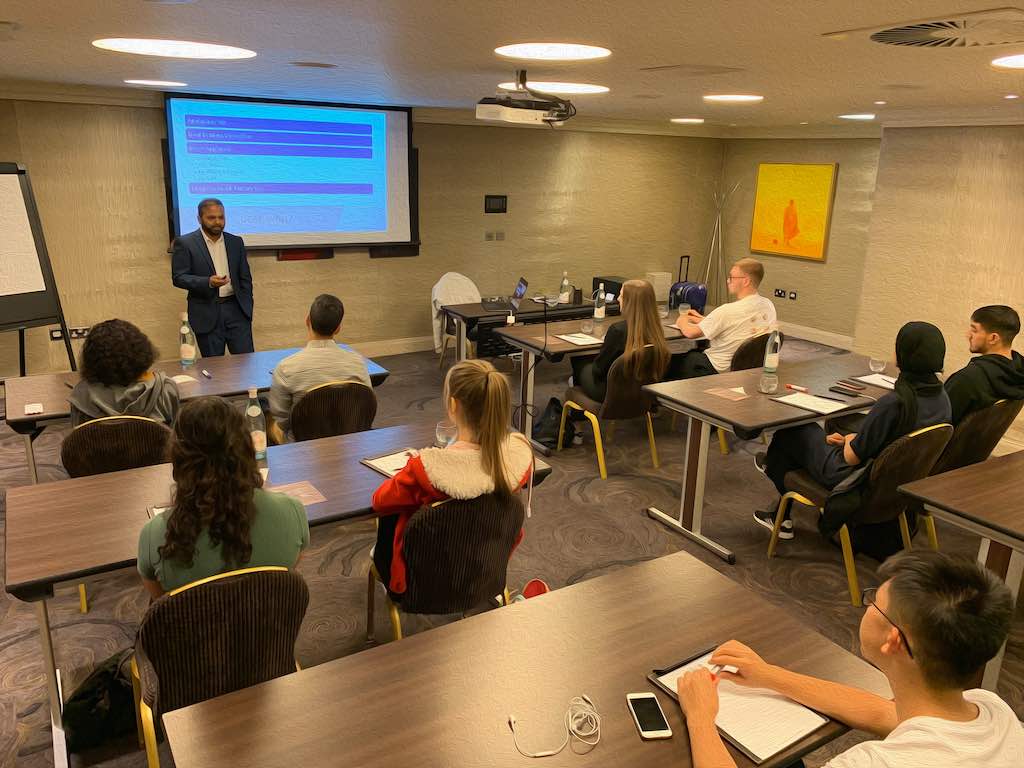 Unlimited Follow up. Right up to interview day direct with us! Pastoral care for every student
Here is some of what we cover …
Personal assessment stations including your motivation for medicine and choice of medical school. Critique of your work experience, personal statement and knowledge of the qualities of a doctor including resilience and leadership.
Critical analysis and team working stations, including group exercises, practical tasks and data interpretation.
Your research for medical school and ethics. This includes GMC good medical practice, ethical principles, capacity and consent, conflict of interest and duties of a doctor.
Experience of NHS policy including current hot topics.
Your knowledge of the medical school curriculum including teaching methods used at medical schools including PBL.
Communication skills stations. This includes empathy, consultation critique, simulated challenging colleagues and patients using role play. Breaking bad news and handling mistakes.
Examples of the the 10% of stations that you cannot prepare for.
We will go over example marking schemes used by medical schools and highlight where candidates often make mistakes and how to put them right.
We will demonstrate techniques that you can use when you are stuck to try and salvage marks.
Practice MMI stations and receive expert feedback from our doctors. Watch and learn from how other students perform. Feel the pressure of the interview.
Our course is being constantly updated as medical schools develop new methods of assessment. Our teaching is at the cutting edge of medical school interview assessment.
If we have dental and veterinary medicine students on the course, we will add sessions specific to these applications.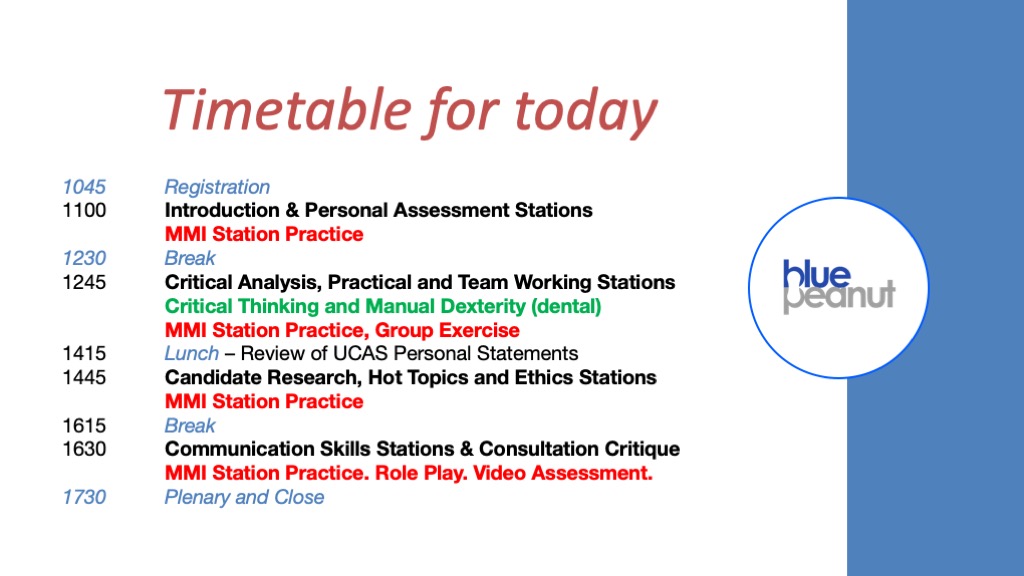 A full day of intensive training. Packed full of seminars and workshops. No boring power point slides here!. MMI station practice after every topic with expert feedback for our students.

Come and visit our website at https://www.bluepeanut.co.uk/ and see how we can help you get your place at medical school. We offer :-

Medical School Interview Courses
Dental School Interview Courses
UCAT Courses
Doctor for a Day Courses
MMI Mock Circuits
Work Experience Placements
UCAS Statement Help
Private Tutoring at home
FREE Blog with advice on medical school admissions
If you have any questions or queries about our training, please contact us for an informal discussion on your learning requirements.
E-mail support@bluepeanut.co.uk or telephone 01706 491146