MEDICINE: An Applicant's Guide (hosted by City of London School)
Description
A day of talks and panel discussions by speakers from across the professional healthcare spectrum, focussed on providing prospective medical students an insight into their potential future careers and university admissions.
Students will have the opportunity to:
Learn what

'being a good doctor'

actually means

Explore

medical ethics

through real-life case studies

Find out about the diversity of the healthcare field and

medical specialities

Hear from

junior doctors and medical students

about their first hand experiences

Learn about

what universities are looking for

in a medical applicant

Get

opportunities

to

volunteer

with medical charities
The day is targeted at students in Year 11 and Year 12 who areconsidering applying to study medicine in the UK. Not only does it promise to be a very thought-provoking and interesting day, it will also provide a fantastic talking point for future medical interviews.
The school is very centrally located so it will be possible to buy lunch on the day from nearby establishments, or bring your own packed lunch if you wish. Tea, coffee and light refreshments will be served at certain times during the day.
The ticket revenue will be donated to Amref Health Africa, a charity working to improve maternal and child health in East Africa in particular. This is the charity the City of London School is supporting for this academic year.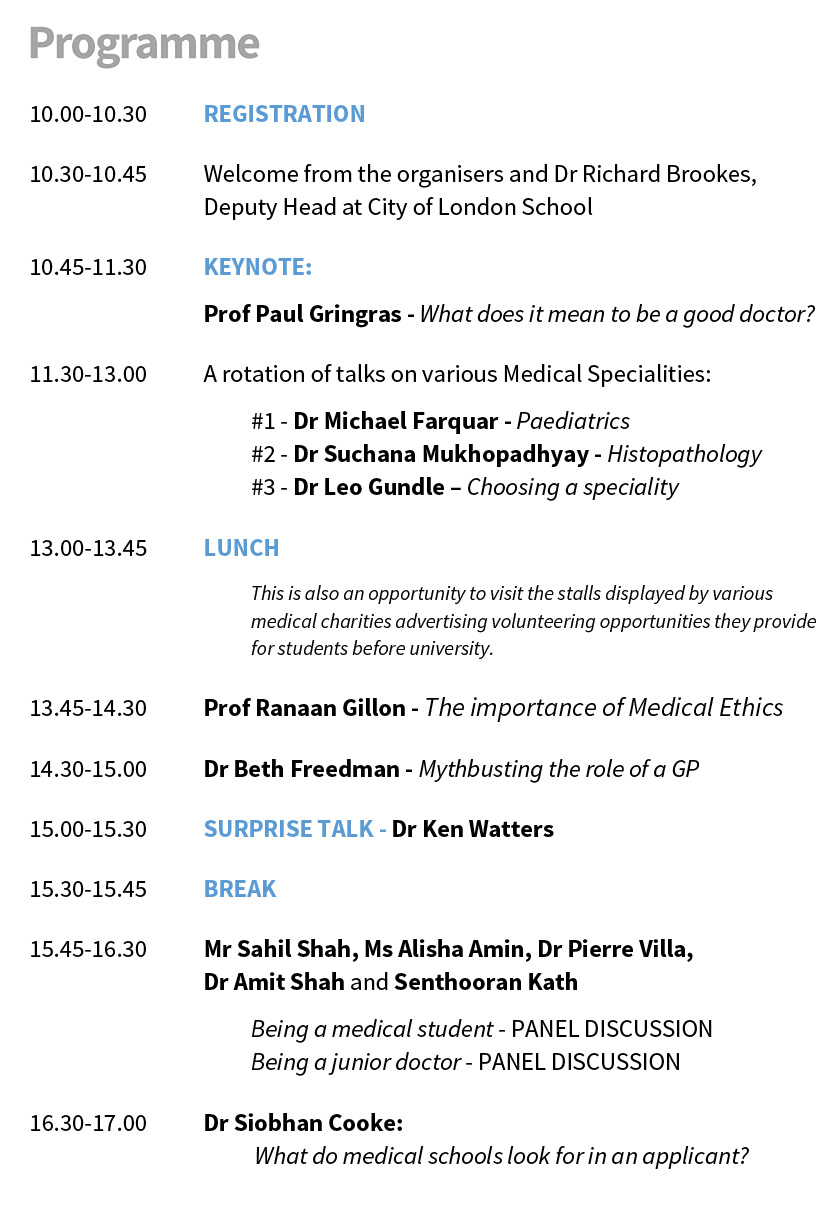 ---


About the speakers
Professor Paul Gringras
Professor Gringras is a leading professor of sleep medicine at Kings College London and consultant in sleep and paediatric neurodisability. He has written and co-authored several books and papers, and even designed and written content for many sleep apps. His work with his patients is what he is most proud of, and he regularly treats patients with complex sleep disorders. He is therefore in a fantastic position to deliver a talk on the general principles of patient care and what it really means to be a good doctor, emphasising in his professional opinion how empathy, approaching healthcare from a holistic perspective, and attention to detail and integrity, for example, are useful traits for any doctor.
Dr. Michael Farquhar,

Leo Gundle and Dr. Suchana Mukhopadhyay

Dr. Farquar is an eminent consultant in paediatric sleep and respiratory medicine, and a member of the Royal College of Paediatrics and Child Health, The British Paediatric Sleep Association and the British Paediatric Respiratory Society. Dr. Leo Gundle is a medical student who will be talking about choosing a speciality and his experiences of different ones, and Suchana Mukhopadhyay is a histopathologist, a speciality touching heavily on the scientific aspect of medicine. The 'Speciality Rotation' will involve each doctor giving a 30 minute talk on their speciality, outlining the pros and cons of their job and detailing some of the recent breakthroughs in the field. This is intended to foster an appreciation of the diversity of healthcare careers.
Professor Ranaan Gillon
Professor Gillon is Emeritus Professor of Medical Ethics at Imperial College London, Chairman of the Institute of Medical Ethics and a member of the British Medical Association's Medical Ethics Committee and also of its International Committee. In 1999 he was a co-recipient of the American Hastings Center Henry Knowles Beecher award for contributions to ethics and the life sciences. He will talk about the importance of medical ethics in a doctor's everyday life, the 'four-principle' approach to medical ethics and its limitations, and give details of real life case studies and ethical dilemmas a doctor is bound to come across.
Dr. Beth Freedman
Dr. Freedman is an experienced London GP, with a special interest in antenatal health and paediatrics, and will talk about the role of a GP and misconceptions surrounding it. The importance of GPs is not to be understated; primary care involves much more than just treating runny noses(!), and with issues such as antibiotic resistance, opioid addiction and pressures on A&E departments becoming so prevalent, it will be GP surgeries that have amongst the most important roles in tackling them.
Dr. Ken Watters
Dr. Watters is a consultant of diabetes, with interests in hypertension and medical education, and will give a talk that will relate heavily to a particularly recent advance in his speciality or an NHS issue in the news at the time of the conference; it is intended to be as up-to-date and relevant as possible, so we are unable to provide details in advance!
Sahil Shah, Alisha Amin, Dr. Pierre Vila and Dr. Amit Shah
Sahil and Alisha are final-year medical students at Kings College and Imperial College respectively; they are very well placed not only to give you an insight into life as a medical student at these universities, but also how demanding/enjoyable/rewarding a medical course is and the sorts of things one should consider before applying. Dr. Vila and Dr. Shah are both alumni of City of London School and have had varied and interesting junior doctor careers; they have worked in various countries, with various healthcare systems and are specialising in different areas. By way of a panel discussion and Q&A session, you will be able to pick their brains and get direct answers to the questions bugging you about applying to study medicine and life as a doctor.
Dr. Siobhan Cooke
Dr. Cooke is an experienced medical lecturer, Deputy Head of Student Support at the University Of London and has years of experience in selecting the best prospective medical students to begin as undergraduates. This talk will end the day with concrete advice on what kinds of activities you should be doing if you are thinking about applying for medicine, how to shine at interview and how to ace the BMAT and UKCAT - it is not to be missed!
Senthooran Kath
Senthooran is a second-year medical student studying at Cambridge, and a popular YouTube vlogger, posting informative and inspirational videos about the medical application process and also about life at Cambridge. Please check out his YouTube channel