| | |
| --- | --- |
| Medico Beauty SKINspiration Event | |
Event Details
Medico Beauty was founded by Aesthetic Nurse, Constance Campion and Plastic & Reconstructive Surgeon, Mr Awwad Awwad, who both share their passion and expertise with all professionals in developing advanced services that achieve the best possible outcome from skin treatments, transforming appearances naturally by boosting cellular activity, repair and restoring the natural balance of health, on the inside and out. The approach is based on Nutritional Dermatology and skin treatments that are made with scientifically advanced formulations that are innovative, clinical evidenced and use only active ingredients that have cutting edge science including Chiral Correction which was awarded the Nobel Prize in Chemistry in 2002. 
The Advanced Skin Kit Solutions target all concerns including Dry skin, Sensitive Skin, Melasma and Rosacea and either last for 28 days or 12 weeks.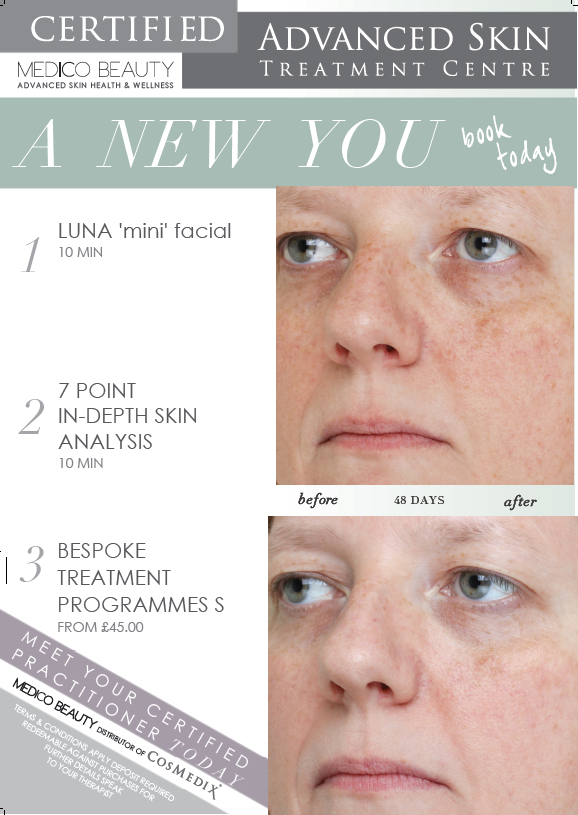 BECOME A CERTIFIED SKIN EXPERT
You are invited to attend a Skin Inspiration Event – held in either Central London or Leeds (depending on delegates location), on a monthly basis. Learn about the true potential for unleashing PROSPERITY, PROFITS & the POWERFUL truth of delivering on the promise of better looking skin. 
Participate in and gain access to this informative forum for a small charge of £25, to secure booking. Price includes a cleanser pack worth £29, plus a LUNA Fusion Mini + Pure Enzymes Exfoliating Mask Facial Treatment. 
Meet with pioneering, Aesthetic Nurse & Partner in Kensington based medical practice, Plastic Surgery Associates, Constance Campion, with over 25 years experience in Medical Aesthetics and Advanced Skin Health Restoration.
Event internary
09:15-09:30 - Registration
09:30-11:30 - Introduction to Medico Beauty and CosMedix
11:30-12:00 - Coffee Break
12:00-13:00 - Introduction to LUNA Fusion Facial Treatments
13:00-16:30 - Lunch + Treatment Demonstrations
16:30-17:30 - Q&A's
BOOK NOW
When & Where
London or Leeds