Multiple Dates
Meditation classes - Overcoming limitations, realising our potential
Description
About this series
No matter how successful we may be externally, we can often feel we are not living our best life. Although we are not always consciously aware of it, we all hold certain limiting beliefs about our self and what we are capable of. During this series, Adam will introduce tools of meditation & mindfulness, drawn from Buddhist meditation, to enable us to change this.
These highly practical and profound tools of transformation will enable us to clearly identify, reduce and let go of any limiting belief or negative mind. Also, we will look at how we can access and fully actualise our inner (spiritual) potential for greater peace of mind, happiness and other good qualities. Through this, we will discover a new sense of healthy self-esteem. We will see that we can become as peaceful, happy, loving, kind and confident a person as we wish to be.
The same class is repeated on Mondays (7pm), Wednesdays (7pm) and Sundays (11am). The classes last 1.5 hours and you can attend on the day that suits you best.
Individual class titles
Week 1 - A new definition of success, inner success (Feb 15th, 17th, 21st)
Week 2 - Getting to know our mind and its potential (Feb 22nd, 24th, 28th)
Week 3 - Self esteem and our true potential (Feb 29th, March 2nd, 6th)
Week 4 - Overcoming limitations (March 7th, 9th, 13th)
Week 5 - Meditation tools for realising our potential (March 14th, 16th, 20th)
Who is this course for and how do I book?
This series is suitable for beginners and those with more experience of meditation. It is taught in clear, easy to understand English. There are new topics and meditations each week.
You can just drop in to an individual class (100kr or 60kr for students) or you can buy a Clip Card for the whole course here on EventBrite. You pick up the Clip Card at the Centre at your first class. Then you simply use the Clip Card each time you come to a class. The Clip Card covers 5 classes and costs 400kr (250kr for students).
The Clip Card gives a 20% discount on the normal class fee (100kr or 60kr for students). If you can't attend every class in the course, no problem, you can just use the remaining clips at future classes.
About the teacher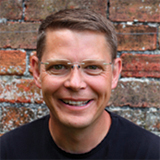 Adam Starr is the Resident Teacher (Principal Teacher) at Clear Light Centre. Originally from Ireland, Adam lived and worked in the UK for many years before coming to Copenhagen and the Nordic region. Adam has studied, practised and taught meditation and Kadampa Buddhism under the guidance of the renowned Tibetan teacher and scholar, Geshe Kelsang Gyatso, for many years. He teaches weekly classes, the Foundation Program, workshops and guides many retreats at Clear Light Centre.
Adam has a clear, warm and relaxed way of teaching that comes from the heart. His teachings are given in an easy-to-understand English and are suitable for everyone.