Gift yourself the time out to deeply relax, connect with yourself and welcome in the calm.
About this event
Join us on a Monday evening 8pm UK for a guided meditation session led by Emma Unsworth.
These sessions are a great way to start the week and enjoy the benefits of meditation. Improving your overall health, emotional well-being and mental health.

We'll be focusing on relaxing the body, calming the mind and creating a more balanced sense of wellbeing. Reducing stress, overwhelm, pressure, anxiety and negativity.
The digital doors open at 7:50pm. We'll be starting the meditation at 8:05pm, so make sure you're in the room by then, as once we start there'll be no more admittance so we stay in the flow of things.
The zoom link will be sent out approximately 30 mins before we start, so keep an eye out on your inbox.

Come as you are, with your camera on or off, whatever feels most comfortable for you. This is your space to relax, unwind and recenter yourself. You may wish to bring a drink and a notebook.
The main session will be recorded and shared in our community group for catchup. There'll be time at the end unrecorded where you can share and ask questions.
We ask all participants to be kind, loving and supportive within the group. We wish to create a safe and comfortable space for all involved, and for you to have a great experience.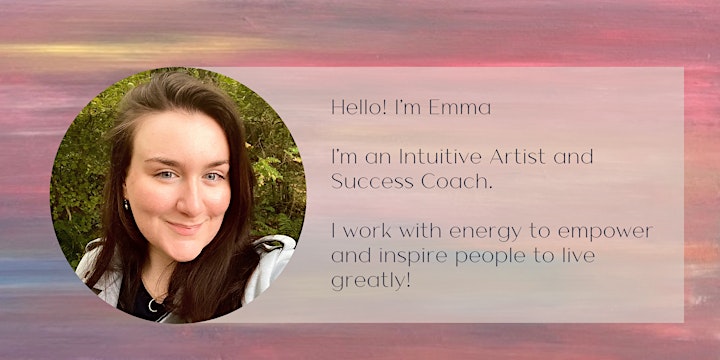 It's an absolute pleasure to host these sessions and I look forward to sharing this with you. Here's what the community are saying about these sessions:
"Emma's meditations are magic. Something always shifts, clears and heals in a way a can't explain. I feel calm and understood after a session with Emma" - Carla, Entrepreneur & Founder of Love Up
"I'm in a peaceful and meditative state within minutes and I find I'm generally more positive and energetic following sessions" - Louise, Healer & Bellydance Teacher
"Emma is a masterful at energy clearing, I always come away feeling lighter, more energised and ready to face to world." - Tim, CEO & Creative

Ready to welcome in the calm?
Save your seat by registering now.
Looking forward to seeing you on Monday!
Much love,
Emma 🌸