MEDIUMSHIP - SPIRIT ART, LEARN TO DRAW FOR SPIRIT
Event Information
Location
This is an ONLINE -4 WEEKS- Event!!
MTR Seminar - Victoria Central London, SW1H
United Kingdom
Description
sINTRODUCING WEBINARS IN
DEVELOPING MEDIUMSHIP with SPIRIT PORTRAITS

---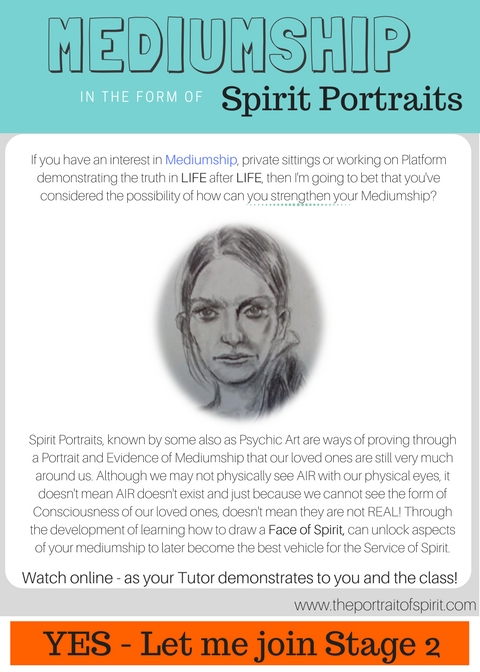 TIME/DATES: PRICE IS FOR A *4 WEEKLY EVENT* - 6PM-7.30PM (Intimate Group Settings allowing for a speeder development in your skills of Portrait and Mediumship)

INTERNATIONAL ACCESS
As a beginner to Spirit Portrait drawing you will be taught in an educational Step-by-Step way how to draw the PORTRAIT of Spirit that will improve your skill and link to Spirit. Improvers, or even Lower-Intermediate levels, those with some experience drawing faces may apply. One Psychic Art class to explain the difference between Psychic Art and Spirit Art.


LIVE INTERACTION
It is *highly similar to a live physical classroom*
You will watch the tutor draw and explain how to draw the face of a spirit loved one
You will watch along and develop drawing skills to a high level
In stage 2 and 3, you will improve your Mediumship Evidence
Our online classes for Spirit Portraits are easy, it's fun and most of all it benefits the enhancement of your MEDIUMSHIP!!


BENEFITS
No need for travel fees, hotel fees, taxi fees, travel delays etc. Anne-Marie Bond, an IT Trainer, Spiritualist Medium C.S.N.U (d,s) TAP-Dip, brings a new way to LEARN GOOD SKILLS to develop your Mediumship ability to create a wider database to be of MORE service to the SPIRIT WORLD.

TO BOOK
All you have to do is Try!
Discounts Applicable Right Now - Go Online Today!!


ITEMS NEEDED
ESSENTIAL:
Laptop or Ipad with Good Internet Connection
DESIRABLE
(Webcam Desirable - but Not Essential)
(MIc highly Desirable - but Not Essential)


ONGOING WEBINAR COURSES ONLINE
STAGE 2 BEGINS

18 MARCH 2017 to 15 APRIL 2017
@6PM

We hope to see you there!!!


ADVANCED BOOKING ESSENTIAL - DUE TO LIMITED ENTRY NUMBERS
Learn How To Draw for Spirit

www.theportraitofspirit.com
Date and Time
Location
This is an ONLINE -4 WEEKS- Event!!
MTR Seminar - Victoria Central London, SW1H
United Kingdom