Description
Come celebrate the very last night of our 18 month-long Friday night residency at the Good Hope Café, Hither Green Lane. Take your place at the communal table, pay homage to memories of all kinds and pass them round with plates laden with our two best loved dishes, long into the night, making sure we'll go out with a bang!

If you'd like to reserve a table & pay on the night instead, just shoot us an email on chef@damascuschef.com. Have a browse of our menu and get thinking about which mains you like the look of now.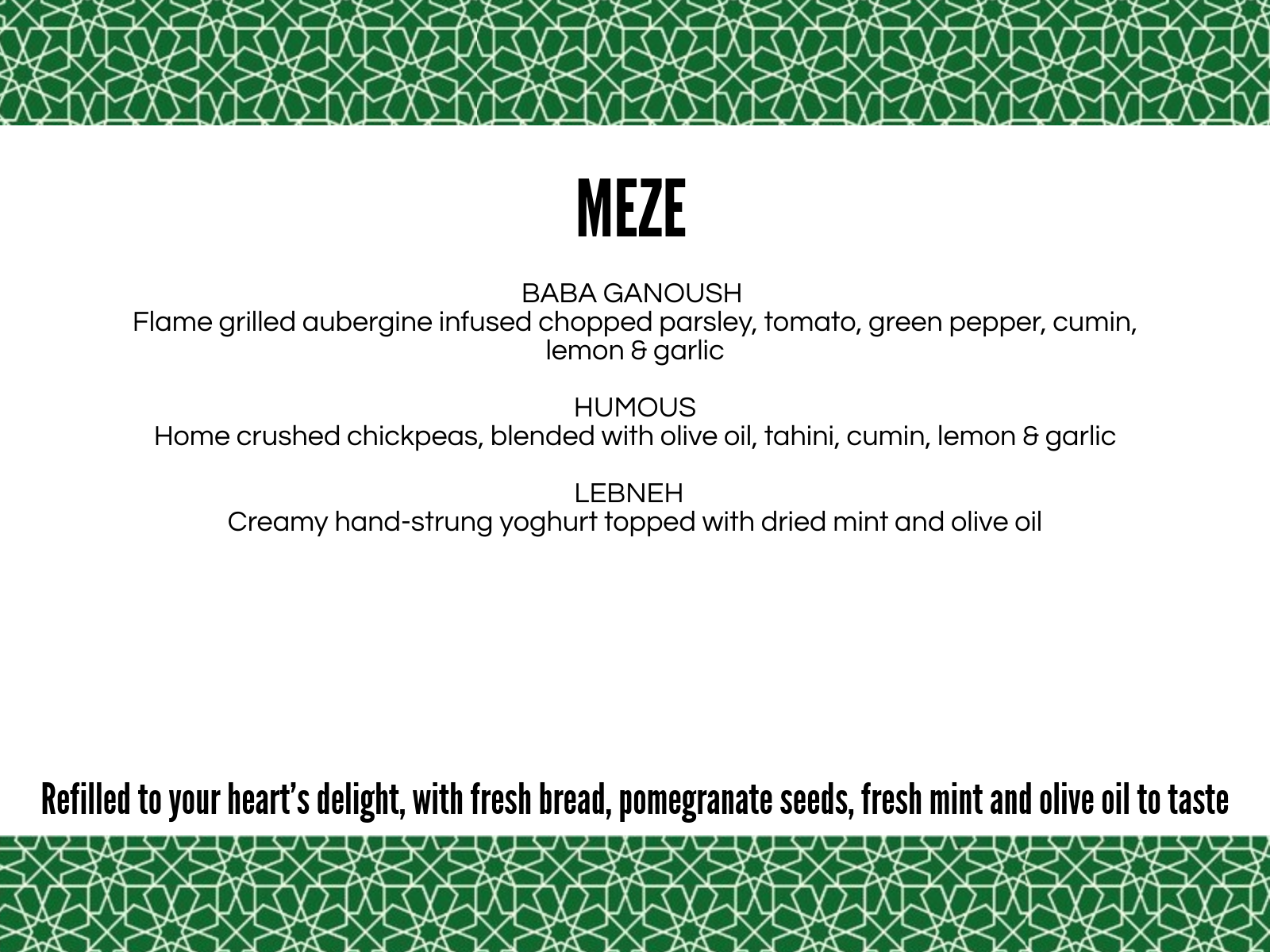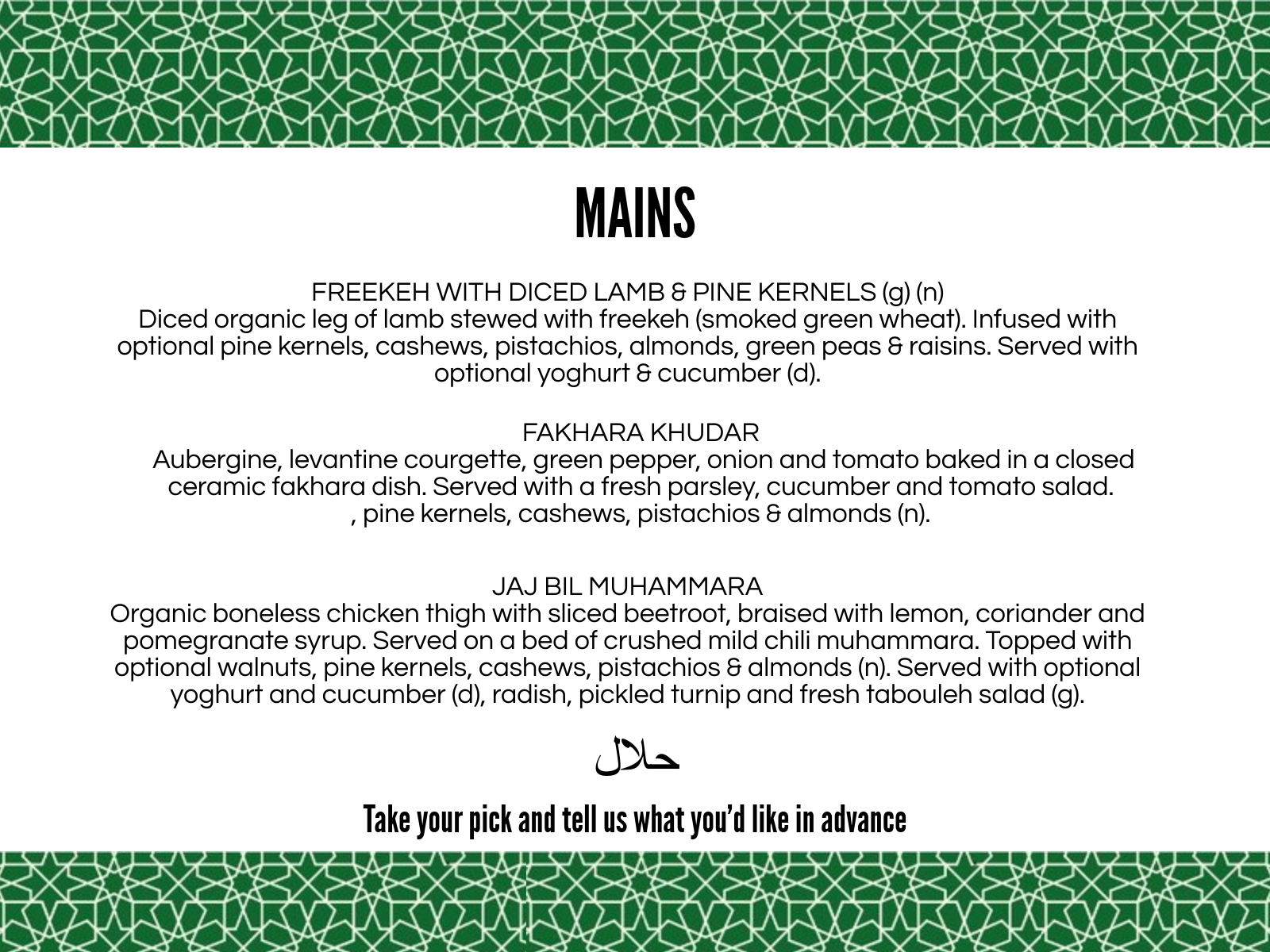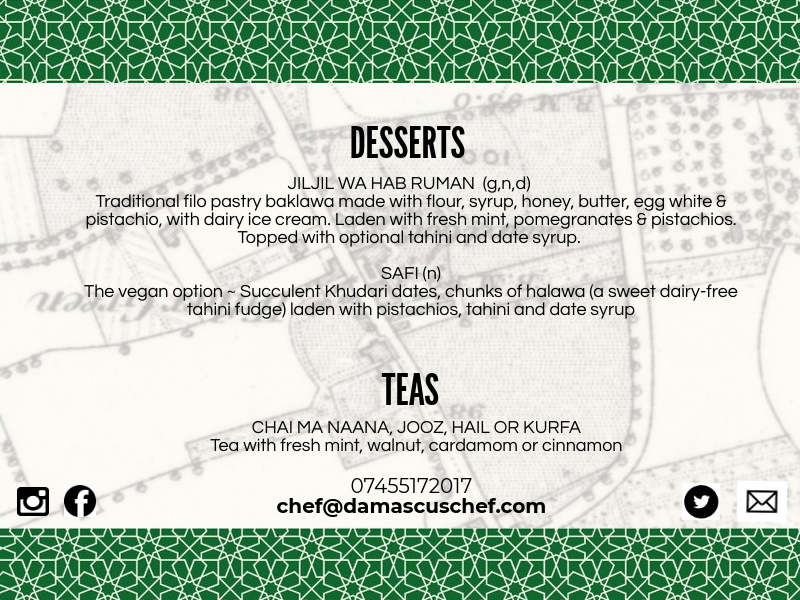 FAQs
What's the vibe like?
We'll be saying our own heart felt farewell to this wonderful venue. It's been our cooking and hosting spot for the past 18 months. So expect lots of tales, cheer and, if you're in the mood, befriending of unfamilar faces.
As always, Damascus Chef popups also make great date spots - for those of the whimsical, dreamy, off-the-wall persuasion, and there's no saying goodbye to that.

When you arrive, we'll ask you if you'd like to have a private table or sit with other guests supper-club style - on most nights, there's plenty of both to choose from.

Do we select our dishes?
Everyone eats our three course menu, which includes all three fresh meze dishes, one main dish, dessert and a selection of fresh teas.
Choose your main dish when booking to make sure we have what you want. Pick your dessert on the night. If you end up changing your mind about your choice of main, we can normally accommodate. If you drop by after 9.30pm, we can serve dishes à la carte if we have space and ingredients left - give us a call on 07884 936910 if you're unsure whether to venture out.

Can we bring kids?
Kids are welcome - they eat the same menus as adults for half price (with smaller portions).
And drink?
We sell an array of wines and beers on the night. Keep in touch with us on Twitter or Facebook, give us a call on 07884936910, or drop us an email for a drinks menu. The selection of fresh teas is part of the menu.
Do you do take away?
Yes we do! Booking is only for sit-down guests - so if you're up for takeaway, just turn up on the night. Get in touch if you're more than six, or you want your order ready super quick, via social media, chef@damascuschef.com or on 07884936910.
Is it halal?
Yes, all our meat is both organic and halal! Hurray! Not very easy to find, we know.

What about allergies?
All our nut, dairy, sesame and wheat-based dishes are prepared separately. That said, please give us a call on 07884936910, or email us on chef@damascuschef.com to discuss severe allergies before booking. Please also mention latex allergies, as we sometimes use latex gloves when serving.

Our meze is all gluten free - as is our tabouleh recipe - as we prefer to make it with copious amounts of pomegranate and spring onion, and miss out the grains. That said, Freekeh is wheat-based and the "Jiljil wa Hab Ruman" dessert contains gluten. Meze is served with optional bread. Shoot us a message before you come if you'd like your meze served with gluten free crackers.
Do I have to print my ticket?
No need, we'll have a list of bookings to hand on the night.
I want to come, but don't feel like booking just yet...
If you don't fancy booking now, you can always try your luck turning up on the night for a table.
When shall we turn up?
Don't worry about turning up a little (i.e. less than 1/2 hr) late for your booking - but bear in mind that you may need to wait if you turn up early. It'd be great if you could let us know by text or email if you think you'll be later than 1/2 hour late. For general questions in the run up to the night call the chef on 07455172017 or drop us a line at chef@damascuschef.com.
I want to taste the meze, but don't know if I can manage a whole meal..
Drop by any time from 9.30 - if we have space, we can grab you a table and you can while the evening away over wine, beer or juice and meze. All three meze dishes plus as much bread as you need are £10 a head...
Parking?
The Good Hope doesn't have a dedicated parking area- but parking is free in the local area after 7pm.
Trains?
The nearest stations are Hither Green or Ladywell (Southeastern Railways). Lewisham (DLR, Southeastern) is a brisk 15 minute walk away.