Description
Meet AI 8 -

Scaling Speech & Language Technology: from Academia to Application
China-UK connector Cocoon Networks and award-winning London-based startup Emotech have joined forces to create Meet AI: a monthly networking event where AI researchers from the fields of AI, robotics hardware engineering and product design share their latest insights in talks and panel discussions. Meet AI enables attendees to learn about revolutionary AI approaches and to witness the move from AI theory to practice. It is a fantastic networking opportunity for AI aficionados looking to meet other likeminded professionals.
Our 8th session is titled "Scaling Speech & Language Technology: from Academia to Application" and will be investigating Speech Technology and the Democratisation of Conversational AI.
---
The speakers:
Raymond NG: "Speech technology: An overview and recent developments"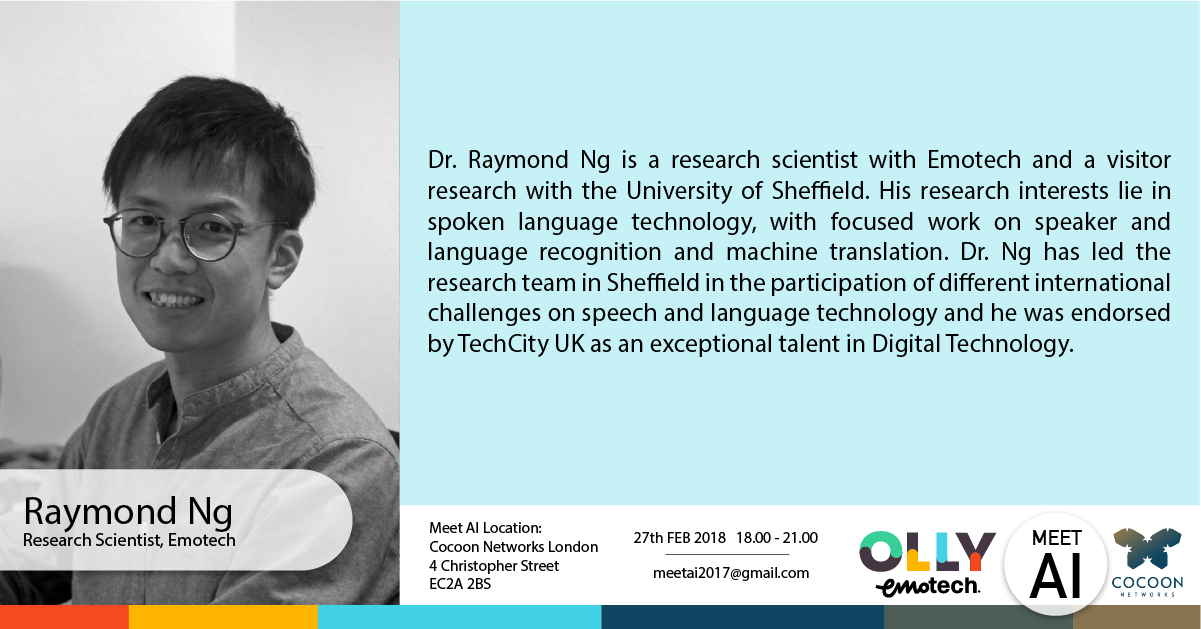 "Over the decades, there has been a concerted effort from linguists, statisticians and computer scientists to help advance speech technology. In this talk, I will highlight the history and achievement in this research field. Since the 2010s, deep learning has brought a revolutionary change to speech technology. Machines are now said to achieve human ability in understand speech, and synthesised voice is more natural than ever. We will look into the technology behind, understand their capabilities, and see how these developments pave their way to various applications and create a big impact on our daily lives"
Tsung-Hsien (Shawn) Wen: "Democratise Conversational AI - Scaling Academic Research to Industrial Applications"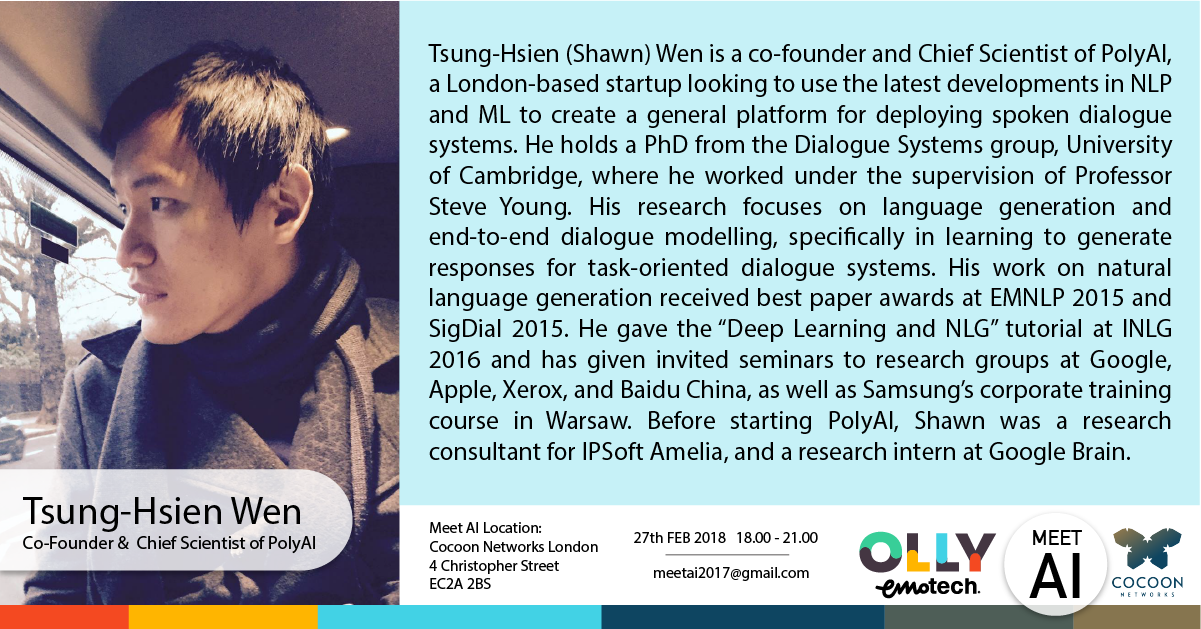 "Deep learning has had a profound impact on conversational AI research. In recent years, models such as CNN intent extractors, DQN policy networks and LSTM language generators have been at the centre of spoken dialogue systems research. Despite the transformational potential of these methods, not all of these approaches are ready for production. For various reasons, these methods struggle to scale to complex, real-world conversational scenarios. In this talk, I will share the insights we gained from building conversational agents in academia, and how these unique experiences are empowering PolyAI and allowing us to scale across multiple application domains and languages"
---
Agenda:
18:15—19:00 Registration & Arrival drinks
19:00 - 19:30 Raymond NG - Speech Technology: An Overview and Recent Developments
19:30 - 20:00 Tsung-Hsien (Shawn) Wen - Conversational AI - Scaling Academic Research to Industrial Applications
20:00—21:00 Networking
We look forward to seeing you there!