Sales Have Ended
Ticket sales have ended
We look forward to seeing you.
Sales Have Ended
Ticket sales have ended
We look forward to seeing you.
About this event
How to embrace technology for a better world.

Engage with Daniel, reflect with my guests and get traction on leading edge ideas.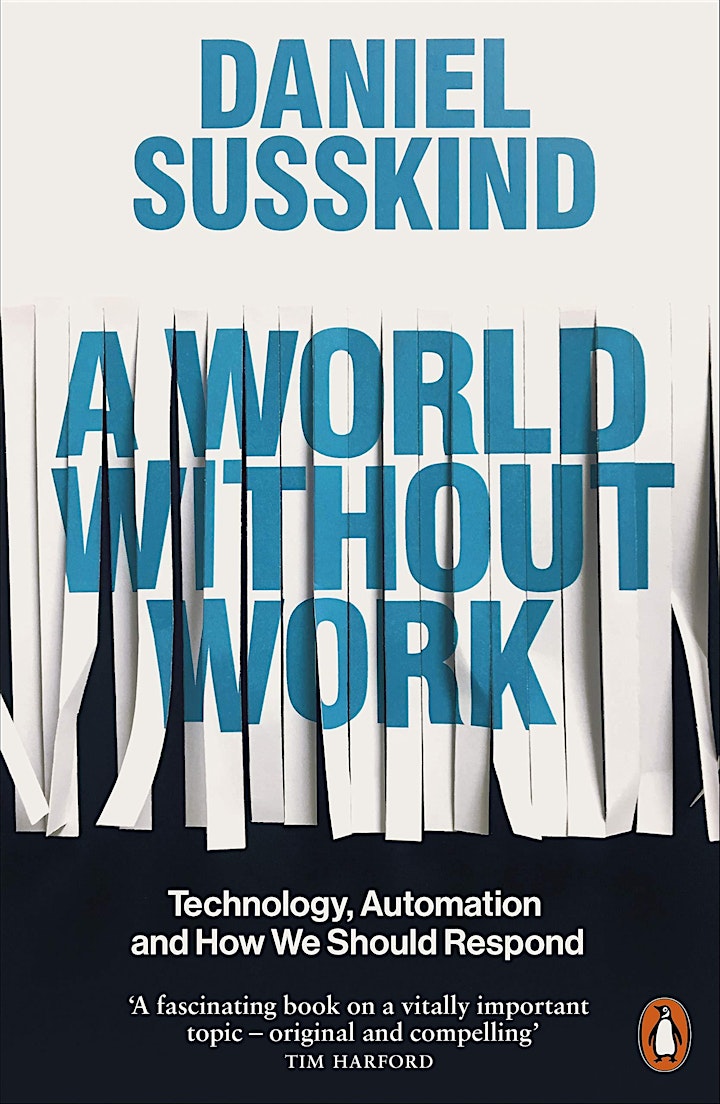 SHORTLISTED FOR THE FT & McKINSEY BUSINESS BOOK OF THE YEAR AWARDS 2020
'This is the book to read on the future of work in the age of artificial intelligence.' Lawrence Summers, Harvard University
'A path-breaking, thought-provoking and in-depth study of how new technology will transform the world of work' Gordon Brown
'Compelling... Should be required reading for any presidential candidate' New York Times
New technologies have always provoked panic about workers being replaced by machines. In the past, such fears have been misplaced, and many economists maintain that they remain so today. Yet in A World Without Work, Daniel Susskind shows why this time really is different. Advances in artificial intelligence mean that all kinds of tasks - from diagnosing illnesses to drafting contracts - are increasingly within the reach of computers. The threat of technological unemployment is real.
So how can we all thrive in a world with less work? Susskind reminds us that technological progress could bring about unprecedented prosperity, solving one of mankind's oldest problems: how to ensure everyone has enough to live on. The challenge will be to distribute this prosperity fairly, constrain the power of Big Tech, and provide meaning in a world where work is no longer the centre of our lives. In this visionary, pragmatic and ultimately hopeful book, Susskind shows us the way.
'Fascinating and tightly argued' Sunday Telegraph
'This is the book to read on the future of work in the age of artificial intelligence. It is thoughtful and state-of-the-art on the economics of the issue, but its real strength is the way it goes beyond just the economics' Lawrence Summers, former Chief Economist of the World Bank
'A fascinating book about a vitally important topic. Elegant, original and compelling' Tim Harford, author of The Undercover Economist
About Daniel Susskind
Dr Daniel Susskind explores the impact of technology, particularly artificial intelligence, on work and society. He is a Fellow in Economics at Oxford University, and a Visiting Professor at King's College London. He is the co-author of the best-selling book, The Future of the Professions, and the author of A World Without Work (January 2020), described by The New York Times as "required reading for any potential presidential candidate thinking about the economy of the future". His TED Talk, on the future of work, has been viewed more than 1.5 million times.
Previously he worked in various roles in the British Government – in the Prime Minister's Strategy Unit, in the Policy Unit in 10 Downing Street, and in the Cabinet Office. He was a Kennedy Scholar at Harvard University.
About Matthew Stadlen, our Moderator
Matthew Stadlen is an English radio and television presenter, producer, writer and author. He has for four years hosted a twice-weekly four hour show on LBC, reaching an audience of approaching 200,000 listeners. Before that, he was a presenter, producer and director at the BBC where he was the face of the 'Five Minutes With' interview series as well as 29 half hour 'On The Road With' documentaries. Matthew writes for The Telegraph, The Spectator, The Sunday Times and Radio Times, is a regular guest on Jeremy Vine on 5 and on Sky News. Cambridge educated with a first class degree, Matthew was brought up in Notting Hill, where he still lives, but he gets out to the country whenever he can to pursue his twin passions of photography and birdwatching. His book, How To See Birds, has sold out and has been reprinted. He has worked abroad and been to 84 countries.
Date and time
Location
Refund policy