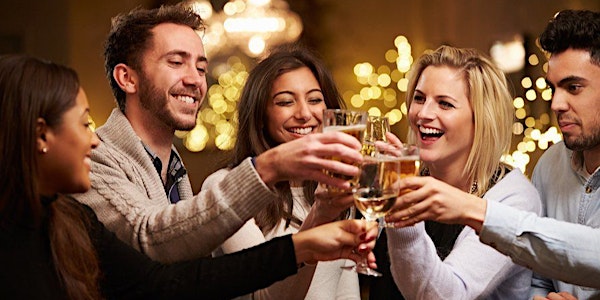 Meet, Mingle with Ladies & Gents! ALL AGES! (FREE DRINK/HOSTED) VANCOUVER
Location
12 Kings Pub
395 Kingsway
Vancouver, BC V5T 3J7
Canada
Meet, Mingle with Ladies & Gents! ALL AGES! (FREE DRINK/HOSTED)
About this event
Having friends is very important in everyone's lives, but making new friends can be difficult especially meeting online! What we try and do is make you come out and meet people face to face and have a chance to bond with everyone available!
Our socials are designed in a manner, where our hosts present that evening will encourage you to make new friends and meet the almost everyone and help you interact with like-minded people!
Come and join us on Saturday 9th June 2022 from 6.30 pm onwards at The Blarney Stone Pub, where Ryan will be your host for the evening!
The Venue - 12 Kings Pub, Tons of CRAFT beer! Pretty good food too!
What's more - First 10 members to arrive will recieve a FREE welcome drink
Some Important Points:-
Our area is booked for MEETUP/Ryan
This meetup is for member of all ages, who want to make new friends and mingle in a safe and comfortable environment. Please come early to chat with members. You have no excuse to miss this event..!
First 10 members to arrive will recieve a FREE welcome drink! Make sure to arrive on time!
Your host for the evening is Ryan who will not only welcome you to our reserved area but also help you mix and mingle. No more nervousness, no awkward silences, no fiddling with your phone or staring into glasses. You will find yourself saying more hellos, shaking more hands and making more friends. Please come early as it is far easier to meet new people then. Please request Ryan for help with introductions.
-Please be aware that about 95% of those who attend come alone and about 75% are attending for the first time. You will not be alone. We know how you may feel and so Ryan will take care of you.
-Everyone attends these events to meet other members and so there is no reason to be shy or bashful. Also be aware that most people come alone. Ryan is there to look after you and make you comfortable.
We have 7 meetup groups in Vancouver with over 35,500 members and we will be inviting members from all those groups to attend. This ensures that we always have a good number of people, with varied interests. You will meet a lot of new people. Members of other groups who RSVP are included as guests of the organiser in order to give you an idea of expected numbers.
We are not a dating group. Our events are not organised to help your dating life. Our group is created to help ladies and gents meet other like minded ladies and gents and make new friends. This could be for singles or for those who are not single. Please do not attend our event if a perfect gender balance is important for your enjoyment of our meet-up.
------------------------------
Event cost:
Early Bird tickets - $ 10 each
Regular tickets - $ 20 each
(If you do not purchase tickets in advance but want to come then please show up on the day and give $ 30 cash to Ryan when you meet him)
IMPORTANT
Dress code - Smart casual
Guests are very welcome. Please sign them up as your pluses
------------------------